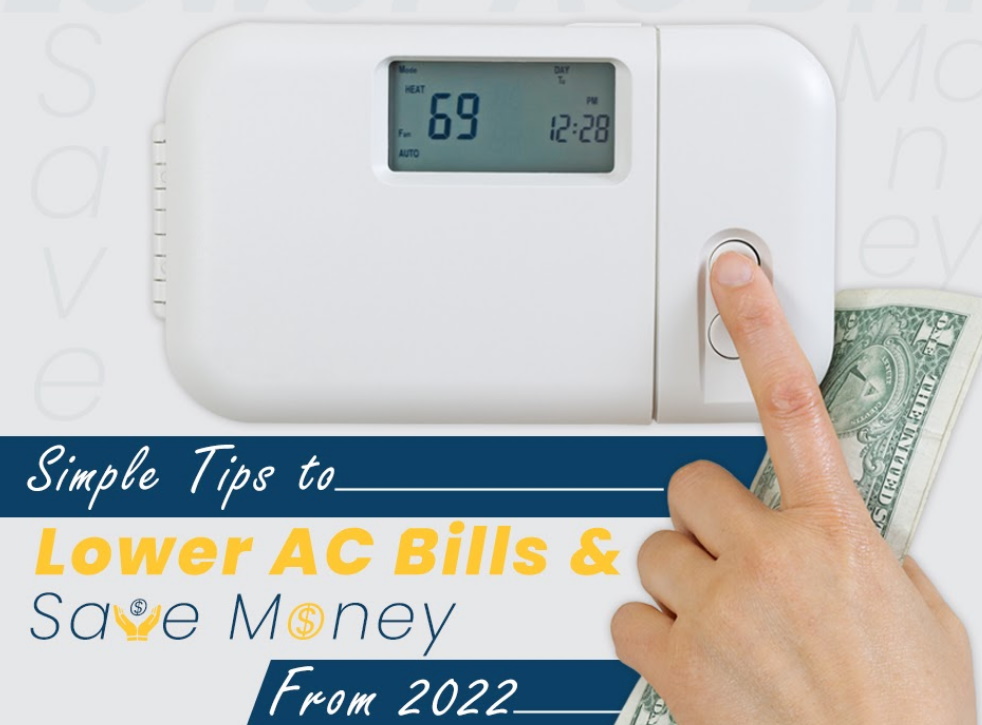 With a rise in humidity and mercury levels, an AC is the only thing keeping you comfortable. But, long-running hours could fetch huge energy bills.
So, are there ways to cut back on skyrocketing electricity bills, minimize energy wastage, and stay cozy all summer long? The answer is - yes, yes, and yes!
Follow along these tips to lower your AC bills and save money in 2022 -
Tips to Lower AC Bills & Save Money:

US ACs With Inverter Technology 
The inverter AC technology is the most energy-efficient technology yet. It's highly economical and much smoother to operate than fixed-speed ACs. It doesn't consume much electricity due to variable compressor speed. In the end, it's good for the planet as well. What's more, inverter ACs are much quieter.
The unit adjusts the temperature by changing the motor speed rather than turning it on and off repeatedly. Compared to their traditional counterparts, inverter ACs always consume less energy and fetch lesser power bills.


Change Air Filters Frequently
Your AC's performance is in direct correlation with the health of the filters. So, it's good to add filter cleaning, changing, and AC service and repair to your home improvement list for the summer. 
Old clogged filters are bad for human health as you're recirculating dust particles throughout the house. What's more, they also block the flow of air across the house. Frequently cleaning and replacing the air filters is one of the easiest and most affordable ways to ensure a well-functioning AC unit.
Keep the Doors Locked
Always adopt a 'locked door policy' to cut back on your AC energy consumption. Make sure that all the windows and doors are closed. If you have fixed windows, cover them up with curtains. This is crucial to preserve the coolness of the house.
It's also easier for the AC to cool faster and more efficiently. If you want, you can keep a window or a door opened ever so slightly to let the outside air in for ventilation purposes. But, don't go overboard.
Keep It at 24 °c
The Bureau of Energy Efficiency says that the ideal AC temperature for an average home is 24°c. This is the temperature that the human body is most comfortable with. What's more, according to the research, every unit drop in the temperature saves about 6% electricity.
By sticking with a 24-degrees Celsius temperature, you're doing everyone a favor. Not only you're cutting back on the energy costs, but your body will also be thankful; not to mention the environment.
Pick the Right Location for the Indoor Unit
It may seem irrelevant, but the location of your indoor unit makes a lot of difference. Ideally, the unit should be placed in the middle and center of the wall. There should be no obstruction around the unit. In this way, the unit can ensure uniform cooling all across the room.
The poor placement could leave one area too cool and others not-so-cool. You may have to overrun the unit to ensure coolness in your spot. So, pick the location strategically to lower the energy bills.
Check Humidity Levels
The HVAC system alone cannot control all aspects of heating and cooling in a house/apartment. Especially when you talk about humidity levels. Humidity is critical to ensure bodily comfort as well as comfortable breathing.
Installing the right kind of humidifier could help cool down the space much quicker. The AC won't have to work that hard. Make sure to keep the humidity levels in check because too much humidity could also cause trouble.
Stay Up to Date With AC Maintenance
The difference in energy bills is apparent when you deal with a well-maintained AC versus a poorly maintained one. You must also check the insulation in your house every year. In this way, you can ensure that the cool air doesn't escape the house, which is the best recipe for an efficient AC system.
Even a tiny leak could fetch huge electricity bills. On top of that, never neglect regular maintenance of your unit by calling-in professionals.
Use Fan + AC
Not many people know this but leaving the ceiling fan on helps with ventilation. It also circulates the cool air evenly across all corners. By using the Fan + AC combination, you won't have to repeatedly decrease the temperature to maintain ideal coolness. Ideally, you should start by turning the fan on to let the hot air escape before switching on the air conditioner.

The Best Air Conditioners Overall

Daikin Ducted Reverse Cycle 
This particular model from the inverter series carries a noise level of 33-44 dBA. It comes with a 5 years warranty.
What We Like:
* Efficient and compact design

* Deploys environment-friendly R32 refrigerant.
Fujitsu Ducted Reverse Cycle High Static
With a noise level of 34-45 dBA, this model from Fujitsu also comes with a five-year warranty plan.
What We Like:
* Innovative, user-friendly features

* Filters pollen and dust particles efficiently

* You can connect up to eight zones
The only downside to this model is that it comes with a noisy compressor.
Mitsubishi Electric Reverse Cycle 
The electric reverse cycle model from the AP series produces a noise level of 19-53 dBA based on tonnage. It comes with a standard 5-year warranty.
What We Like:
* A quiet compressor for peaceful sleep

* Environment-friendly R32 refrigerant

* High-speed cooling and heating
Panasonic Inverter Ducted Reverse Cycle
This air conditioner from Panasonic provides 40-51 dBA noise so it's not exactly the quietest functioning unit. That's the only downside. The warranty is the same as all other ACs.
What We Like:
* Integrates easily with an app

* Efficient heating and cooling

* Ideal for extremely hot areas

Bottom Line


By taking care of these tips and by choosing from one of the aforementioned AC models, you can enjoy a cool summer while also keeping your energy costs low.