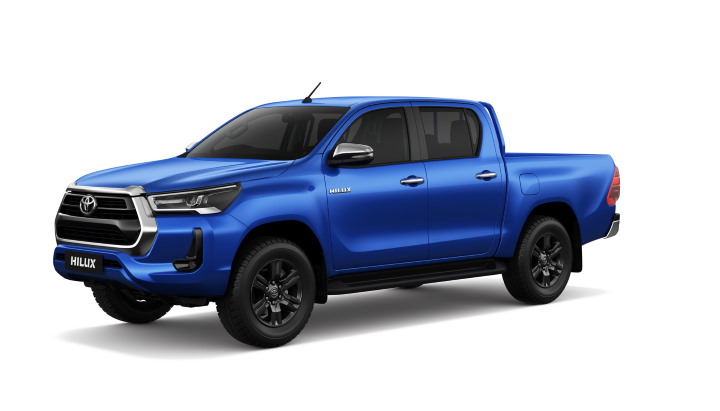 The Toyota Hilux and Mitsubishi Strada are among the frontrunners in the mid-size pickup truck scene, and it is not hard to see why. Both vehicles feature iconic designs and come with features that make them ideal for family trips. These pickup trucks are among those that come to mind when you think of vehicles where passengers can just hang their heads out its sides and just play silly during long drives, thanks to their impressive terminal speeds and supreme utility. But with both raking in big on sales, you may want to know which of them reigns supreme in their segment. Let's take a look at their features:
Design
Without a doubt, the Toyota Hilux and Mitsubishi Strada are among the best in their pack in terms of exterior design. In recent years, the Mitsubishi Strada has undergone major upgrades to achieve its current appearance, characterized by its Dynamic Shield front grille, obliqued LED headlamps on top of its hood, squarish side fenders, and overall muscular yet sexy look. You will love how its design upgrades have managed to break the mold of typical pickup truck designs and further improved its loading capability—but the Hilux is never backing down.
Just like the Mitsubishi Strada, the Toyota Hilux also carries an arresting presence with its bulky body and bed that leads the pack in terms of length. Around its panels are features that will remind you of its supremacy in its segment, including its remarkable rear bed latch, reworked and blacked out grille, and LED fog lamps and headlamps that look incredibly macho. The sports bar attached to its rear bed is also a huge plus, especially if you want a vehicle you can take pride in when off-roading. Add that to its beefy wheels and aggressively looking mags and custom stickers interspersed across its body and you get a pickup truck that is ready to battle all its rivals in the pickup truck segment. It looks so immaculate on all sides and its streamlined design is enough to make jaws drop!
Interior amenities
Most pickup trucks do not offer lavish interior features like vehicles in other segments, and that's understandable. Unlike other cars, they are especially designed to be workhorses with almost bare interiors to keep the costs down—but the Toyota Hilux and Mitsubishi Strada are exceptions to that rule. While most pickup trucks have bare-bones interiors, both the Toyota Hilux and Mitsubishi Strada come with amenities just enough to wow you and your passengers. The new Toyota Hilux, for instance, has an interior that is obviously well thought out, thanks to its seats and steering wheel all swathed in premium leather and soft-touch plastics accentuated by lovely piano black trims. When it comes to entertainment, the Toyota Hilux is also a king with its 6.5-inch touchscreen infotainment system and Bluetooth connectivity you will rarely find in any of its rivals in the pickup truck segment. From design to utility, it is safe to say that the Toyota Hilux's interior has almost everything you might otherwise be missing if you don't opt for it.
Well, just like the Hilux, the new Strada also features seats wrapped in leather. It also boasts of its sportier demeanor, thanks to the paddle shifters you will find behind its steering wheel. In the infotainment department, however, you will think twice about choosing it over Hilux as it does not have Apple CarPlay or Android Auto features, which are mandatory entertainment features especially if you love traveling long distances with your family.
Performance
Under the bonnet of the new Toyota Hilux and Mitsubishi Strada are powerful diesel engines you will never trade for any other engine. You know, pickup trucks and diesel engines are great combinations since these vehicles call for considerably greater torque to carry their bulky frames. The Toyota Hilux does exactly that. A king in every sense of the word, the Toyota Hilux comes with a chain-driven intercooler 1GD FTV engine that can produce 177hp at 3400 RPM and a torque of 450 Nm at 1600 to 2400 RPM. The Mitsubishi Strada, on the other hand, comes with a significantly smaller 4N15 MIVEC engine that is also one of the most powerful engines out there—but not powerful enough to match the Toyota Hilux's engine, which carries power to its wheels more efficiently and with much more oomph.  
Safety
Just because pickup trucks are generally bigger than other vehicles doesn't mean you are automatically out of harm's way when driving them. But the best thing about the Toyota Hilux and Mitsubishi Strada is that they are well equipped with safety features to protect you and your passengers from accidents, which are inevitable once you hit the road. For its part, the Mitsubishi Strada comes with features such as lane keep assist and blind spot warning, which help keep you in the safe zone when driving. Pre-installed in every Strada is a rear camera and a fail-safe system known as the Ultrasonic Mis-acceleration Mitigation System, which keeps your car from suddenly accelerating for no reason.
Sounds impressive? Yes, but the Toyota Hilux offers all that and so much more. Even if you pick the entry-level Hilux, you can expect your vehicle to come with a wealth of safety features that include sufficient airbags on all sides, traction control, anti-lock brakes, brake assist, hill start assist, and more. That is not surprising, considering that it carries a brand universally known for top-of-the-line safety features.
Verdict
Both the Toyota Hilux and Mitsubishi Strada are quality pickup trucks that offer good value for your money. But if you want nothing less than the best, it is easy to tell which of the two is the real king of their segment. While the new Mitsubishi Strada features various refreshes in terms of design, practicality, and performance, those refreshes are not enough to one-up the new Toyota Hilux, which has once again proven why it continues to sell like hotcakes everywhere in the world. May it be in the design, performance, or safety department, the Toyota Hilux is a real champion and it takes more than just the Mitsubishi Strada to take its crown away.