FIRST COMPETITORS CONFIRMED // NEW JUNIOR & LEGENDS COMPETITIONS ANNOUNCED
The 2016 Australian Open of Surfing –

February 27 – March 6, 2016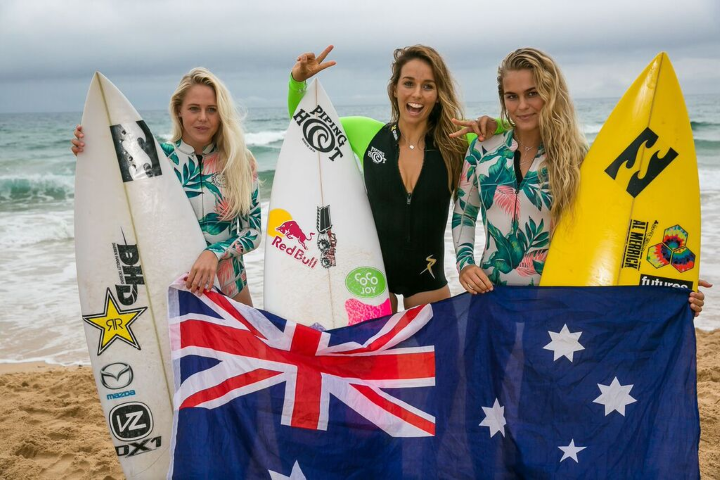 Set to end the last days of summer on a high, the 2016 Australian Open of Surfing announced today the first round of surfers confirmed to compete on the shores of iconic Manly Beach from February 27 – March 6 next year.
Featuring a men and women's WSL Qualifying Series 6,000 contest, event owners and operators, IMG; along with Destination NSW, the NSW Government's tourism and major events agency and Manly Council, have announced a new junior competition, the Australian Open of Surfing Sydney Grom Challenge.   The Sydney Grom Challenge will comprise of four divisions - U16 Boys & Girls and U14 Boys & Girls, with entry open from 5pm this Friday December 18 at www.australianopenofsurfing.com
Providing the stage for Australia's best junior talent, Grom Challenge patron NSW Premier and Member for Manly, Mike Baird said, "We have so many talented young surfers who can see what they're really made of through competitions such as these."
"I look forward to welcoming the nation's best junior surfers to the best beach in the world and congratulate the Australian Open of Surfing organisers for adding this event to an already great line up."
Manly Mayor Jean Hay said, "We are thrilled to welcome the event back to Manly and I love the enthusiasm that both the competitors and the public have for the Australian Open of Surfing."
At the other end of the spectrum, the event will also include a new Sydney Champions Expression Session that will feature former world champion surfers including Mark Occhilupo, Tom Carroll, Barton Lynch, and Damian Hardman back on home turf at Manly Beach competing for the inaugural series title.
Golden girl Sally Fitzgibbons (2015 CT Rank 3) joined defending 2015 champ and Northern Beaches local, Laura Enever (2015 CT Rank 17) and Felicity Palmateer (2015 XXL Big Wave Awards 'Ride of the Year' finalist, Aussie Bodies Ambassador) on Manly Beach to confirm they will compete in the Aussie Bodies Women's Pro at The Australian Open of Surfing.  Aussie Bodies, Australia's leading provider of sports/active nutrition products including protein bars, beverages and powders, is the new premium sponsor of the Women's QS 6000 event.
Surfing against an elite field, winner of the 2015 Australian Open of Surfing women's title, Laura Enever said, "I love Manly beach, and the vibe and fun we have at the Australian Open of Surfing is incredible.  I was stoked to win the women's title last year up against all the biggest names in women's world surfing.  To do it in my home neighbourhood with family and friends cheering me on was a special experience.  I can't wait to get back and compete again in 2016."
Sally Fitzgibbons added, "There's something special about competing so close to home.  I'm from the South Coast of NSW so it was an easy trip for family and friends to come and experience world class surfing in the heart of Sydney.  It was an amazing experience and I can't wait to kick off the New Year doing it all over again in Manly."
The event continues to attract strong corporate support with St George Bank, F45 and Rockstar extending their association with this unique free event.
IMG are also pleased to announce that the Nine Network have been confirmed as the Free to Air Partner for the event and FOX Sports the Subscription Broadcast Partner.
"Wide World of Sports has a long and proud history of covering and supporting our world class surfing events, there's nothing more Australian than surfing at Manly beach in summer and we are proud to be along for the ride again in 2016." says Steve Crawley Nine's Head of Sport.
FOX SPORTS will continue as the broadcast partner of the Australian Open of Surfing delivering LIVE coverage of the surfing and will showcase the Skate Bowl competition exclusively LIVE.
Another massive boost for the event, global music powerhouse, MTV is confirmed as the new music partner for The Australian Open of Surfing. MTV's flagship music channel MTV Music will be working with IMG to bring a world-class music line-up to the sands of Manly Beach for free all-ages concerts that will be staged on Friday March 4 and Saturday March 5, 2016.
General information is available at: www.australianopenofsurfing.com  •  #ausopenofsurf
/australianopenofsurfing
@ausopenofsurf
@ausopenofsurf
youtube.com/australianopenofsurf
EDITORS NOTES
ABOUT THE EVENT
The 2016 Australian Open of Surfing, owned and operated by IMG, will run from 27 February – 6 March. The nine day, one-of-a-kind festival will bring together some of the world's top athletes in surfing and skateboarding combined with two days of live concerts on the music stage, art/photo installations and interactive sponsor displays – all taking place on iconic Manly Beach, Sydney
All events are free and open to the public. Live webcast can be viewed at www.australianopenofsurfing.com.
ABOUT DESTINATION NSW
Destination NSW is the lead NSW Government agency for tourism and major events sectors. The NSW Government, through Destination NSW, assisted with securing The Australian Open of Surfing for Manly in 2016.
The role of Destination NSW is to market Sydney and NSW as one of the world's premier tourism and major events destinations; to secure major sporting and cultural events; to work in partnership with Business Events Sydney to win major international conventions and incentive travel reward programs; to develop and deliver initiatives that will drive visitor growth throughout the State; and to achieve the NSW Government's goal of doubling expenditure within the State's visitor economy by 2020.
ABOUT IMG
IMG is a global leader in sports, fashion and media operating in more than 30 countries around the world. IMG's businesses include Events & Media, College, Golf, Tennis, Performance and IMG Academy, Fashion, Models, Clients, Consulting, Licensing, Joint Ventures, and creative management agency Art + Commerce.
In 2014, IMG was acquired by WME, the world's leading entertainment and media agency. Together, the companies offer an unparalleled client roster; world-class partnerships with sponsors, brands and broadcasters; and marquee assets across entertainment, events and fashion.