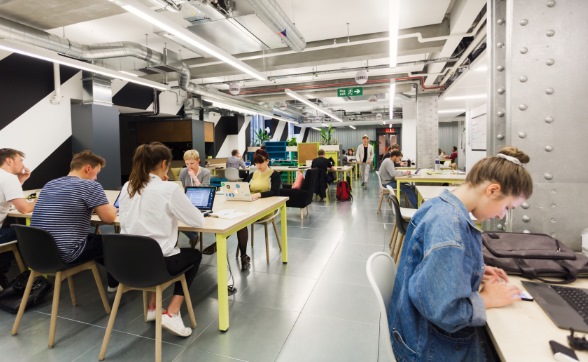 With co-working becoming a popular solution for all businesses in Melbourne and Sydney, the co-working scene has evolved to include a diverse array of workspaces for every business's taste. Long a favourite of the start-up, many of Australia's co-working spaces now include niche and industry-specific offices. More importantly, though, the co-working space has become popular with professionals of all ages and backgrounds.
While the co-working space popularity seems to be reaching new heights, finding space in any one of Australia's big cities can be difficult simply because the co-working space has come to encompass more than just a place to work. Moreover, these hubs are small business communities where social interaction is the foundation of business. In a nutshell, not all co-working spaces are equal or alike, and for this reason, prospective co-workers should consider a few factors.
Continue reading below to learn more about some of the factors businesses should take into consideration before joining a co-working space.
Location
Australia's major cities are home to over 60 co-working spaces. However, to take advantage of co-working opportunities, businesses should make location a priority in choosing space. Businesses should look for offices located not only near foot traffic but also close to the necessary people and resources your business might need.
Servcorp - the #1 co-working space in Australia, for example, has office locations located near or in many central business districts, which can be a great benefit to those whose businesses must be located in downtown centres. These locations are perfect for SMEs and start-ups because they provide access to resources and people in a place that most fledgeling businesses would be priced out of, and at a bargain.  
Amenities
Another important consideration relates to the amenities that the space offers. Ultimately, the co-working space is one of the only opportunities where the office works for the business, and this includes the amenities. Your co-working space in Australia should come with the standard office equipment, regardless of whether you rent a hot desk or dedicated desk. The space should come with state-of-the-art IT services and should provide your business with access to conference and meeting rooms.
Business profile
The types of businesses that make up the co-working space are important as well. As stated previously, spaces come in all varieties and types, and choosing a space is akin to tapping into resources that can help build your business. In a niche or industry-specific co-working space, you might find it easy to network with professionals within your industry. Alternatively, co-working spaces that house a number of businesses can be a place for you to not only to network but to also get referrals for further business.
Sense of community
The co-working space is the one place where industry and social interaction intersect, and for Australians already used to a somewhat laid back business atmosphere, the co-working space provides community. Just by virtue of the set-up, professionals are going to socialise and network with each other, but the better co-working spaces make an effort to galvanise participation in the community by hosting networking events.
Flexibility and versatility
Finally, consider the space's multiple uses, in addition to being able to use spaces in other locations. Essentially, really great co-working spaces can provide a number of functions, including a place to work, network, and collaborate with other community members. Additionally, those businesses needing to work in a variety of locations might find larger outfits with offices in Australia and around the world a better choice. This flexibility and versatility can make work more efficient and effective.
Finding your space
Savvy entrepreneurs can really take advantage of a co-working space's numerous benefits. In fact, in many cases, the co-working space is the one-stop shopping centre for businesses looking to grow. However, to benefit from co-working, before shopping consider your business's needs.