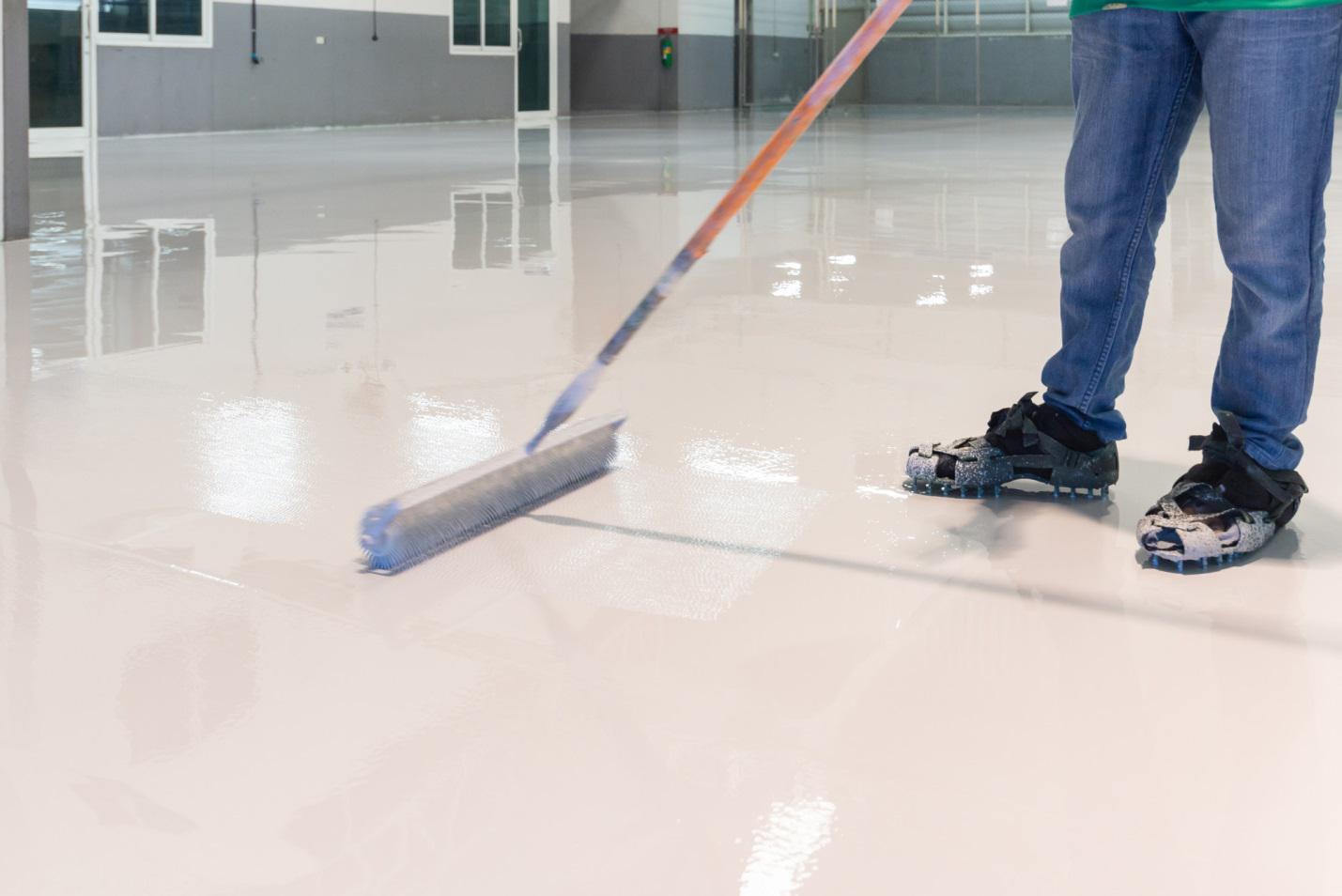 Epoxy can be used on wood, cement, concrete, or metal surfaces or as an undercoat beneath other floorings. Discover how much does epoxy flooring cost here.
Are you ready to apply epoxy flooring to your garage, commercial site, or basement floor?
Wherever the location, you're making a great decision—this type of flooring is known for its durability, low maintenance, and easy clean-up.
However, there is the question of cost and whether it's worth the application. Read on to learn all about epoxy flooring and the epoxy flooring cost!
What Is Epoxy Flooring?
Epoxy flooring is also known as resinous flooring. Its appeal comes in its resistance to lots of foot traffic and wear and tear, meaning it's one of the most long-lasting and durable options out there when it comes to flooring.
This makes it ideal for commercial applications and garages. An epoxy basement floor is also common.
Epoxy flooring is made out of polymer resins and hardeners. When those are mixed together, they create a chemical bond with each other as well as with the floor, resulting in a highly durable plastic material.
This is applied at least two millimeters thick to floors—any less than two millimeters and it's an epoxy coating instead of flooring.
Advantages of Epoxy Flooring
Here are some significant advantages to epoxy flooring that make it worth its affordable cost:
High gloss shine can help brighten interiors

Durability — Can withstand lots of traffic for the longterm

Easy to clean

Resists oil and water stains

Easy to install with no specialized equipment needed

Can contain anti-slip additives for extra safety

Requires little maintenance

Can be applied in different patterns
The Epoxy Flooring Cost
The cost of epoxy flooring ranges depending on the square footage of your basement, garage, or other interior space, the epoxy type you choose, and of course, the cost of installation.
Generally, epoxy costs $3 to $12 per square foot installed. For installation, materials will cost $1 to $2 per square foot while the cost of labor is $2 to $5 per square foot on average.
For an average two-car garage that's about 400 to 500 square feet, the cost will average about $1,200 to $6,000. For a one-car garage of approximately 250 square feet, you're looking at a more reasonable cost of $750 to $3,000.
There are three different categories of epoxy flooring that will impact the price:
100% Solid
These are the most expensive because they are 100% epoxy. This is usually used in commercial applications by professionals.
This typically costs $45 to $150 per gallon.
Water-Based
Although these are thinner, water-based epoxy paints are far easier to apply and spread.
This kind of paint costs $30 to $50 per gallon.
Solvent-Based
These are thicker paints than water-based epoxy but are trickier to apply. They're thicker and able to cover imperfections on concrete floors—however, the professionals that are applying them will need to wear respirators.
This typically costs $45 to $150 per gallon.
Epoxy Flooring Checklist
Now that you have an idea of what your budget should be for your project, you can begin gathering information on local installers. Here are a few things to keep in mind as you begin your search:
Cushion your budget at least 7% to take into account unexpected costs

Get at least three to five different estimates before you make a choice

Remember that the quotes will change depending on the company's overhead

For more discounts, wait until late fall or early winter, if you can, during the installers' down season
Remember that a low price doesn't always indicate a better deal—you want to do business with reputable companies who will install your epoxy flooring the right way. This is why it's important to get second opinions.
What to Expect
There are certain things you should expect and look for when you hire an installer to apply your epoxy flooring. Remember that if you ask around and are getting quotes that are far under the average, these installers may be cutting corners.
However, this is not always the case, so converse with your installers before they begin so you're assured that they know what they're doing.
1. Check for Moisture
They will need to check the moisture of the concrete beforehand. Epoxy can't be applied if any moisture is detected.
2. Multiple Coats
A good application of epoxy takes one to seven coats.
This is because depending on the quality of the concrete, the coats are used to patch or level the surface beneath. There is usually a base coat, one or two epoxy coats, sand or flakes for decoration on a non-slip surface, and to finish it off a topcoat.
3. Time
The biggest thing you'll need to expect is the time it takes to finish.
Although it's a relatively simple process, your installer will need to let the epoxy dry after each coat. Because of this, a typical installation of epoxy flooring takes up to four or five days.
A Longterm Solution for Quality Flooring
The epoxy flooring cost has a wide range that's largely dependent on the square footage of the area you want it installed, the type of epoxy being used, and the labor and material costs. You'll also need to account for the time it will take to completely finish the job.
However, a properly-installed epoxy flooring can last you years, even with an interior area that sees a lot of traffic. Even better, epoxy flooring requires little maintenance and is simple to clean up because of its resistance to water or oil.
Ready to improve your commercial or garage space? Keep reading our blog for more ideas!