-Virgin Mobile to start shipping stylish R9s device-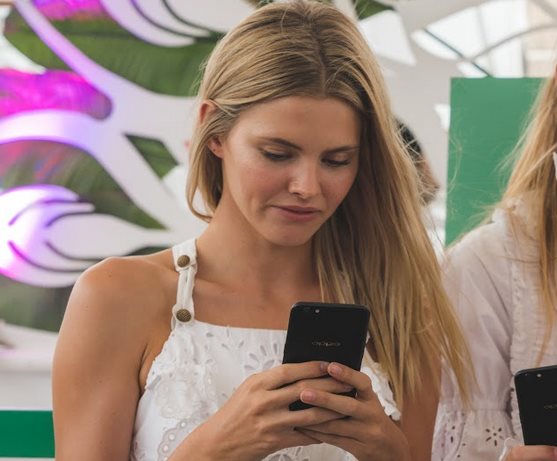 OPPO is continuing its rapid expansion in Australia by strengthening its carrier partnerships, announcing a new partnership agreement with leading international telecommunications provider, Virgin Mobile. OPPO's much anticipated R9s will be available to pre-order from 23 January at virginmobile.com.au or by calling 13 25 45, and to purchase in store from 30 January 2017.
Customers will be able to get their hands on the stylish R9s, in black, for $0 upfront with 2GB on Virgin Mobile's $40 Postpaid plan (minimum total cost is $960 over 24 months, extra data costs $10/GB). Customers will receive 2GB data, unlimited standard national calls and text within Australia, the ability to rollover unused data and earn Velocity Points for every dollar spent*.
Michael Tran, Executive Director at OPPO Australia, believes this new partnership highlights the ever-growing demand for OPPO's devices, as well as the premium quality of its new device. "Virgin Mobile is one of Australia's most respected mobile providers, so we're delighted to be working with them. This partnership further expands our footprint in Australia and will enable more consumers to get hands on with our devices nationwide," he said.
"The fact OPPO continues its rapid growth through both retail and carrier partners shows there is clearly high demand for our devices. We're seeing more and more Aussie consumers looking for high value premium devices. It's all about finding the best phone at the right price point and that's where OPPO is perfectly situated. Couple that with the quality features our devices offer, it's no surprise we're seeing increased demand in the Australian market."
The new R9s comes with significant new features, including an enhanced 16MP rear camera with a Sony IMX398 sensor for improved image quality. It also features Touch Access, improved performance and superior battery life. The R9s is poised to continue the success of the R9 – one of OPPO's best-selling and most-loved devices to date.
Head of Virgin Mobile, David Scribner, believes the R9s will bring greater choice to Australians looking for stylish, premium and high quality handsets along with the best value. "The OPPO brand continues to grow in the Australian market and its clear customers are looking for premium quality devices at an affordable price. At Virgin Mobile we give customers access to the hottest new handsets like the R9s, with the added value that comes with being part of the Virgin family."
The OPPO R9s will be available to pre-order online and by calling 13 25 45 from 23 January, and to purchase in store from 30 January 2017. For more information, visit virginmobile.com.au.
*Minimum total cost is $960 over 24 months. Extra data cost $10/GB.
The Fine Print: For use in Oz. Fair Use Policy applies. Extra data $10/1GB. 24 Month Plans: approved customers only. If you leave early you'll need to pay out any unpaid contributions towards the full cost of your device including those we were going to cover. You can find out the monthly contributions for your device from bills, sign up information, or by logging in at virginmobile.com.au/myaccount. Data Rollover: any unused included data (and extra data if you went into it) rolls over to the next month only, can be used once the next month's inclusion has been spent and may be forfeited if you change plan. Velocity Points: available when you're an Oz resident over 18, once you've linked your Velocity membership no. and while the offer is running. See virginmobile.com.au/velocity for more. Virgin Mobile (Australia) Pty Limited ABN 67 092 726 442.
About OPPO
OPPO is a leading global technology brand dedicated to providing consumers across the Americas, Africa, Europe, Oceania, and Asia with pioneering products that never fail to inspire and excite. At OPPO we design, manufacture, and promote our own products, combining innovative technology with unique design, to ensure our customers always receive the best.

Founded in 2004, OPPO quickly proved itself in the market with its intense obsession to details. Each OPPO product encompasses a carefully selected array of attributes to specifically cater for users, combining impressive features with elegant designs. After entering the mobile phone market in 2008, OPPO quickly expanded into overseas markets a year later. OPPO mobile phones are currently available in over 20 markets, with the brand already registered in 140 countries as of late 2015.

But OPPO doesn't stop there. Using our passion for design and commitment to new technologies, OPPO has made a big impact in the audio-visual market by offering world-renowned, premium Blu-ray players in the United States and across Europe. For more information, please visit http://www.oppo.com/au.
About Virgin Mobile Australia
From the moment Sir Richard Branson drove a tank across the Sydney Harbour Bridge to launch Virgin Mobile in 2000, we've been driven by our brand purpose of changing the game for good. In a world where most Australians feel powerless against their mobile provider, Virgin Mobile is here to restore the power balance. After all, we're famous for doing things a little differently, and for a very good reason – our customers.
First of all, we deliver a fairer and more genuine experience by delivering above and beyond on the basics, with award-winning customer service and irresistible prices on the latest handsets, backed by the Optus 4G Plus network. We also offer loads of red hot extras, from data-free music-streaming on eligible Postpaid mobile plans, to the Australian-first innovation of Data Rollover which is still exclusive to Virgin Mobile on new Postpaid mobile plans.
But it doesn't stop there. When you join us, you're joining the Virgin family too, so if you're on a Postpaid plan you can earn Velocity Points just for paying your bill and get access to discounts and deals across other Virgin brands. You'll also feel part of something bigger, as we invite you to help make the world fairer and brighter through our partnerships with OzHarvest, R U OK?, and Oasis.
And we do all of this with a side serve of unmistakeable Virgin swagger. Why? Because we don't just play the game, we change it for good. Now that's Virgin Mobile.