Written by

Elena Eckhardt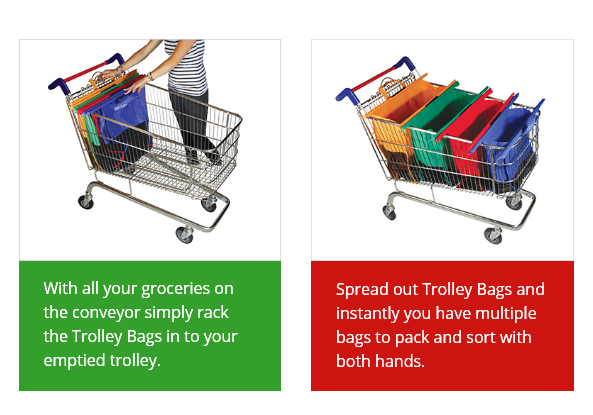 Australians dispose an estimated 4 billion plastic bags each year, few of which are recycled. These plastic bags are a hazard to the environment but can be easily replaced by reusable shopping bags. The idea for Trolley Bags was born out of a desire to make the reusable more usable. Trolley Bags are a system of four sturdy, reusable shopping bags that can be rolled together to be easily carried to the supermarket and hung on the back of your trolley while shopping. At the register, once you've unpacked your groceries from your trolley the bags can then be spread across the trolley in one step. They stand up-right on their own, allowing two hands free while packing the bags.
Each bag is a different colour and size, allowing groceries to be packed according to weight or type. Heavier groceries can be packed in the smaller bags at the front of the trolley, and lighter items in the larger bags at the back. This makes it easier to sort and put away groceries at home. The bags are attached to each other with Velcro and can be quickly separated to carry them out of the trolley.
Trolley Bags were invented by Irish entrepreneur Paul Doyle, who wanted to revolutionise the shopping experience and make it more convenient for customers. He created a solution with Trolley Bags and presented it on the Irish television show, Dragons Den (similar to Shark Tank). He received a fantastic response from the judges and audience, and was offered a substantial investment. The public eagerly anticipated the launch of Trolley Bags and they gained a cult following across Ireland and the UK. Now Trolley Bags are popping up in shopping trolleys all over the world.
Each bag is made to be as long-lasting as possible, and is made from non-woven polypropylene and the same netting material as baby travel cots, making them more durable and stronger than other reusable shopping bags on the market.
Remembering to bring shopping bags to the supermarket makes a big difference in protecting the environment. Trolley Bags are easy to carry, making them convenient to take to the supermarket every time, saving plastic bags from ending up in water-ways or landfill. They're not only an environmentally-friendly option, but also make for a fun way to get the whole family involved in the grocery shopping.  
Trolley Bags are available in Australia from 
www.packingsorted.com.au
In New Zealand from
www.packingsorted.co.nz
.
RRP $34.95 AUD for set of four bags.