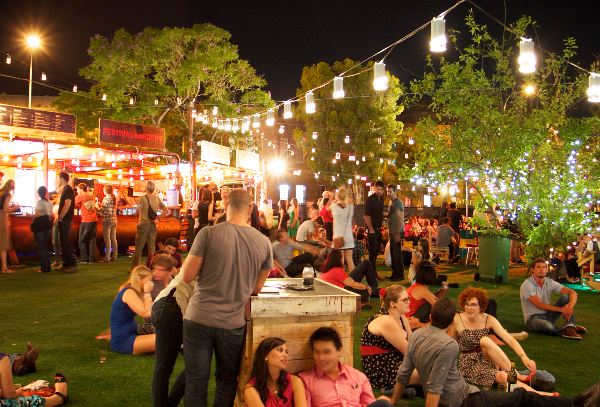 In this month's edition of This is WA, read about the Royals on tour in Western Australia, social media superstar Natasha Oakley's visit to Perth and Rottnest, the Ord Valley Muster being named the best regional event in Australia and a mountain bike master plan for the State's South West. There's also all the latest news on WA tours, accommodation, food, wine and events.
We will be back with more news from across the State in February 2016. In the meantime, the Tourism Western Australia team wishes you a very Merry Christmas and Happy New Year.
WHAT'S HOT
Royals on tour in Western Australia
The Prince of Wales and Duchess of Cornwall visited Albany and Perth last month, as part of their Royal Tour of Australia. The couple toured Albany's Mt Adelaide, which is home to the new National Anzac Centre and boasts sweeping views of King George Sound, met with locals at the Albany Agricultural Show, and sampled local produce at Oranje Tractor Wines. Prince Charles' 67th birthday was then celebrated at the Cottesloe Civic Centre overlooking the iconic Cottesloe Beach, where guests enjoyed a BBQ featuring produce from around WA including Broome Mackeral, Mount Barker chicken and beef from the Stirling Ranges. Dessert was a special WA inspired birthday cake - made by Dany McEwen of Marguerite Cakes. While on tour, the Duchess was pictured using a Sunbella – a locally designed white cotton parasol featuring the highest possible UPF rating. The WA custom one-of-a-kind parasol (now available online at Sunbella) was designed specifically for the Duchess and gifted by the State.
www.sunbella.com.au/ 
Perth first Australian city to welcome Malindo Air
Perth was the first Australian city on Malindo Air's network when the airline's inaugural flight from Kuala Lumper landed at Perth Airport last month. Established in 2013, the airline is owned by the National Aerospace and Defence Industries of Malaysia and Indonesia's Lion Air. The airline offers a daily service, and extra flights between Kuala Lumpur and Perth, on Monday, Thursday, Friday and Sunday from December onwards.
www.malindoair.com 
Margaret River Gourmet Escape lives up to its world-class reputation
Margaret River Gourmet Escape has once again lived up to its reputation as one of the country's must-attend culinary events of the year. This year saw UK headline guest chef, Marco Pierre White, joined by 65 of some of the world's biggest food influencers to celebrate the beauty of the South West and all that it offers with its incredible produce, wine and stunning surrounds. The three-day festival saw more than 18,000 guests celebrate the diversity of food and wine in Western Australia, and in particular the South West. Special events were set in extraordinary locations including vineyards, in a cave, at the end of a jetty, in the forest, at the beach and at sea. Dates for Margaret River Gourmet Escape 2016 will be released in the coming weeks.
www.gourmetescape.com.au
Deal signed for long-awaited Rottnest Lodge upgrade
The State Government and Karma Group have concluded final lease negotiations that pave the way for redevelopment within the Lodge precinct on Rottnest Island, with the agreement effective from June 1, 2018. The resort-style development will include 80 contemporary self-contained units, short stay accommodation, cafe, restaurant and beverage venues, kids' club, swimming pool, day spa and conference and meeting rooms. Rottnest Island can be accessed in 30 minutes by ferry from the port city of Fremantle. The car-free island is home to 63 beaches and 20 bays, and an abundance of world class marine activities.
www.mediastatements.wa.gov.au/Pages/Barnett/2015/11/Signed,-sealed,-soon-delivered-on-Rottnest.aspx
LIFESTYLE AND CULTURE
WA swimwear sizzles at Swim + Resort Series
Social media superstar Natasha Oakley visited Perth from Thursday, November 26 to Monday, November 30. While in town, the famous Instagrammer captured the beauty of Rottnest Island, posting several images of the pristine island to her 1.6 million plus fans. She also sat front row at Fashion Council WA's Swim + Resort Series, set against the backdrop of Bather's Beach in Fremantle. The runway event showcased swimwear and resort looks of spring summer 2015/16 from leading Western Australian designers including Amore and Sorvete, Bernice Sara, Gypsea, Natalie Rolt, Nu Swimwear, Ocean Zone and Australia's most celebrated resort wear label, Camilla.
www.fashioncouncilwa.com.au  
www.telstraperthfashionfestival.com.au/swim-resort-series  
Bar Pop brings music under the stars
Bar Pop is bringing a series of live music shows to Perth over the summer months, set in the exclusive back half of the Bar Pop Urban Orchard. The aptly named Live at the Orchard series will see a superb line-up of acts performing intimate sets to fans including Salut, Paul Dempsey, The Delta Riggs, Andy Bull and more. The live music sessions kicked-off in November and will run across Perth's summer months. For those not visiting the music sessions, tasty treats and beverages will be available as part of the regular Bar Pop Urban Orchard. Perth's Urban Orchard is an outdoor public space in the Perth Cultural Centre, located on the edge of the CBD in Northbridge.
www.barpop.com.au/
Sunset Wine revisits Scarborough Beach
Sunset Wine will be staged alongside the City of Stirling's Sunset Veranda on Scarborough Beach Reserve as part of the 2016 Summerset Arts Festival for the third year. Both events are growing in popularity and are a welcome addition to the Scarborough Beach culture over Perth's summer months. The Summerset Arts Festival will run from January 22 to February 7 and Sunset Wine over the weekend of January 30 to 31, from 2.30pm to 7.30pm. Sunset Wine is a festival-based event which promotes only Western Australian wine with tapas style food from a selected range of street food vendors. It will also see more than 40 exhibitors on show, including craft beer and cider companies. Scarborough Beach is one of Perth's 19 metropolitan beaches, located a 20 minute drive from Perth city.
www.summersetartsfestival.com.au/Events/SUNSET-WINE.aspx
Ord Valley Muster voted best regional event in Australia
It's been a big couple of weeks for the Argyle Diamonds Ord Valley Muster which won Gold for Best Festival and Event at the WA Tourism Awards, as well as picking upBest Regional Event at the national Australian Event Awards. The Regional Event Category recognises a 'highly acclaimed event that makes a special contribution to a remote region or community'. The 2016 Ord Valley Muster will be held from May 13 to 22, and is expected to be the biggest yet with the highly anticipated program due to be announced in January.
www.ordvalleymuster.com.au/
FOOD AND WINE
Margaret River welcomes collaborative space
A new café, coffee shop, art gallery, designer store and gift shop has opened in Margaret River. Located on Bussell Highway in Margaret River town, Riversmith is a community hub and gathering space providing a place for visitors to eat, drink, shop and learn. The venue focusses on artisan producers, sourcing local seasonal ingredients, beverages, preserves, handmade wares and seasonally curated workshops.
www.riversmith.com.au/
New updates on the Mount Lawley food scene
The Beaufort Street Merchant has rebranded as Beaufort Local. Located in Mount Lawley, one of Perth's inner city precincts, the popular eatery now features a brand new bistro and garden bar, and new look menu.
www.facebook.com/beaufortlocal/timeline?ref=page_internal
The team behind Low Key Chow House in Leederville has opened a new restaurant in Mount Lawley. Dainty Dowager, positioned next to Clarences Bar on Beaufort Street, is described as a 1920's Shanghai opium den serving delicious roasted meats, tasty snacks and delicious drinks. The menu is Pan-Asian and anchored on Chinese roasted meats, including roast duck, siew yuk (Chinese crispy roast pork) and char siu barbecued pork.
www.facebook.com/daintydowager
WA's 2015 Signature Dish hails from Australia's Coral Coast
Foodies around Western Australia are celebrating a new champion after Jerolina Rankin from Carnarvon on WA's Coral Coast was crowned WA's Signature Dishwinner for 2015, cooking a seafood broth with Shark Bay wild prawns at the Margaret River Gourmet Escape finale. WA's Signature Dish is a celebration of WA fresh produce and talented amateur cooks from across the State. The People's Choice winner was Rachel Hartshorn representing the Peel region.
www.australiascoralcoast.com  
www.buywesteatbest.org.au/wa's-signature-dish/wa-signature-dish-2015#.Vl_Q9UqQ8cM
Wok Street Chow House to replace Darlings Supper Club
Darlings Supper Club in Northbridge is temporarily closed as it changes hands to the entrepreneur behind Kitsch Bar and Ria, Nicholas Bond. Minor changes will be made to the venue ahead of it reopening as Wok Street Chow House on December 16. It will continue to trade until 3am on weekends and until late on Wednesday, Thursday and Friday nights.
www.darlingssupperclub.com/
TOURS, ATTRACTION AND ACCOMMODATION
WA to become the capital of mountain biking
New purpose-built mountain bike trails will be developed across the State's South West, as part of a plan to promote Western Australia as a destination for one of the world's fastest growing sports. In November, the State Government released a South West Mountain Bike Master Plan which shows how areas such as Collie, Margaret River and Pemberton will be developed over the next decade. More than 120,000 mountain bikes were bought in Western Australia in the past year, with almost a million Western Australians now owning one, so it is expected the new trails will bring more cycling enthusiasts to the South West. The State's South West is extremely popular for mountain biking and is home to the Munda Biddi trail – a nature-based, off-road cycling experience where a 1,000 kilometre track has been built from Mundaring in the Perth Hills to Albany in the Great Southern.
www.westcycle.org.au/cycling-development-mtb-strategy
www.mundabiddi.org.au/
The Titanic comes to Perth
Journey into the heart of the Titanic with the world's largest, most comprehensive exhibition about the iconic ship making its Australian debut in Perth from December 12, 2015 at the Perth Convention & Exhibition Centre. Titanic: The Exhibition is an immersive experience filled with interactive installations, graphic art, music and videos pertaining to the story of Titanic's short but grand life at sea. Featuring recreations of her luxurious interiors (including the grand staircase and first class ballroom) and over 375 artifacts that date back 100 years, visitors will experience what it was like to be a passenger aboard the magnificent, but ill-fated Titanic in April of 1912. Memorabilia from James Cameron's 1997 blockbuster movie Titanic are also on display, including the famous "Heart of the Ocean" necklace. Tickets to the exhibition are available via Ticketek.
www.premier.ticketek.com.au/shows/show.aspx?sh=TITANIC16
Dry Ski Park for WA
Western Australians will next year be able to ski, snowboard and toboggan at the State's first dry ski slopes for snow sports. Forest Edge Recreation Centre in Waroona (located 100km south east of Perth) plans to build a 3,000sqm metre artificial ski field on its 43ha property in 2016. The outdoor facility would not use snow on its ski fields, instead it will use a material called Proslope which emulates the sensation of skiing on snow. Forest Edge Recreation currently features a 230-metre flying fox, rock climbing, kayaking, abseiling, target shooting, orienteering and raft building.
www.forestedge.net/
Trees Adventure swings into town
Western Australia's first Treetop Eco-Adventure is now available in Nanga Mills, located a 90 minute drive south of Perth. Trees Adventure is an exhilarating tree top ropes experience suited to all ages, with courses ranging from easy to a little insane. Located at Nanga Mill Campground, Trees Adventure features exciting and challenging obstacle courses high up in the surrounding pine and jarrah trees, allowing participants to swing, leap, climb and fly through the surrounding forest.
www.treesadventure.com.au
Ramada Eco Beach summer specials
Ramada Eco Beach has released a series of special deals in time for the summer months. The North West resort, located an hour's drive south of Broome or via a short helicopter flight, is offering a discount of up to 30 per cent off accommodation on stays between November and March. It is also offering a book early and save deal, allowing guests to stay longer for less. Ramada Eco Beach Resort is a multi-award winning eco resort set amongst the pristine and untouched Kimberley environment. For more information on the summer specials, visit Ramada Eco Beach's website.
www.ecobeach.com.au/specials.htm
FEATURE
Perth gears up for a festival season like no other
There's no better place to experience the joys of summer than Western Australia, in particular Australia's sunniest capital city, Perth.
The State is a melting pot of cultures, being home to people from more than 190 countries, including the United Kingdom, Europe, South-East Asia and the Middle East*. This makes way for a unique blend of natural and urban events and experiences.
A landmark event for the Perth's summer season is the Perth International Arts Festival (PIAF) which will run from February 12 to March 6, 2015. It is the oldest annual international multi-arts festival in the southern hemisphere and annually offers some of the world's best theatre, music, film, visual arts, street arts, literature and free community events.
The festival will open with a grand-scale concert, titled Home, featuring acclaimed local musicians and writers, including The Panics, The Pigram Brothers, The Waifs and John Butler. Other highlights of the festival include Belvoir Theatre director Simon Stone's take on Henrik Ibsen's The Wild Duck, and "kamikaze cabaret" diva Meow Meow's version of The Little Mermaid. Elizabeth Quay will be the new home of the Perth International Arts Festival's popular Chevron Festival Gardens, where guests can gather, eat, drink and share stories whilst enjoying a diverse quality program of free events throughout the duration of the festival.
Running alongside Perth International Arts Festival, will be Fringe World Festival. The 2016 festival is tipped to be bigger, brassier and bolder than ever, running from January 22 to February 21, 2016. Fringe World Festival is a summer smorgasbord of entertainment and the 2016 program will be packed full of new and familiar treats, and available once tickets go on sale on December 10, 2015. Festival shows will be found in many traditional and non-traditional venues throughout the City of Perth and beyond.
Outdoor cinema is also in full swing at a number of Perth venues at this time of year, including Kings Park, Burswood Park and the University of Western Australia.
On January 26, South Perth foreshore hosts the largest Australia Day celebration in the country, the City of Perth Skyworks. The event attracts many thousands of spectators each year and includes free entertainment, an air and water show above and on the iconic Swan River, and a spectacular fireworks finale.
From February 27 to 28, Fremantle will be home to the Fremantle Seafood Festival, a unique two day festival which offers visitors an enriching, culinary experience whilst celebrating the abundance of seafood, fresh local produce and the history and heritage of the fishing industry that the port city is famous for.
*Cultural Diversity in Western Australia, Office of Multicultural Interests, Department of Local Government and Communities - http://www.omi.wa.gov.au/publications/omi_cultural_diversity.cfm. 
EVENTS
DECEMBER
Redbull Lighthouse to Leighton
December 5, 2015
Rottnest and Leighton, Experience Perth
The Redbull Lighthouse to Leighton is the kite surfing event of the year. Starting at Phillip Point Rottnest, off the coast of Perth, the longest race of its kind in Australia has competitors racing across the Indian Ocean and the Gage Roads channel and finishing at Leighton Beach, North Fremantle. The event is a unique opportunity for amateur and professional kiters alike to compete against one another for the race title, trophy and prize money.
www.redbull.com/au/en/events 
Manjimup Cherry Harmony Festival
December 12, 2015
Manjimup, Australia's South West
The Manjimup Cherry Harmony Festival is a celebration of the cultural diversity of Manjimup, highlighting and promoting the horticultural products that are grown (particularly cherries) and the value they add to the region. The festival attracts visitors from around the State and is held during the optimum cherry season in December.
www.cherryfestival.com.au 
Perth Speed Fest
December 13, 2015
Perth, Experience Perth
Don't miss out on your chance to see some of the biggest names in Australian motorsport showcase their world-class skill at Perth Speed Fest. This action packed, adrenalin-fuelled day will see big names including Daniel Ricciardo (F1), Alan Jones (F1), Will Davison (V8s) and Jack Miller (MotoGP) commit the ultimate test of speed at Perth Motorplex. Perth Speed Fest is a huge showcase of classic, modern and modified cars and motorbikes, and includes non-stop action on The Dirt twin track, the customised Tarmac, Extreme Tarmac, Motocross plus the rolling Motor Show.
http://perthspeedfest.com/ 
JANUARY
Hopman Cup
January 3 to 9, 2016
Perth, Experience Perth
The Hopman Cup attracts some of the world's best tennis players and sees countries competing against one another for the cup crown. A star-studded field will contest the Hopman Cup from January 3 to 9, 2016 at Perth Arena. This includes women's number one ranked player, Serena Williams, entertaining Frenchman Gael Monfils, the Ukraine's top ranking male tennis player Alexandr Dolgopolov, world number three Andy Murray from Great Britain, retiring Australian player Lleyton Hewitt and Perth's own Casey Dellacqua.
http://hopmancup.com/ 
Lancelin Ocean Classic
January 14 to 17, 2016
Lancelin, Experience Perth
The Lancelin Ocean Classic was started with a group of enthusiast windsurfers and business people in Lancelin in 1986 and to date is still the longest running windsurfing event in Australia. It is set to attract world-class competitors and spectators to the picturesque town of Lancelin, north of Perth. The event features three disciplines and has competitors from more than 18 countries competing in spectacular wind and water conditions over four days.
www.lancelinoceanclassic.com.au/ 
Fringe World Festival
January 22 to February 21, 2016
Perth, Experience Perth
Perth's 2016 Fringe World Festival will be bigger, brassier and bolder than ever. Fringe World is a summer smorgasbord of entertainment and the 2016 program will be packed full of new and familiar treats. Festival shows will be found in many traditional and non-traditional venues throughout the City of Perth and beyond. Fringe World Festival runs over four weeks, packed with all sorts of pleasurable tasty treats for absolutely everyone.
www.fringeworld.com.au 
FEBRUARY
Perth International Arts Festival
February 11 to March 6, 2016
Perth, Experience Perth
As one of Western Australia's premier cultural events, the Perth International Arts Festival is a feast of joyous, cutting-edge performances and activities for all ages. Experience some of the world's best international and contemporary theatre, dance, music, film, visual arts and literature. The 2016 festival will open with a grand-scale concert, titled Home, featuring acclaimed local musicians and writers, including, The Panics, The Pigram Brothers, The Waifs and John Butler. Elizabeth Quay will be the new home of the festival's popular Chevron Festival Gardens, where guests can gather, eat, drink and share stories whilst enjoying a diverse quality program of free events throughout the duration of the festival.
www.perthfestival.com.au 
SunSmart Busselton Jetty Swim
February 13 to 14, 2016
Busselton, Australia's South West
The SunSmart Busselton Jetty Swim 2016 event will be held over two days, with activities and family entertainment for everyone. The swim itself will take place on the Sunday morning. The course will take participants out and around the 3.6 kilometres of Busselton's iconic Jetty, in the tranquil waters of Geographe Bay. The cap on registrations has been increased to 2,000, and entry is open to individuals and teams of two or four persons.
www.busseltonjettyswim.org.au 
Perth International
February 25 to 28, 2016
Karrinyup, Experience Perth
Western Australia's premier golfing event returns to Perth this February, taking place at the world-class Lake Karrinyup Country Club. The Perth International previously attracted some of the world's top ranked players including Jason Dufner, Dustin Johnson, Victor Dubuisson and Australian Geoff Ogilvy. With a prize purse of AUD1.75million, the Perth International is known as the richest tournament on the PGA Tour of Australasia, and is the only Australian event co-sanctioned by the European and Australasian Tours.
www.perthinternational.com