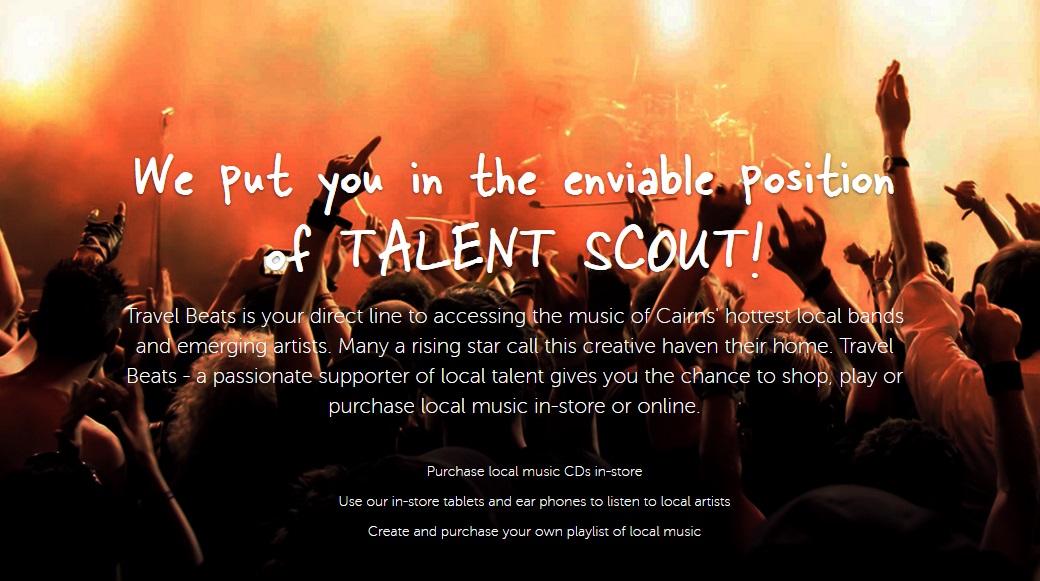 Sky Rixon, Riki to her friends, fans and customers, is a leading Australia music tour specialist.
Her unique insight into the music scene throughout Far North Queensland and all of Australia, has made her the "go to person" for local musicians, travellers and music lovers.
Riki helps musicians to gain fame and media coverage for their gigs in the "Far North" up around Cairns in Tropical North Queensland.
Based in a classic original tropical design Cairns shop, Travel Beats is now the travel centre or music hub where performers seek Riki's help to make travellers aware of what music events are on offer.
For the traveller, from Australia and everywhere else in the World, Travel Beats is open to walk in to talk about what is coming and to buy tickets.
Musicians appreciate Riki's help with the music marketing while they get on with staging their shows in places like Kuranda, just outside Cairns.
To find out more visit Sky's website
TravelBeats.com.au
Check out Travel Beats Facebook pages too
www.facebook.com/travelbeatsOz
www.facebook.com/travelbeatCairns
Viw Magazine asked Riki to tell us what motivated her on the journey to creating her leading music travel business.
"My vision is to provide ways for people to experience the buzz of completely immersing themselves in the local music, culture and environment
Travel Beats, is for the music loving traveller who wishes to experience the rawness of the chosen locale from the roots up Travel Beats aim is to have a website with an international presence revered as the "go to" place for information, creative outlets, everything music, culture and environment, specific to the local destination
We promote the goods and services of locally owned businesses first and foremost
Our customers and employees are of the highest importance, which is why we regard them as partners, working together towards common goals which produce positive effects on local communities and provide support to charity organisations
Our goal is continual global expansion, annual profitability and consistent charitable contributions"
"We share the love of everything authentic to a destination – We all move to the same
beat

."

"Riki"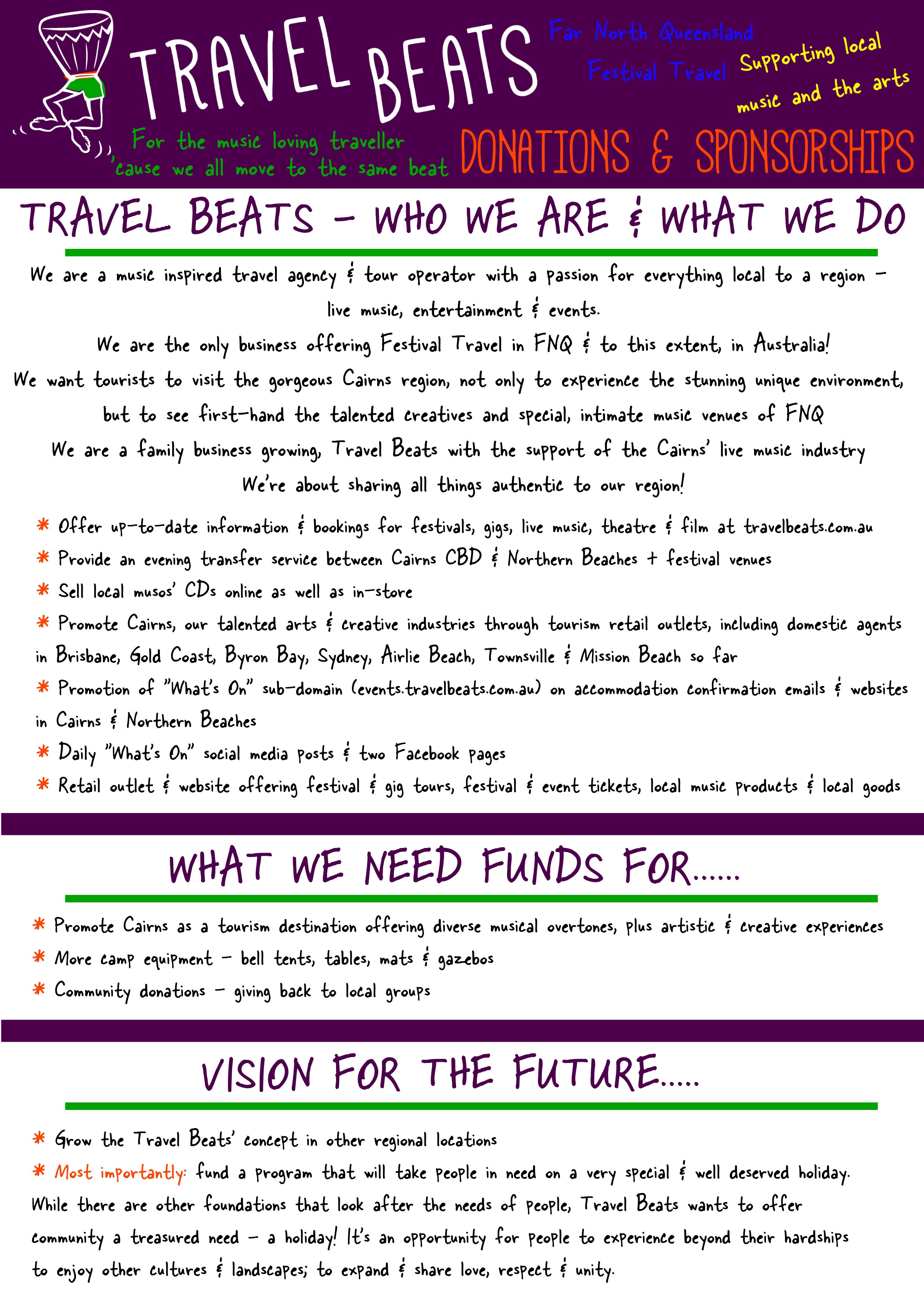 Here is a report from a "happy music traveller"
Ever wanted to travel to an enchanted rain forest and gather with hundreds of people from all over the world to eat delicious food and let the spirit of live music from spectacular bands take you to a cosmic wonderland?

Kuranda Roots was the place and Travel Beats was the way to get there.  Friday June 12th through Sunday June 14th was a celebration of music and creative culture aimed at bringing people from all generations and all walks of life together in one love and unity.  If that was the goal then it was a huge success! 

With two stages each day, one offering a variety of DJs spinning tunes and good vibes and the other with live local, national and international bands – there was no lack of beats that made you get out of your seat, tunes that kept you humming throughout the weekend, and lyrics that elevated your spirit to a higher level of consciousness.

To add to the action-packed weekend, there were workshops of basket weaving, juggling, storytelling, poetry, tie dying, yoga, and hula hooping.  There were also comedy, acrobat and fire performances.  In between, you could grab a bite from the stands of exotic and tasty food, beverage and dessert vendors, purchase souvenirs of lava lavas, fundies, signature tees, CDs, and Apache wear – just to name a few, or warm up, chat and meet a new friend by the bonfire. 

It was a three day event, but you didn't have to leave unless you wanted to.  Travel Beats organized full service transportation from Cairns, whether you were local or just arriving at the airport.  Upon arrival to the festival, all you had to do was grab your wristband, drop off your bag and enjoy the shows.  When you were ready for bed you would find your tent pitched, your air mattress blown, and your sleeping bag unrolled – all courtesy of the Travel Beats staff.  Totally secure with Travel Beats personnel manning the campsite, you were free to roam the comfortable forest camp grounds and enjoy every moment of the festival.

With different packages to choose from, Travel Beats ensured that singles, friends and those traveling on a budget could attend.  Tea and breakfast was available each morning through the company and cooking utensils were provided as well.  They thought of everything, including the lounge chairs and dream catchers that were hanging in the camp saloon.  Providing transport each evening back to Cairns for those who were not staying over, Riki and her team safely got everyone to and from the festival each day, with a final departure on the leisurely Sunday morning depositing everyone at their destination of choice.

The partnering of Kuranda Roots and Travel Beats to provide this camping service was a match made in rainforest heaven.  International campers included those who had traveled from Italy, England, various parts of Australia, and the U.S. – just to name a few.  Laughs were exchanged, as were email addresses; friendships were made, as were Facebook posts; and the experience was epic, just like the festival.
Travel Beats provides tickets, transport services and other camping packages to numerous festivals year round. 

Check out their website and follow them on Facebook

And don't miss the next Kuranda Roots Festival in Far North Queensland!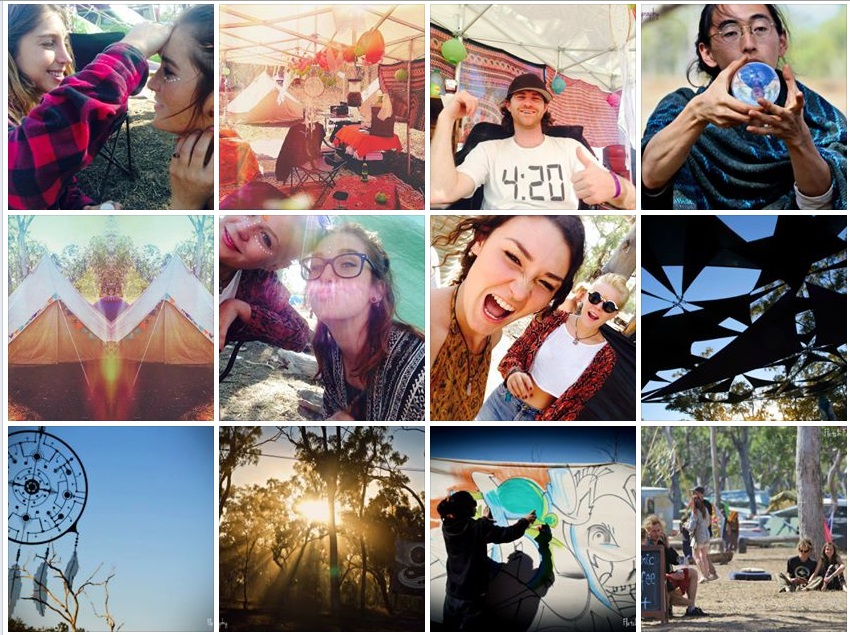 But wait there is more.
Businesses that work with Travel Beats with sponsorships, travel marketing and promoting music in Cairns, Queensland and Australia will get a business profile page on Viw Magazine. Just ask Riki for more details.
Viw Magazine is proud to work with Riki and Travel Beats to promote local talent and business operators.
If you love music then you have to get in touch with Travel Beats