Written by

Jessica Fornito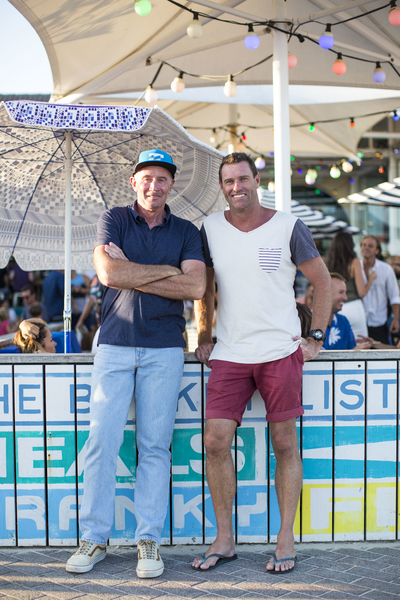 QT Hotels takes pride in providing guests with a truly unique and immersive experience. With the newly opened QT Bondi, this philosophy has been fully embraced and brought to life by partnering with a select group of Bondi personalities; engaged as QT Bondi curators, chosen to share their local tips on the best of Bondi, as part of the new QT Bondi Presents series.
Including leading fashion identity and stylist, Pip Edwards; legendary (TV) lifeguard and all round Bondi guru, Bruce 'Hoppo' Hopkins; top foodie and YouTube sensation, Guy Turland; and muso duo, Angus & Connie of 'Sneaky'. Promoting all Bondi has to offer, these partners give their insights into what makes Bondi so special and what has helped turn Bondi into a truly Australian iconic destination.
Bondi Style with Pip Edwards - for fashionistas, Pip offers her take on Bondi Style including top shopping picks and experiences.
Bondi Eats with Bondi Harvest - Turland shares a knowledgeable overview of the suburb's top food offering, from cool cafes & buzzy bistros, or the freshest fish & chips on-the-hop, to secret 'hole-in-the-wall' restaurants and glam high-end dining. Along with the inside track on Bondi's local weekly farmers' market, fine food outlets, bakers, bottle shops and more.
Bondi Beats with Sneaky - Angus McDonald and Miss Connie of 'Sneaky' highlight their picks on where to enjoy the best chilled-out tunes or high-energy beats…the best spot for to sink a few sundowners or venue of choice for a cool late night vibe.
Bondi Beach with Hoppo -  who delivers historical insight into Australia's most famous beach, meshed with the viewpoint, from the perspective of a longstanding Bondi lifeguard. His weekly historical walking tours with Lawrie Williams offer people an intimate glimpse into 'old Bondi' where landmarks famous and infamous can be sighted up close and personal.
"We travel OS a lot, yet every time we return home to Bondi we're reminded of just how incredibly lucky we are to live here", said McDonald. "From breakfast joints to bars and beer gardens, we've got it all. Which makes sense when you consider what a melting pot it is, from surfies, yogi's and fitness freaks to party animals, creatives and of course travellers!", he added.
"Bondi life is as diverse as the people and landscape suggest. Driven by coastal city living, Bondi has it all…from the beach to the bars and onwards to the shops. It's a little microcosm of the world…and people who reside in 2026 tend not to leave. It's a haven…but with a totally international vibe as well", said Edwards.
The QT Bondi Presents series of videos and articles will be released over the next month launching, first up is Bondi Style with Pip Edwards QT PRESENTS BONDI STYLE
Speaking about the QT Hotel & Resorts philosophy, David Seargeant, Group Managing Director shares his thoughts below:
"The QT Hotel experience has always swayed sweetly left of centre, and we're excited to ensure QT Bondi will reward guests with the type of experience…or take home treasures… that stays with them long after they check-out", says Seargeant.
"There's no doubt Bondi is a prime example of a unique destination which beats to its own drum, gaining an insider's knowledge of the best kept secrets will enhance this experience to a whole other level", added Seargeant.
Bondi's top destinations and experiences are resourced by QT Bondi's crack team who've curated a seasonally attuned 'black book' available via the QT HOTELS & RESORTS CONCIERGE APP  
On the ground, Concierge Alex Robertson offers guests a tailored itinerary based on their personal tastes. 
Further dialling up the local vibe, QT Bondi has also engaged a select couple of local designers / makers to create a capsule collection of unique 'Aussie' items only on offer in-house. They include the killer resort style shirt with retro Hawaiian vibe featuring a custom print, designed and made by Mikey Nolan and Toby Jones of hot new label, Double Rainbouu.
Extending the experience QT Bondi has developed a wide range of 'preferred partnerships' where the best of Bondi's goods and services can be enjoyed local style. These range from the popular Let's Go Surfing outfit in North Bondi and yoga sessions in Power Living's state of the art studio. Dining partnerships include Icebergs Dining Room & Bar, Drake Eatery and Porch & Parlour. All partnerships offer guests the service of billing directly back to their room charges at QT Bondi.
Now open for bookings on +61 2 8362 3900 or qtbondi.com.au
About QT Hotels & Resorts
QT Hotels & Resorts first put its stamp on the Australian tourism sector with the launch of QT Gold Coast in 2011. The unique and exciting property delivered the first injection of QT's signature designer spaces with bold entertainment and intriguing yet relaxing guest experience. Now one of Australia's most loved and dynamic hotel brands, the family of properties include QT Gold Coast, QT Port Douglas, the flagship QT Sydney, QT Falls Creek, QT Canberra and the newly opened QT Bondi.
Adding to its portfolio of stunning boutique hotels and resorts, QT is set for expansion with new properties to open in the next year, including QT Melbourne and two hotels in New Zealand, QT Museum Wellington and QT Queenstown –  marking QT's first international properties.
For more about QT Hotel & Resorts visit: qthotels.com.au