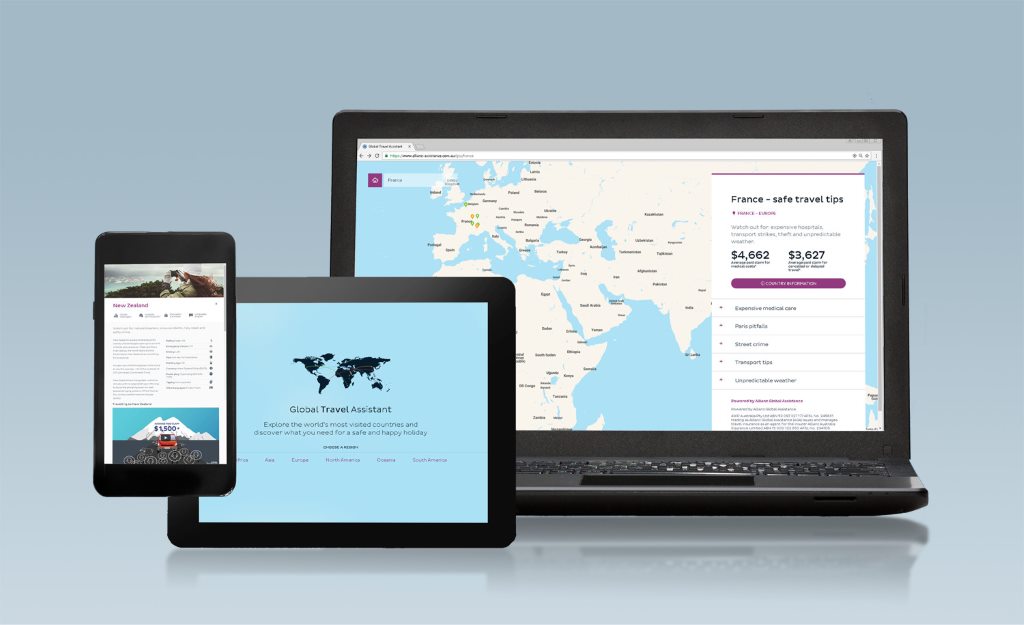 It's no secret that Australians love to travel, taking an average of
9.2 million
overseas trips each year[1]. To promote safe and well-prepared travel, international leader in assistance services,
Allianz Global Assistance
(AGA)
, has launched
Global Travel Assistant (GTA).
The GTA is an online platform that offers dedicated information and advice on the top 20 countries and five international regions most frequently visited by Australians.
The GTA is free to access and available to all travellers heading overseas. It highlights the potential risks in different countries, including safety concerns, theft hotspots, bad weather and natural disasters.
Last year, over 40 per cent of travel claims made by Aussies were medical and hospital related, including treatment for influenza, pneumonia, broken bones and gastro. Many circumstances could have been avoided if the proper precautions were taken. The GTA platform provides Aussies with health and destination advice, as well as customer case studies to prepare them for the journey ahead.
 "We launched the Global Travel Assistant site as a direct response to consumer demand. As a leading provider of assistance services, we have access to travel trends, risks and potential costs that are useful to travellers. With more Aussies than ever travelling internationally, we want to raise awareness of the importance of being prepared before a trip. Travellers can still get into trouble in so-called 'safe' destinations—natural disasters, lost or stolen belongings and simple accidents can all spoil a trip," says Craig Dalzell, CEO of Allianz Global Assistance.
"The GTA tool is available 24/7 - we want to encourage travellers to research their holiday destinations in the pre-planning stage of their trip as well as while they're away," added Craig.
The top 20 destinations frequently visited by Aussies (according to AGA data) and the top five international regions in order of preference included in the GTA are:

Countries:
·       New Zealand
·       Indonesia
·       Thailand
·       China
·       UK
·       USA
·       Singapore
·       Fiji
·       India
·       Japan
·       Brazil
·       South Africa
·       Italy
·       France
·       Germany
·       Canada
·       Turkey
·       Greece
·       Spain
·       Mexico
Regions:
·       Europe
·       Asia
·       The Americas
·       Africa
·       Pacific
For more information, travellers can visit: www.allianz-assistance.com.au/gta
About Allianz Global Assistance
How can we help?
An international leader in Assistance, Travel Insurance and health, life & home care services, today the Allianz Global Assistance Group counts more than 13,000 employees who speak 40 different languages and work throughout the world with a network of 400,000 service providers and 180 correspondents. 250 million people, or 4% of the world's total population, benefit from its services, which the Group provides on all five continents.
[1] Australian Bureau of Statistics, (2016). Overseas Arrivals and Departures, Australia, 2015. Retrieved from: http://www.abs.gov.au/ausstats/abs@.nsf/mf/3401.0