Written by

News Feature Team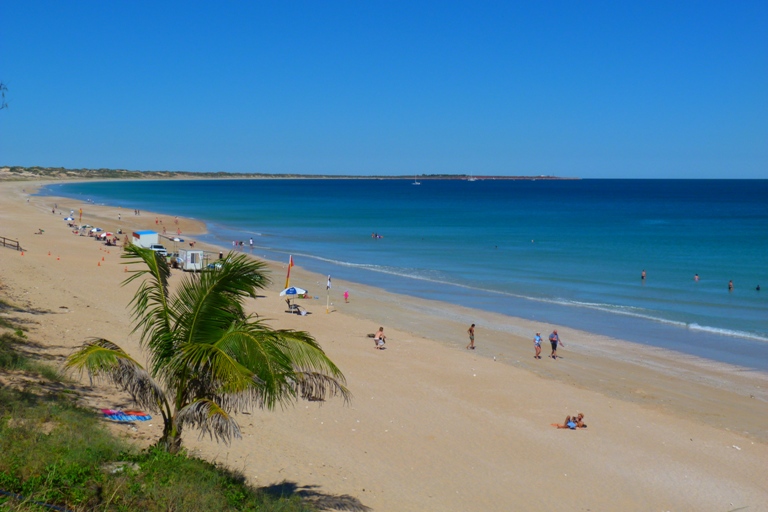 Anyone loading up a
campervan hire
and hitting the road in Australia would be advised to make a stop in Broome. Many consider Broome to the one of the finest destinations in the country, featuring unbelievably beautiful beaches, miles of unspoiled coastline and forests, and a lively and friendly local community that has been inviting to travelers for many decades. This region is a sunny paradise with white beaches and clear skies, offering many outdoor activities not to mention good food and friendly locals. If you're hitting Broome for the first time, make sure to check out these spots which are sure to make your stay a pleasurable experience.
Cable Beach
Cable Beach has long been considered one of the most beautiful beaches in the world. Featuring an expanse of white sand, crystal clear waters, and some of the most amazing sunsets you will ever see, this beach can truly be considered a paradise. Whether you're looking to swim, surf, take a long walk on the beach, or simply observe this picturesque expanse of water, no Broome visit would ever be complete without a trip to the world famous Cable Beach.  
Matso's Brewery
A great way to check out the local scene is to head over to Matso's Brewery which overlooks Roebuck Bay. Needless to say, the view is amazing but you will also be treated to a delicious meal and a wide array of great local beers on tap. You may meet some fellow travelers and trade tips on the area or chat up some locals. Matso's has long been known as the main watering hole for visitors and locals, and the establishment features the laid back local color that is a main feature of the area.
Japanese Cemetery
One of the main points of the history of Broome is the pearling industry, and here at this meticulously maintained cemetery you can pay tribute to the many who gave their lives for this industry and learn about their story and the timeline of Broome itself. This is a great way to soak up the history of this fine town and will help you to appreciate it even more. And speaking of pearls, why not do a little pearl shopping while you're at it and take home a souvenir you can cherish forever?
Short Street Gallery
One of the most amazing ways to learn about the region's indigenous culture it to head to the Short Street Gallery and check out the Aboriginal tribal art on display. Not only is this a great introduction to the area's original inhabitants but the crafts themselves are absolutely stunning in their execution and craftsmanship. This gallery has a very extensive collection and features many special shows and exhibits. It is highly recommended that you stop through this gallery while you're in town.
Have Some Mud Crab
Like many places in close proximity to the ocean, fresh seafood is a major draw in the Broome region. One of the area's top specialties is mud crab, and if you haven't sampled this delicious delicacy then it would be highly advised that you do so when you're in the area. This type of crab is rare outside of Broome, so at one of your visits to the many seafood restaurants in the area you should order up a plate. Any true seafood lover won't regret it.  
Gantheaume Point
This white sand beach features clear blue waters and rock cliffs that make it one of the most unique beaches in the country. Here you can experience the truly awesome sight of massive dinosaur footprints that have been preserved on the beach. This just adds to the wild and unique nature of the region and proves that this is truly one of the most unique areas in the world. Unlike other such sights, you don't have to hunt all day to find the fossil footprints, as they are clearly marked and easy to find. You don't have to be a geology buff to appreciate the opportunity to stand in the footsteps of such ancient giants. When you add to this the beauty of the beach itself, then it will be clear to see that Gantheaume Point is well worth the ten minute drive in your campervan hire.

Horizontal Falls and Staircase to the Moon
In an area full of natural wonders, these two really stand out. The Staircase To The Moon takes place when a full moon rises over the Roebuck Bay in the summer, giving the illusion that a staircase to the moon lays over the water. The Horizontal Falls occur when tidal shifts form a waterfall effect on the ocean. You won't soon forget either of these experiences, so make sure to check them out if you're in Broome in the summer months.
If you've left Broome of your list for places to check out in Australia, then think again. With its laid back charms, natural wonders, and pristine beaches, this Western Region paradise is the perfect place to park you motorhome rental for an extended stay.