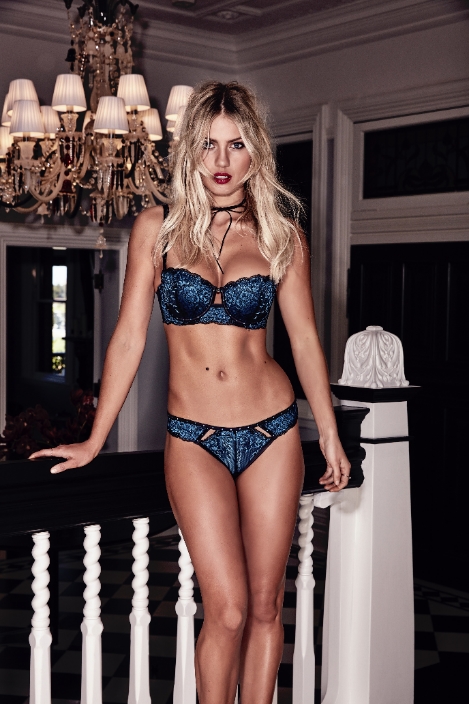 CONFIDENT. DARING. STRIKING. DYNAMIC. INTRODUCING VAMP BUY NOW

Bras N Things, Australia's leading fashion lingerie retailer, today announces the launch of Vamp - a new, exclusive collection designed in Australia.
Available exclusively in stores across Australia, New Zealand and South Africa and online globally, Vamp is the ultimate in luxury lingerie – featuring luxe textures, metallic lace, strong style lines and sparkle that makes a statement. 
Designed to be daring, without compromising on comfort, Vamp has been created by women for women who want to feel confident and sexy.
The Vamp girl knows who she is and owns it.  In her own way the Vamp woman is confident, daring, and comfortable in her skin. She likes to explore all sides of her personality and embraces the freedom that comes with transforming from everyday casual to glam.
Elyse Knowles is the face of the Vamp campaign launch. As a contestant on TV's The Block she has become a household name and truly embodies the spirit of the Vamp campaign.
Of the new Vamp range Elyse said: "This is such an amazing range, there are so many beautiful designs that I love and would wear every day. It's comfy, which is what I'm all about, and when you wear it you feel good. Women should be able to wear something that makes us feel happy, feel good, feel confident in our own skin. Embrace yourself – curves, whatever you've got - because you are beautiful!"
From today Bras N Things customers, media and celebrities can get in on the fun to celebrate the launch across social media by sharing how they embody Vamp using the hashtag #iamvamp.
Bras N Things Designer Yasmine Shardlow said she created Vamp to combine the latest in fashion trends with a little luxury for every woman without compromising on comfort.
"When you wear Vamp you should feel like you can take on the world! This season in our amazing new Vamp collection you will be seeing some risqué new cup shapes, a lot of bling and even some gold lace. I loved to hear Elyse say she felt comfortable wearing Vamp. Why should women have to sacrifice comfort for style? Vamp lets you have both! Whether it's an everyday luxury, a statement piece worn to be seen or a fun night in – you'll find the perfect piece in the Vamp range."
This season, Vamp is all about decadence.
Regal gold metallic lace meets diamantes, tassels and studded textures. Feminine lace combines with bold criss-cross strapping, or embrace your inner minx with leatherette fabric and gold hardware.
With a style to suit every mood and body shape, the range includes push up bras and push up demi bras, strapless bras, bodysuits, suspenders, brazilian, mini v and high waisted briefs. The range is also available up to an E cup in most styles.
To ensure a perfect fit and optimal comfort Vamp features an encasing so there is no chance of skin irritation. The range also features soft stretch satin fabrics, cotton lined or silky microfiber bra cups, and soft leatherette fabric. Who said support and comfort couldn't be sexy!
Bras N Things Marketing Manager, Natalie Chalmers explains Vamp is all about a woman embracing what makes her feel fabulous in her skin.
"We all know there is something very empowering about wearing a beautiful, luxurious set of lingerie and that is what Vamp is all about. Bras N Things have 30 years' experience as fit experts and creating fashion forward lingerie for women, and we used all of this knowledge to create this edgy but still very comfortable new Vamp range. Whether they buy online or come in store for a free fitting, there is a Vamp piece to suit every woman. The Vamp woman is comfortable in her skin, confident and daring. You can still be the girl next door and feel like a sexy vixen in Vamp," she said.
For a full list of stores or to shop online visit www.brasnthings.com
g