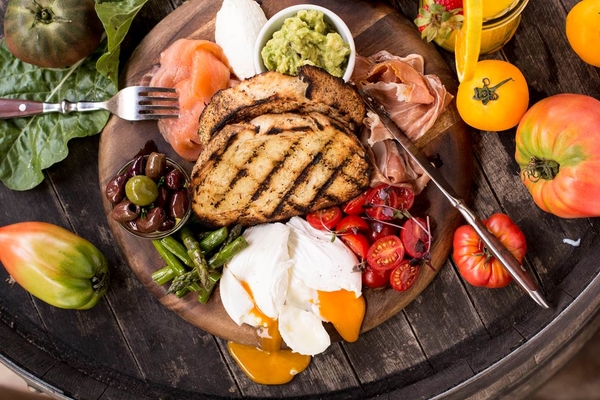 Breakfast is considered one of the most important meals of the day and is definitely a necessity before any of the Blackmores Sydney Running Festival races. Luckily race goers can fuel or refuel at one of Sydney's countless gourmet breakfast spots.
Weekend breakfast in Sydney is considered a religion and nowadays Sydney has a plethora of flexible dining options. From organic green smoothies to gluten-free pancakes, Sydney's wholefood breakfasts are a classic. Enjoy some of the city's finest options below as reward for completing the world's best run:
Henley's Wholefoods, Bondi Junction is delighting health junkies and fitness fanatics citywide. On the breakfast front, nourishing maca hotcakes with caramelised banana, shredded nuts and coconut yoghurt is the ultimate healthy morning pick-me-up
Bread & Circus Wholefoods Canteen, Alexandria is a foodie precinct that leaves café goers feeling nurtured, well fed and recharged. The menu changes daily but keep an eye out for the cloud of eggs floating in baked ricotta, the morning jumble of bircher or granola, and the breakfast with Gwyneth specialty
O-organics, Surry Hills uses all organic products and offers a number of vegan options. For the egg fan, the one-egg omelet with herbs, chutney and crumbled goats cheese is a must-have. Equally excellent for lunch, this place is a hit for late riser
The Grounds of Alexandria has the gluten-free folk covered with its wide range of breakfast options including tasty smashed avocado and white polenta porridge. This heritage listed warehouse space now boasts an organic garden with the finest fresh produce which is used daily in the kitchen
Visit the Bronte flagship store to pick up a Cali Press organic cold pressed juice or smoothie made from the freshest seasonal produce and loaded with superfoods, enzymes and nutrients. The 'Godfather' smoothie, with banana, dates and a strong hit of cold brew coffee is a perfect kick starter  
Head North of the Bridge and visit Bloom in Mosman,a bustling café with a rustic feel. With a focus on using seasonal organic and biodynamic ingredients, there is a range of healthy delicious food options for the whole family to enjoy
aboutlife, Double Bay is a one stop shop for natural products and wholefood nutrition. The Wholesome Café serves an extensive selection of juices and smoothies, and a number of nutritional meal options all packed with nature's best superfoods
Earth to Table, Bondi Junction serves impossibly delicious food with a raw food menu that never fails to amaze. Created by Julie Mitsios, Australia's leading raw food chef, the café serves cutting edge juices, smoothies and raw vegan meals made from the best locally-sourced organic ingredients
Orchard Street Café, Bondi has branched out from their much-loved juices and nut milks, recently adding naturopathic-created raw food meals and desserts to their unique offerings
Café turned yoga studio, Egg of the Universe, Rozelle is an urban zen spot that is nourishing for the body and mind. Sit in the beautiful garden courtyard to enjoy a seasonal wholefoods meal prepared with local organic and sustainable produce.
To enter the Blackmores Sydney Running Festival or for more information go to www.sydneyrunningfestival.com.au.
Go to sydney.com for more information on cafés in Sydney.