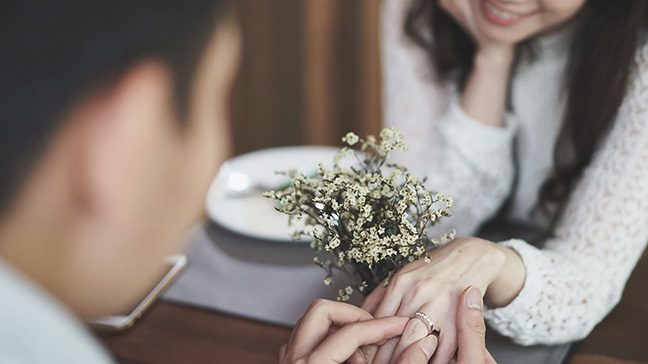 Shopping for an engagement ring can be an incredibly nerve-wracking experience. Aside from the fact that it is likely one of the most important purchases a person can make in their lifetime, there can be an overwhelming number of factors to consider before deciding on the right one. Before you lose your head, take a deep breath and reset yourself! This guide is here to help you not get caught up in the madness of the minutiae. Read on below for a list of the things you should consider before ever stepping into a jeweller's:
Your Budget
Setting a budget for the amount that you're willing to spend on the ring can aid you in a number of ways. First and most importantly, it prevents you from blowing through your entire life's savings in one fell swoop. Having a reasonable number in mind also helps narrow the selection down, whether you're doing your ring shopping in person or online. Jewellers will appreciate it if you give them a firm figure up front.
Forget everything you've heard about how the cost of the ring should be equivalent to two or three months of your salary; instead, go with a number that's sensible for your financial situation. You don't have to be swayed by marketing propaganda urging you to spend money on a diamond, either. There's no rule that states you can't select alternative gemstones or materials. You can find opal, ruby, or sapphire engagement rings in New Zealand that are just as stunning.
The Recipient's Lifestyle
The area where most people get tripped up when shopping for an engagement ring is the style. If you don't know it yet, there are virtually hundreds of ways to set a stone into a band, just as there are virtually hundreds of band styles to choose from. For those of you who feel as though they're losing themselves in the details, we recommend letting the recipient's lifestyle guide your design choices.
The ring you buy should match the lifestyle of the person who's going to be wearing it. Next to your wedding bands, the engagement ring will most likely form part of the recipient's daily outfit. It's important to take things like her hobbies and interests into account, not just to dictate the ring's final look but also to ensure that she can comfortably keep the ring on her finger as she goes about her day-to-day activities. It's always a good idea to give your jeweller as much information about your partner's likes and dislikes as possible. It can help them find or craft a suitable ring that won't get in her way.
The Recipient's Work Environment
What your partner does for a living should also factor into your choices when shopping for an engagement ring. After all, people spend up to 40 hours (and sometimes more!) at work, so it makes sense to go for a ring that won't interfere with her capacity to perform her duties. There's a social aspect to keep in mind, too. If your partner works in the welfare field, for instance, putting a huge sparkling rock on her finger would not only be seen as inappropriate, it could attract unwanted attention or put her in a precarious situation.
Think about how your partner uses her hands with regards to her chosen career path. A beautiful engagement ring can enhance her image if she works in a creative field or is in a customer-facing position where impressing people is key. If she works in the health or service industry, a low-key engagement ring that won't inhibit her ability to help others would be best.
Other Details That Dictate Comfort
When people talk about ring size, they're often only thinking about finger size. Just because an engagement ring fits doesn't automatically mean that it's the perfect one. An overly thick band or shank can cause significant discomfort, as does a heavy ring. If the gemstones are held in place by prongs, they can catch and pull on threads and fabric. Stones set too high can poke or cause bruising. Certain rings are also more difficult to clean or keep clean than others.
What we're trying to say is don't sacrifice comfort for style points. You may think that a certain feature looks cool, but your partner might see it as a nuisance once the ring is on her finger. Remember that saying, "don't let the perfect be the enemy of the good".
Speaking of perfect, you would do well to divest yourself of the idea that the perfect engagement ring exists. The ideal ring is the one your partner will feel physically and emotionally comfortable wearing. As long as you keep her welfare in mind, you're already halfway to the right one.