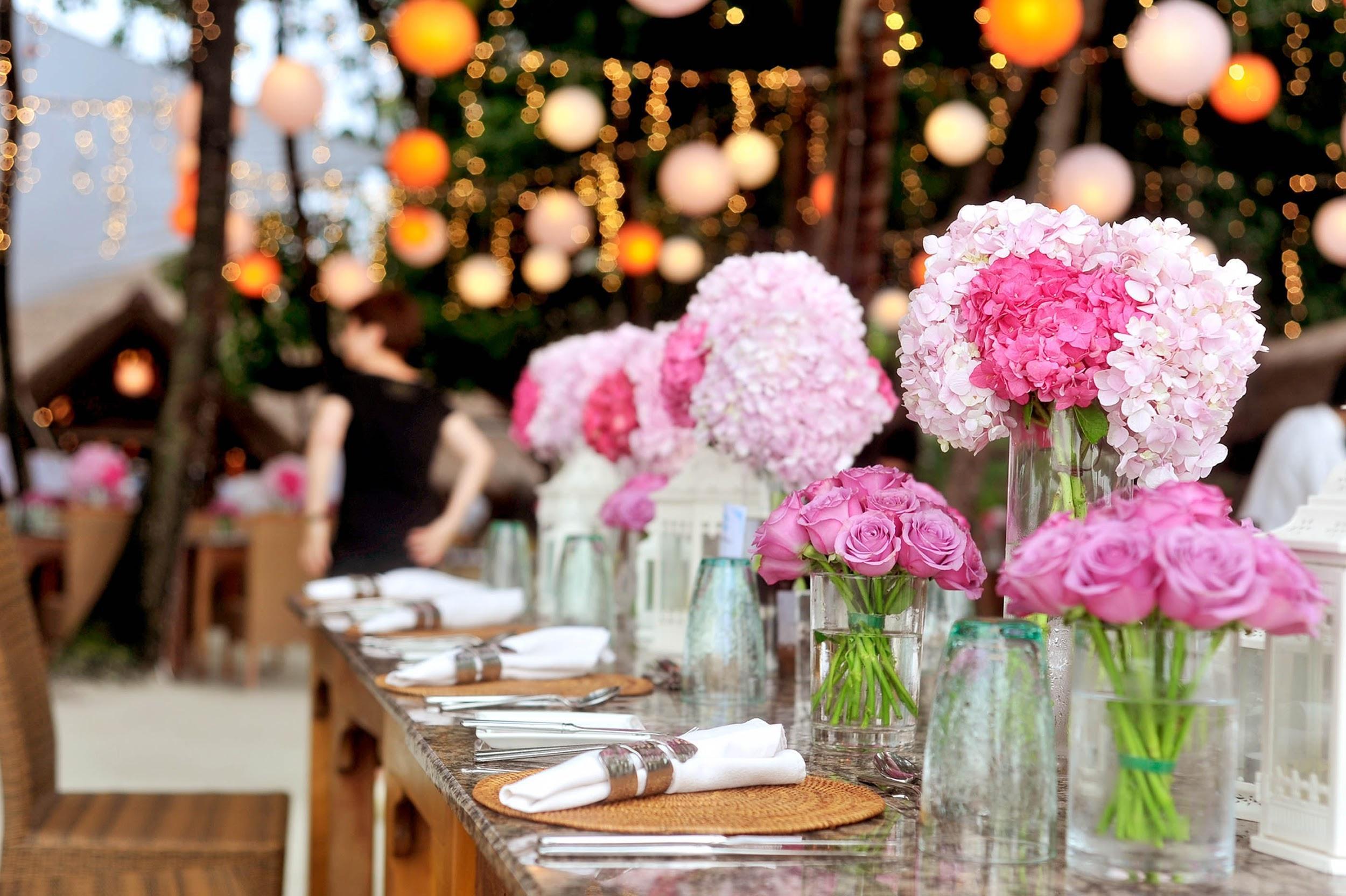 Catering is a popular and sought-after service. Choosing a banquet hall for a wedding, you cannot compromise, for the sake of a beautiful interior, agreeing to a kitchen that does not suit you. Just order catering and choose dishes for a wedding dinner, not limited to the restaurant menu.
Sometimes catering is completely irreplaceable. If your celebration takes place on the site without your own kitchen, in a private house, in a tent or in the open air, then you cannot do without field service. If you select a menu that has some intricacies which only professional can deliver correctly, like having  a seafood buffet or a Thai menu, you need to hire a service for that.
How to choose a good catering service so that the wedding lacks nothing?
Decide on the type of catering
A classic banquet, a wedding brunch, a buffet with several stations or a la carte service and waiters, a self-service buffet - it is important to understand which format of the event is closer to you and will be more appropriate at your wedding. This will determine what services, in addition to the kitchen, you will need from the catering company.
For a banquet, you need furniture, table textile with beautiful serving utensils. For the buffet, beautifully decorated tables or stations with snacks and drinks, which will correspond to the concept of the holiday, are important.
In self-service, an important role is played by the quick replenishment of the assortment of portioned snacks and common dishes, as well as the unobtrusive but prompt cleaning, because there should not be any mess on the buffet tables.
Choose the ceremony based on the number of guests
The scale of the ceremony or buffet depends on the number of guests at your wedding. If you are planning more than a hundred guests, then choose a large catering company. You will need a large number of furniture, utensils and a decent staff of chefs who can cook several dozen hot dishes at the same time.
Be sure to specify how many waiters will work at the event. It is important that the dishes are served on time, and the drinks are regularly updated and guests do not have to wait or serve themselves. Also pay attention to the amount of spare crockery, appliances and table textile, which the catering service is ready to provide in case something breaks or you need to replace the tablecloth or appliances.
Read reviews, search for recommendations from friends
Like many wedding services, exit services are best chosen according to recommendations and reviews. Ask friends and relatives to be advised of a good company, the services of which have already been contacted. It also makes sense to ask for a recommendation from your wedding planner or another professional whose opinion you trust.
Catering is not only food but also a comprehensive service. Therefore, the ability to work with a client and pleasant communication of staff play an important role in choosing a reliable company.
Check which services are included in the price and which are paid separately
In the process of making an estimate, a surprise may await you if the related catering services in the company of your choice are paid separately. We are talking about renting furniture, utensils, table textile, decorating the venue for a banquet or buffet, the services of waiters (does the company have its own waiters or are these third-party employees).
It is also worth clarifying the issues of delivery, cleaning after the event, stipulating the service's working hours and the possibility of extending it, the exact time of arrival at the venue on the day of the celebration, agreeing on a tasting menu, etc.
Arrange a tasting
Tasting the menu is the most important step in preparing for the wedding. Do not neglect this service, because the impression of guests about the wedding greatly depends on the quality of the dishes, their taste. Many companies provide free tasting for catering, for some this service is paid separately. In any case, having tasted the wedding menu in advance and making your own corrections, you will be sure of the impeccable taste of the treats at your celebration.
In addition, this is a good opportunity to check the quality of service and the beauty of the presentation of dishes. If you did not like the work of the staff at the tasting, then you can hardly expect a different attitude to the process at the wedding itself.
Now there are catering services that provide options for a vegetarian and even vegan menu, which will be no less sophisticated and effective than traditional banquet dishes.
Couples are increasingly choosing catering also because it is a modern service that monitors trends and keeps up to date. Outsourcing companies are ready to experiment, they can develop a special menu specifically for your event and offer a wide selection of dishes from unusual, expensive, exotic ingredients that are rarely found in the standard restaurant menu. Catering services are usually addressed by people who want something more than the usual and are willing to pay for exclusivity and an individual approach.
Does your location offer catering?
Before you decide on a location, you should ask whether the location also offers the food and drinks or whether it is possible to bring your own food - or that from another catering service. For example, on the location, it is allowed to bring your own wedding cake, but the location then requires a plate fee - just for the provision of cake plates and forks. The same also applies to wine & co. There is usually a so-called corkage fee.
A morning event
If you get married relatively early in the day and therefore have a more or less lunch, you can serve a high afternoon tea.
At this point, the guests usually don't want as much food and small bites here and there are enough. In addition: Anyone who has ever had afternoon tea knows that this is not just a snack, but a full meal.
And what do you serve with afternoon tea? Traditionally, afternoon tea is prepared on multi-level serving plates so that everyone can use it themselves. You usually start with sandwiches and small wraps - there are really no limits to the toppings. These sandwiches can also be served great in a vegan or vegetarian version.
Afternoon tea also includes small mini cakes and desserts such as mini chocolate mousse or cream puffs. With afternoon tea, there are no limits to your ideas.
Conclusion
For an ideal holiday, the coordinated work of the whole team is important: the coordinator or organizer of the wedding, one or more location managers, cooks, waiters, janitors and workers. A mutual understanding between wedding professionals, the organizer and the couple is the key to success in preparing for the wedding.