Written by

Cassie Jackson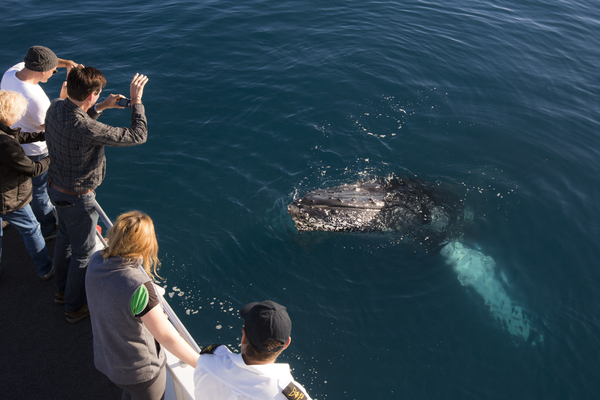 The school holiday break is the perfect opportunity to splash out on an awe-inspiring escape in the peak of whale season, where close encounters with our giant, curious friends are guaranteed.
Whale watching in Hervey Bay is not a typical "day trip" experience. Instead it's an opportunity to gain an interactive, up close and personal experience with whales. Tie in world-class eco-experiences such as the World Heritage listed Fraser Island and the UNESCO recognised Great Sandy Biosphere.
Hervey Bay is unique as far as whale watching is concerned. It is the only place of its kind in the world where migrating whales stay up to ten days in the pristine waters between the mainland and Fraser Island. They interact, rest and play in the Great Sandy Strait – a perfectly protected marine playground for mothers and their calves in the calm waters between Hervey Bay and Fraser Island.
The Fraser Coast has a range of whale watching tours that will exceed all your expectations and we've included a small sample of what's on offer.
Holidaymakers can hop aboard Tasman Venture for a half day tour complete with guaranteed whale sightings or return ticket. A trip out with Tasman Venture includes their expert commentary, refreshments and antipasto platters, underwater windows and unique viewing platform, hydrophone to hear the whales sing, free whale DVD and more.
Meanwhile, the Spirit of Hervey Bay has 3/4 day whale-watching cruises including morning tea and buffet lunch while Whalesong Cruises has four-hour morning or afternoon tours with quality local morning or afternoon tea, wide water-level viewing decks and more.
Another popular option is Freedom Whale Watch's luxury3/4 day adventure with gourmet morning and afternoon tea and tropical buffet lunch.
For example Blue Dolphin Marine Tours has exclusive full day whale encounters including limited passenger numbers for great views; eight hours touring on board the luxury vessel; morning, afternoon tea and quality buffet lunch with free drink. If the conditions are right, passengers can join the whales in the water on the boat's purpose-built platform.
Another excellent option is Hervey Bay Whale Watch Quick Cat II which has a full day Whales and Fraser Island experience including light breakfast, morning tea and hop off at Kingfisher Bay Resort on Fraser Island for lunch. Conditions and temperament of the whales permitting, there is also the opportunity to swim with the humpbacks.
The Hervey Bay whale watch season is from July to November each year. To book your adventure to the 'whale watch capital of the world', head to whalesherveybay.com.au. 
Conditions apply, prices subject to change and availability.