Nowadays teenagers spend all their free time on the Internet. Some of them play games and chat with classmates, while others try to find new friends via various platforms or read and watch something that children should not do. Is it possible to protect teenagers from unwanted content? Some life hacks can help you to control your children. Worrying about sons and daughters is normal, however, kids should not feel that you are interested in monitoring their devices.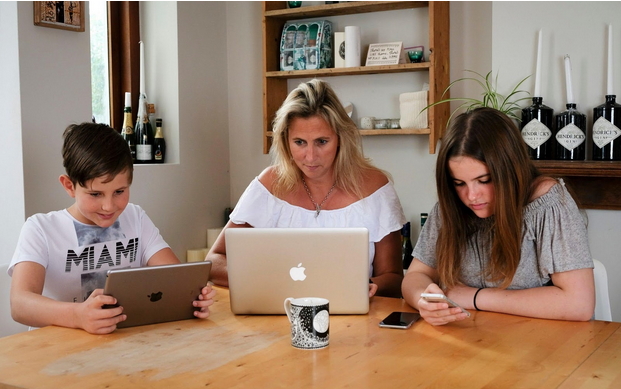 Malware software & hackers
There are many articles dedicated to viruses and malware programs. Many teenagers do not take all that seriously till their PCs die or personal information is stolen. It might be difficult to get rid of some viruses but in case you have anti-virus programs, it is easier to prevent apocalypses.
Discuss with the teenager the dangers of the Internet and viruses. Sure, children do not want to spend their money on anti-virus tools, therefore, buy it for them. It will not only secure your child but make their devices work properly.
Another issue is hacking. Explain to teenagers that having passwords like "qwerty123" can end badly. Suggest them to create unique passwords and write them somewhere, for their accounts will be in safety.

Social networks & apps
Some teenagers find it difficult to share their thoughts and desires with classmates. They prefer to talk to strangers from the Internet. There is no doubt that pen friendship or, if to be precise, Internet friendship, exists, but as with every friendship, it can end drastically.
If a teenager spends his/her time in social networks and dating apps, it might make you worried. Different gay sites and dating apps, full of scammers and explicit content, might spoil the life of any trustful teenager. You can ask the teenager to add you to friends at least on Instagram and Facebook to be aware of what he/she posts.

Online gaming
There are different types of addiction. And if you think that it's connected only to smoking and drinking alcohol, you are wrong. If your child spends all the free time playing games, you should start worrying. Probably your teenager has a video game addiction. It is more problematic if the child spends money on games.
Addictions are difficult to be cured. In some cases cutting the Internet off and taking the phone away is enough. However, sometimes the help of a psychologist is needed. Therefore, it might be better to discuss with children the dangers of online games and advise them to spend only 1-2 hours on this hobby in a day.

Helpful services for parents
First of all, what are the dangers which teenagers can face on the Internet? Here is the list of some of them:
Kaspersky Safe Kids, the best program for protecting children from harmful websites. Surely, your child might be against the use of such a program.
Apple ID, the best way to control what your child does in case you both have iPhones. Some settings can help you know which programs he/she downloads and uses.
Synchronization of browser history and bookmarks, which can be done by using the same account on some devices. Even though it's tricky, but in case you want to know which websites the teenager uses, it might be helpful
Sure, modern children know about technologies more than enough. Therefore, all your attempts can go in vain – the child can change passwords or log out from your account in a browser.

Make your child your best friend
What is the best way to stop worrying but knowing what your child does? Surely, you can't and shouldn't have access to all accounts and messages of your child. Private space is important both for teenagers and adults. The only way to be aware of what children do is to discuss their friends and give some advice.
To sum up, the best way to protect your kids is to be their friends. In case teenagers trust you, they will always discuss their problems, desires, and thoughts with you. Do not forget that you have also been a child, therefore, just try to remember what you expected from your parents.