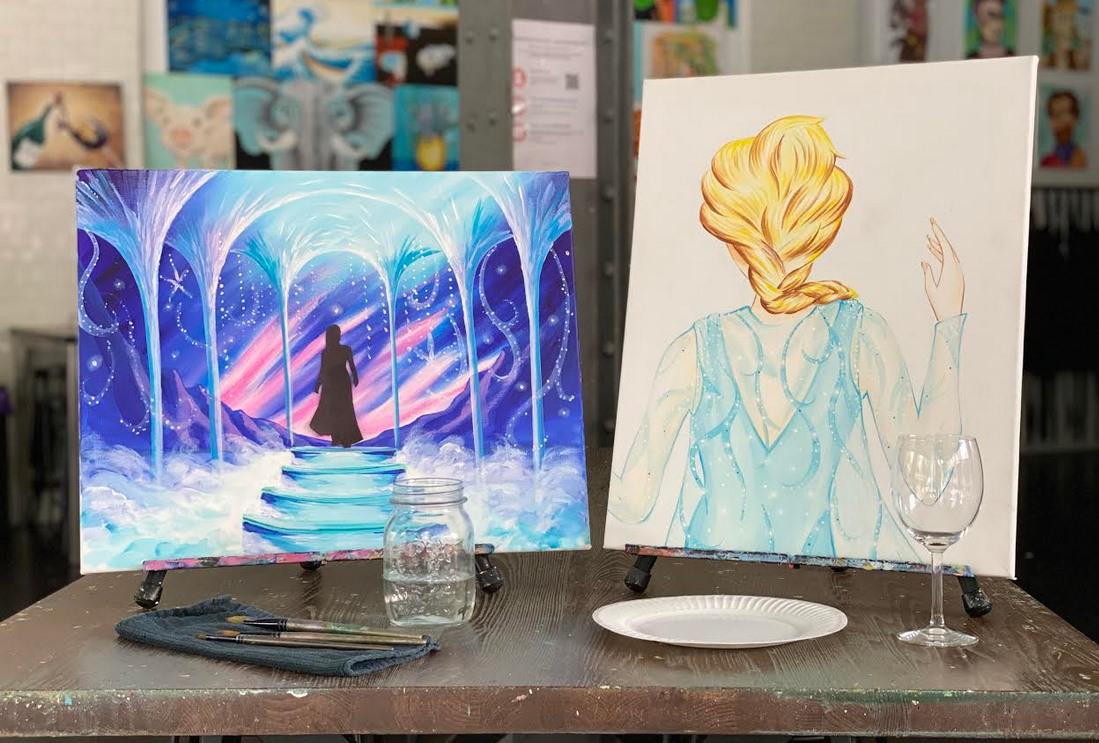 For all the Disney lovers and grown up Frozen fanatics, Sydney's favourite paint and sip studio, Cork and Canvas, is launching a series of Frozen the Musical themed BYO art classes from the 17th January until the 31st January. For those of us who grew up with the Disney classics, these classes are the ultimate way to channel your inner creative while enjoying a glass of wine. It is sure to be a fabulous night out with friends in Sydney.
To celebrate the launch of the critically acclaimed musical arriving in Sydney this December, Cork and Canvas classes will feature iconic scenes and characters from Frozen the Musical - one of the first musicals globally to be back on stage after a year of lockdowns.
Paintings will include the stunning set showcasing Elsa's ice castle, as well as a play on a Cork and Canvas signature painting featuring Queen Elsa, 'Frozen in Time'.
The soundtrack to these art classes will of course include some of the phenomenal music from Frozen the Musical, giving fans a sneak peek into what they can expect at the Capitol Theatre while they paint. Frozen fans can sip wine and nibble on BYO snacks while they paint iconic scenes from the musical at Cork and Canvas Darlinghurst and Crows Nest studios.
Cork and Canvas Founder Melinda Janiszewski said: "I have been a huge fan of the Disney films and stage shows since I was a little girl.  Now that I'm an adult I love to get together with my friends and have a night out seeing a musical. Our whole team both here in Sydney and our Melbourne studios, are all huge Disney aficionados. We are so excited to launch this incredible partnership and offer these beautiful new Frozen the Musical paintings to our guests."
Tickets to the Cork and Canvas Frozen art classes can be booked online via the Cork and Canvas website. Tickets can also be purchased with your Frozen the Musical tickets. Classes are only open to those over the age of 18. Masks must be worn in the classes under the current guidelines, except when eating and drinking.
Instagram | Facebook | YouTube
Darlinghurst studio dates:
●      Sunday 17th - 2pm-5pm
●      Saturday 23rd - 2pm-5pm
●      Sunday 24th - 10am-1pm
●      Thursday 28th - 7 pm-9pm
●      Saturday 30th - 7pm-10pm
●      Sunday 31st - 10am-1pm
Crows Nest studio dates:
●      Saturday 16th - 2pm-5pm
●      Sunday 24th - 2pm-5pm
About Cork and Canvas: Founder of Cork and Canvas, Melinda Janiszewski, single-handedly created a whole new category in the Australian entertainment market, specifically, painting and sipping. Prior to migrating to Australia, Melinda noticed the paint and sip concept hadn't yet hit the Australian shores and thus the concept of Cork and Canvas was born.
Since opening her first small, suburban studio in Moonee Ponds, Victoria, the business has exploded into two studios in the heart of South Melbourne and two Sydney studios located in the heart of Darlinghurst on Oxford Street and in the heart of Crows Nest.  www.corkandcanvas.com.au
About Frozen the Musical: From the producers of Aladdin and The Lion King, Disney's new hit musical Frozen opens at Sydney's Capitol Theatre from December 2020. Adapted from the Oscar-winning film, Frozen the Musical is an inspiring tale of sisterhood and true love that comes to life with gorgeous sets and costumes as well as sensational special effects. Tickets are available from www.frozenthemusical.com.au