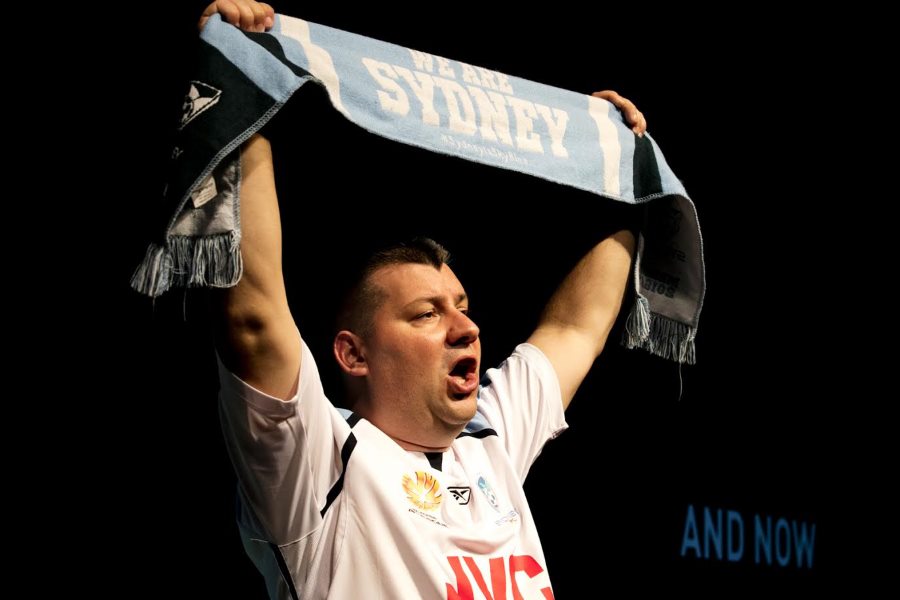 Bridging the gap between sports and the arts, playwright David Williams' insightful new play Smurf in Wanderland, which wraps up at Griffin Theatre Company this week, has emerged as a direct result of the Copyright Agency's Cultural Fund, which has supported the Theatre since 2009.
Smurf in Wanderland, is one man's insightful and poignant examination of football, tribalism, belonging and identity. It's also a passionate defence of the fan – exploring what it means to be a fan, the demonisation of fans and the artificial wedge that has been created between Sydney and its western suburbs.
Williams was a recipient in 2015 of funding via Griffin's Studio program, a highly successful artistic program that offers selected artists a year-long residency to develop new pathways to the mainstage. Artists work on their own projects as well as contributing to the creative life of the company through script assessment, education workshops and their involvement in programming conversations.
Chief Executive of the Copyright Agency, Adam Suckling says, "At a time when artists are struggling to finance their creative endeavours, since 2009 the Cultural Fund has provided close to $200,000 in funding for Griffin Studio and the Griffin Award for playwriting. These programs provide critical support for Australian writers and directors to flourish and tell their distinctively Australian stories."
Other recent Griffin Studio artists who have achieved notable successes include:
Emerging writer, performer and creative producer Phil Spencer, participated in the Studio residency program last year and was invited back as the lead 2017 Studio Artist, to develop his bleak romantic comedy, The Smallest Hour, in collaboration with comedian and Whose Line is it Anyway? Australia regular, Susie Youssef. The play will be considered for the 2018 Season at the Griffin Theatre
Karen Therese, 2015 Studio and Artistic Director of Powerhouse Youth Theatre (PYT) developed the ground-breaking new production Tribunal at Griffin in 2016, which enjoyed a hugely successful return season in Fairfield in 2017  
Sheridan Harbridge (2016 Studio) produced her show Nosferatutu or Bleeding at the Ballet as part of Griffin's 2017 season
Actor and writer Kate Mulvany (2011 Artist), developed the family musical Masquerade during her time in the Studio. A co-production between Griffin and the State Theatre Company of South Australia, Masquerade was presented by Sydney Festival and the Sydney Opera House.
Artistic Director of Griffin, Lee Lewis says, "Many productions, including A Smurf in Wanderland, simply wouldn't have happened without the support of the Copyright Agency's Cultural Fund. Such programs not only allow the writers to produce new works, but also have an immensely positive impact on the Australian cultural community. By the end of 2017, the Studio program will have engaged 33 artists who have since worked at every major theatre in Australia and produced over 13 professional productions at Griffin alone, demonstrating how vital the program is to Australian creative output"
In addition to Griffin Studio, The Copyright Agency's Cultural Fund supports the prestigious Griffin Award that has enjoyed a long history of recognising new talent and cementing the careers of Australian writers. The Griffin Award recognises an outstanding play or performance text that displays an authentic, inventive and contemporary Australian voice, with the winner receiving a $10,000 prize and the four other finalists receiving a $1,000 prize.
Many Griffin Award winners have premiered at the theatre including The Turquoise Elephant (2015) and Jump for Jordan (2013). The 2014 Griffin Award winner The Bleeding Tree has enjoyed even greater success, not only premiering on stage at Griffin in 2015 but also enjoying a sold out season at Sydney Theatre Company 9 March – 8 April this year.
The Bleeding Tree, penned by Victorian playwright Angus Cerini went on to win three Helpmann Awards – including Best Play, Best Direction and Best Female Actor in 2016, a 2016 NSW Premier's Literary Award – the Nick Enright Prize for Playwriting, Best New Australian Work at the 2015 Sydney Theatre Awards and the David Williamson Prize for excellence in writing for Australian Theatre at the 2015 AWGIE Awards.
The Copyright Agency's Cultural Fund will open for Round Two 2017 applications in July. $500,000 in grants will be available for organisations running projects that provide broad benefits for the Australian cultural community.
About the Copyright Agency
The not-for-profit Copyright Agency connects users and creators of content, providing licences for the use of copyright material such as text, images, art and survey plans. We manage the educational and government licences for the use of text and images, as well as the resale royalty scheme for artists (by Government appointment). Our members include writers, artists, surveyors and publishers. Membership is free.
www.copyright.com.au