Written by

Brigitte Evans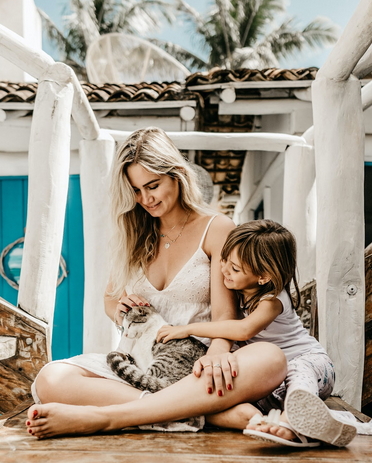 Being a parent is a blessing, but motherhood does come with its own set of challenges. Taking care of your children means you need to work round the clock, and that leaves little room for self-care.
Whether you're a mom who's looking forward to getting back to work, a busy stay-at-home mom or a new mom, these couple of tips down below are sure to come handy and ensure you look and feel great in your own skin – every day.

Harness the power of effortless hair hacks
If you thought the words hair and effortless don't belong in the same sentence, think again! Nowadays, there are so many different tips on how to style your hair in no time and manage to look amazing sans the time-consuming trips to the salon. For instance, putting your hair in braids overnight as Kourtney Kardashian does can be a great way to get those gorgeous beach waves and look polished and put-together in the morning. This also means you don't have to rely on heat to style your hair. This enables you to embrace your natural hair texture while also saving time and ensuring healthier, stronger hair. You can also use coconut oil before bed to give your hair an overnight deep-conditioning treatment once a week – it will work wonders for both your skin and hair, leaving them soft and smooth.
Feel free to take shortcuts to a perfectly styled look


For many moms, looking polished and put-together equals spending hours in front of a mirror, putting on makeup and styling their hair to perfection. Since their new role as a mama doesn't leave too much room for that, moms might start to feel less desirable after giving birth, which has a negative impact on their self-esteem. The changes are especially noticeable in the way their hair looks and feels. Their hair might have felt thicker and longer while they were pregnant thanks to the hormones, and many moms miss their hair being full and lush. During those first couple of months, wearing
quality Russian hair weaves
can be a time-saving beauty shortcut to an effective style change, allowing you to go from short to long in a flash. These can also help you avoid that postpartum hair drama and make sure you look flawless even when you've got zero time.

Semi-permanent solutions can cut your beauty routine in half
Lengthy, complex beauty routines become more challenging to handle once you become a mom. As such, they need to be slashed in half. The question is, how do you achieve that without giving up on your favorite beauty products? The answer lies in semi-permanent beauty solutions. Getting lash extensions and eyebrow embroidery can help you cut your morning beauty routine in half since you will be eliminating a couple of steps and make you look and feel gorgeous in the morning when you don't have any makeup on. If you've got some wiggle room in your budget, consider splurging on gel manicures – they save you time, don't chip, and you can sometimes stretch them out for a month.
Invest in all-in-one beauty products
Multitasking seems to be inevitable once you become a parent, even when it comes to your makeup. You need your makeup to be done quickly and sans stress and a great way to ensure that would be to get beauty products that can be used for multiple purposes. For instance, there are tinted moisturizers with SPF that combine three skin care steps into one, allowing you to pare down your beauty routine, look fresh and put-together, and make sure that your skin is protected from UV rays. If you want to take things a step further, there are 4-in-1 CC creams that can serve you as a primer, moisturizer, sunscreen, and foundation, and you can use them to achieve that perfect 'au naturel' look – only in a less time-consuming manner.
Although squeezing some 'me time' into a tight schedule can seem challenging, there are ways for busy moms to look and feel good even when they're strapped for time. Give some of these time-saving, getting-ready hacks a try, and watch as you begin to feel more confident and comfortable in your skin.