Written by

Brigitte Evans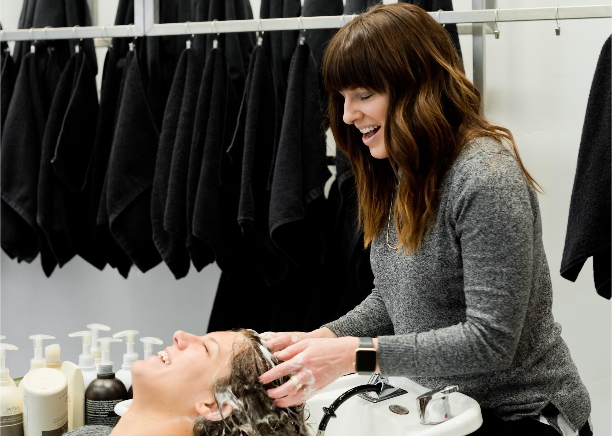 While we can all agree that the best hairstyles are the ones that make us feel beautiful, the truth is that very few women actually have the time in the morning for elaborate hairdos or extensive hair routines. Thankfully, that doesn't mean we can't spare a couple of minutes for some quick and simple hairstyles that will make us look great without much effort. If you're a busy lady struggling to find a solution to your daily hair problems, here are some of the best hair trends you're bound to love:


A short pixie cut
If you dare to go short, a pixie haircut is one of the best options you can go with. Being one of the quickest and simplest styles to maintain, all a pixie cut actually needs is a bit of pomade or gel in the morning in order to look sleek and fashionable all day long. What's more, as long as you choose a trusted and professional stylist, a good pixie cut can suit any hair texture and beautifully define any face shape, allowing you to look absolutely fabulous at all times, with minimal effort.


A medium tousled bob
Whether you're a stay-at-home mom or a businesswoman always on the go, a seamlessly cut bob can always be a great solution. With very little time and effort needed to maintain this hairstyle, a bob is a timeless look that can truly suit any occasion. If you're aiming for a sleeker and straighter style, all you need is a smoothing cream to perfect your bob. For a messier and edgier look, a bob can also be scrunched up in stylish waves with just a dab of your favorite styling mousse.


Long and luscious locks
Long, thick hair is always on trend, and it tends to looks so effortlessly beautiful, even if the styling process consists of nothing more than a simple comb-through. Such luscious hair can also be styled in a number of quick hairdos, whether it's a bun or an elaborate braid, and seem healthy and full at all times. However, not all of us were naturally blessed with voluminous hair. For that reason, it might be a good idea to find the best hair extensions that perfectly match your hair color and texture, and rock a gorgeous, luscious and entirely trouble-free hairstyle every day.


The half-up half-down
If you're rocking day two hair and you need a quick fix before heading out the door, then this half-up half-down hairstyle is the perfect solution for you. Simply grab the top section of your hair, or even take two thicker strands from the front, and pull these pieces to the back of your head. Then, you can tie a small knot, make an easy braid, or just secure your strands with a hair tie or some bobby pins. This hairdo is as quick and simple as it gets, while still giving off a beautiful, feminine vibe.


The classic ponytail
The ponytail is a classic for a good reason; all it takes is a couple of seconds to take your hair from an oily mess to a stylish 'do. But even though it's incredibly simple and undemanding, it can become too boring and too repetitive all too quickly. If you want to spice up your ponytail and make it more creative and unique, try wrapping one strand around it to hide the hair tie, pair it with a headband for a quirky touch, or even exchange a hair tie for a beautiful printed scarf – all simple additions that make a huge impact.


A chic messy bun
Is there anything truly more effortless than a messy bun? What was once only acceptable as an 'at-home' look has now become one of the trendiest hairstyles women love to wear on the daily. Whether you opt for a high or a low bun, this hairstyle can give you more versatility than you realize. Make a ponytail and wrap it around its base, wrap a wonderful braid into a circle, or simply pull your hair through a hair tie, stopping halfway down – the choice is all yours.
For those lazy, hectic or stressful days, try one of these quick and easy hairstyles, and you're guaranteed to look absolutely stunning, without having to put a lot of time and effort into your hair.