Written by

News Feature Team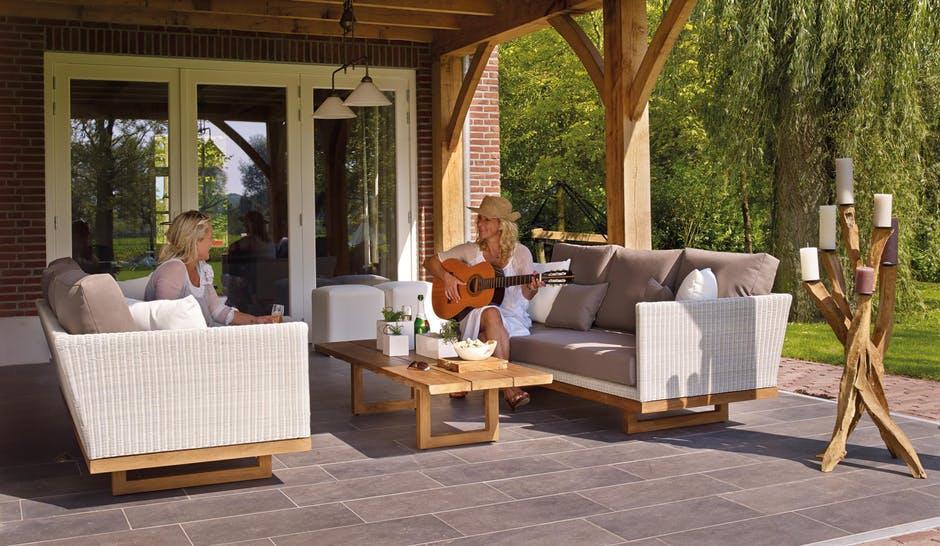 Is your outdoor living space in need of some love? Whether you live in the city and have a small backyard space, or you live in the countryside and have a wide open meadow to work with, there are simple solutions for turning that drab outdoor area into a fabulous spot for your family and friends to enjoy.
Here are 6 simple tips to turn your backyard into the perfect living space.
Invest in a deck or patio
A well-planned deck or patio can add a lot of enjoyment to their home. Local building codes or the terrain of the site dictates whether you build a deck or patio. In addition to codes and topography, builders often must assist in deciding if a deck or patio is what they want and need. In those cases, builders need to know how you plan to use the new space. A deck is usually the most affordable option, and concrete is often the most durable, with the lowest maintenance. With all the different material and design options out there now, it shouldn't be hard to settle on something you will love.
Dress it up and make it cozy
If you already have a deck or patio, make it destination by adding accessories them. This can be a comfy outdoor seating, or a relaxing dining area or even a cozy fire pit area. To help really accentuate these feature areas, Try adding some style with accessories. With wide ranges of outdoor accessories like pillows, lights, heat strip heaters, plants and art, there is no excuse to have a boring outdoor area.
Outdoor kitchen/bar
If you grill at least twice a week from spring through fall and if you love eating outdoors, you need an outdoor kitchen. You don't need a fancy grill, but a countertop for food prep and closed storage and a separate side burner will greatly enhance your outdoor cooking experience. Add a refrigerator and sink to make preparation and cleanup even easier. Plus, outdoor bars and kitchens can make hosting duties so much easier.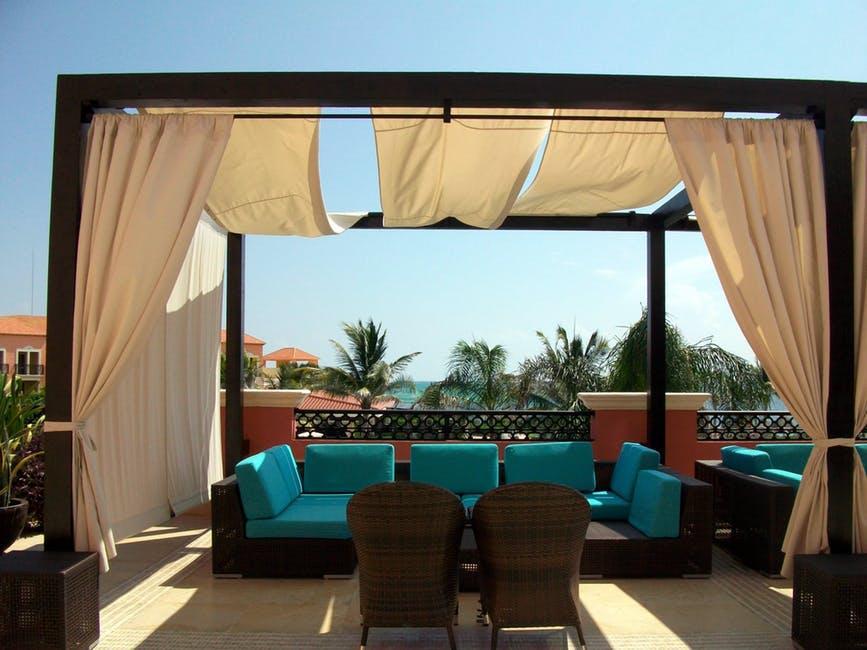 Add some green
Potted plants are an easy and often inexpensive way to define and accesories your deck. Try a variety of plants and flowers to mimic a lush landscape. To make your garden portable, use lightweight fiberglass pots. You can take this further by getting unique decorative planters. Alternatively, decorate them yourself by creating mosaic or painting them to suit your outdoor style.
Shaded areas
There are 3 main ways to shade your outdoor area; curtains, a pergola or an umbrella. By adding curtains, it doesn't just dress up your outdoor area, it provides privacy as well as shade. Adding a pergola to your outdoor living space can help define your patio and create more os a "hangout zone" away from the rest of your backyard. It can lend your space more privacy, shade, and shelter.
If a pergola or curtains aren't what you want, try shading areas with an outdoor umbrella. They provide portable shelter and custom charm. Anchored in a sturdy base, this tilting sunshade adjusts to block blazing rays throughout the day.
Use Water Accents
Adding a water feature to your outdoor area can create a tranquil, relaxing soundscape. A water feature looks great in both large and small outdoor living spaces. You can either get a ready-to-go set from your local hardware store or nursery ot you can make a DIY project out of it, and create a garden fountain out of a gorgeous container and some commonplace irrigation tools.
Your backyard can become one of the most wanted to be in areas of your home if you follow these tips and you treat it with the same love and time as the inside.