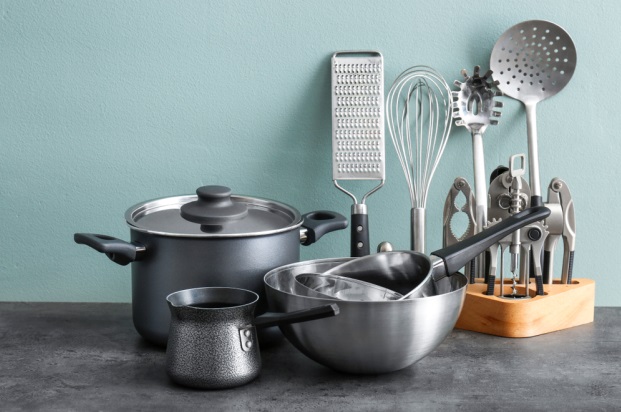 The family home is centered around the kitchen. Even when you entertain, all the action happens while leaning around the kitchen. If you aren't exactly proud of the equipment, kitchenware or tools in this space - that presents a problem. We're so quick to upgrade our bedroom fittings, and add touches or decor to the living space. But why does the kitchen always get overlooked? It's time to invest in your kitchen by giving yourself the right assets. Here's how you can remedy a lacklustre culinary arsenal.


Upgrade your kitchenware
The first place to start is your kitchenware. By filling your kitchen with quality kitchenware by Home Concepts, you can start to have some kitchen pride and not hold onto your breath when that old colander and worn utensils are in view. But it goes far beyond just aesthetics. Old kitchenware loses its edge, and begins to break down in quality and functionality. That means more time and more drama that is needed for the kitchen. They can even cause harm to you and your family, such as old wooden cutting boards with so much bacteria built into the wood. Only work with tools that produce fast and quality food, that nourishes you and your family.


Survey your appliances
Kitchen appliances have long lives, but after time they do start to become louder and more unpredictable than they should be. Perhaps they are years out of warranty, or just haven't been that well maintained over the last five or so years. Whatever the reason, most households are donning old appliances that are not working as they should be. Honestly survey your appliance collection, and figure out what can be replaced and what has more life left in it. If the cost is a barrier to your doing so, do some research on prices so you can definitively know whether to proceed or not. If new appliances can shave time off your dinner preparation and give you more time on other tasks - it's worth exploring.


Don't let cookware hold you back
It's crazy to think so many of us resist certain dishes or cooking challenges because we do not possess the right cookware to execute them. Add to you collection, and even subtact the pieces that you do not need any longer. There may be an easier way to cook for a large group of people, or a more economical way to cook for less people. You may even be working with unsafe cookware. Don't be at the mercy of what you have today. Evaluate your unique circumstances and then shop for quality cookware that will work best for you.


Cutlery and utensil cull
When you lay the table in preparation for a special event, everything is careful curated. There is nothing more jarring than seeing the wrong cutlery and utensils for the job. They tend to be things that we buy once when we become an adult, and then just hold onto them for better or worse. Chances are they are worse, so you may think about investing in new ones. You can even build up your collection to have a set for daily dining, entertaining and special events. You don't have to stay in one lane either, you can choose gold, rose gold or gunmetal instead of your standard silver offering.
Your kitchen is a space that needs love and maintenance. It comes down to equipping yourself with quality items so that you can continue to cook quality flavours. It starts with casting a critical eye over your kitchen, and recognising what needs to be replaced and what stands to be added to.