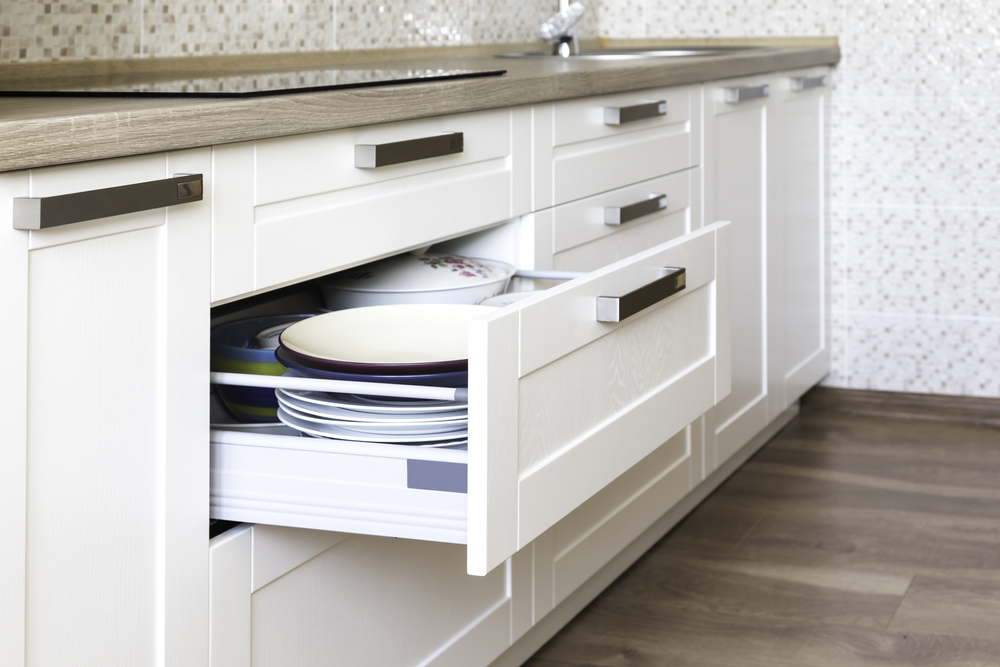 Your kitchen cabinets take a lot of abuse every day. They get accidentally kicked, they get splattered with grease, and they get opened using dirty hands. After a while, all that accumulated dirt and grime can make even the most expensive kitchen cabinets look awful.
To keep your kitchen cabinets looking good as new, it's best to clean them regularly. In fact, your kitchen cabinet maker probably already gave you some cleaning and maintenance tips. If not or if you've already forgotten, check out the tips below.
Set a Cleaning Schedule
Ideally, you should clean your kitchen cabinets once a week. Just a simple wipe-down to get rid of fingerprints, smudges, and other marks will do. You can use a microfibre cloth with a suitable cleaner for the material of the cabinets to do this. Make sure to disinfect the handles to kill germs and other harmful pathogens.
Once about every three months, it's a good idea to deep clean your kitchen cabinets. Remove all the contents, including any drawer organisers and other accessories, before cleaning the interior using a microfibre cloth and a mild cleaner. If you have carcass kitchen cabinets then all the better; you'll have an easier time removing doors or won't have to remove any at all. Make sure to clean everything, including the insides of the doors. If there's dirt stuck in the corners, you can use a clean paintbrush or toothbrush to reach them. Let everything dry completely before putting them back.
Know How to Deal with Common Stains
Kitchen cabinets, especially those above the range, usually get stained with oil and grease. Thankfully, one of the best ways to clean grease splatters is easy to find: vinegar! Just dilute some vinegar with water and let the acid do its work. A water-vinegar solution also works wonderfully for oily fingerprints.
For food splatters, simply wipe them off with a damp cloth. Do this immediately so the stains won't seep in and become permanent, especially if your cabinets are made from porous materials like wood. After wiping off the splatters, follow up with a simple paste made from baking soda and water. Let the paste sit for a few minutes before wiping it away and buffing with a clean cloth.
Finally, scuffs can be easily removed with a soft eraser. Simply rub it on the scuff marks and then wipe with a clean cloth. For more stubborn scuffs, go to a hardware store and find a scuff eraser (which is just a piece of harder rubber). What's great about using simple erasers is you don't have to refinish the cabinets just to remove scuff marks.
Best for Wood Cabinets: Wood Cleaners
The best cleaner for wood kitchen cabinets is, of course, oil soap wood cleaner. You can purchase them from hardware stores. If you don't have oil soap wood cleaner, a great alternative is vinegar mixed with water. Baking soda paste is another great contender, along with mild detergents. The key is to not let your wood cabinets get soaked to keep the finish in good shape.
Best for Laminate Cabinets: Water
That's right. Laminate kitchen cabinets only need some water for cleaning. Just dampen a cloth with plain water to wipe off splatters and spills. For greasier stains, you can use some all-purpose cleaner or even dishwashing detergent diluted in some water. Then, just rinse and wipe dry using a clean cloth.
Best for Painted Cabinets: Baking Soda
Baking soda paste is perfect for painted cabinets because it won't fade the colour. Make sure to wipe off the paste completely and then buff using a separate clean cloth. If there's hard-to-remove grease or stains, you can try diluting some ammonia with water. Dampen and cloth with the solution and rub gently on the stain. Of course, don't forget to give painted cabinets a fresh coat of paint every few years.
Best for Metal Cabinets: Almost Anything!
Metal cabinets are a joy to clean because almost anything will work, be it water, dishwashing soap, regular detergent, or all-purpose cleaner. The only substances mentioned earlier that won't work on metal would be baking soda and oil soap wood cleaner. Remember to dry off metal cabinets completely to prevent rust and dried water marks.
Your kitchen cabinets are an investment, so it's simply good sense to protect your investment. With regular and proper maintenance, your kitchen cabinets will stay in good shape for years.