When it comes to power players on the PGA Tour, Bryson DeChambeau ranks right up there with the biggest hitters in the game today. Already this season, he's uncorked a drive of 414 yards in the Sentry Tournament of Champions. He leads the PGA Tour in driving distance, averaging 329.2 yards off the tee.
So, when DeChambeau suggests that he's plotting an attempt to drive the green at the par-5 sixth hole at the Arnold Palmer Invitational, there's no one in golf betting against his chances of doing just that.
"If I play this year I will definitely do it," DeChambeau told Golf.com last month. "No. 6 at Bay Hill is one of those I've been eyeing. I think I can do some pretty cool things on it."
Offering a purse of $9,300,000, the Arnold Palmer Invitational is slated for March 4-7 at the Bay Hill Club in Orlando, Fla.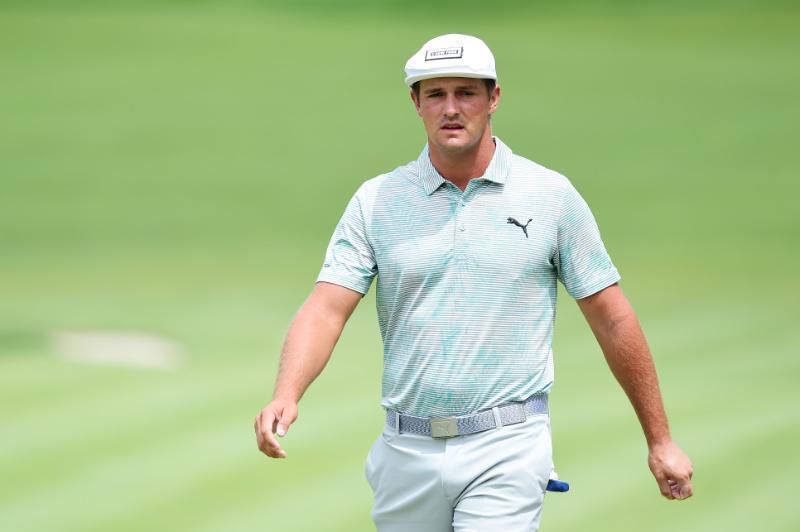 "Bryson DeChambeau" by Golf Digest is licensed under CC BY 3.0
The Challenge
The sixth hole at Bay Hill is a 590-yard dog leg par five. Well, that's what it says on the scorecard. And that's how mere mortals would play the hole, as a par five.
With a driver in his hand, DeChambeau is no mere mortal.
Oh, there's also a 340-yard straight-line shot to the green from the back tees. And remember the immortal words of Ty Webb, Chevy Chase's character in the golf cult classic film Caddyshack. "In one physical model of the universe, the shortest distance between two points is a straight line, in the opposite direction."
So there's that.
However, there's a significant challenge in playing the tee shot straight away and driving for the green, rather than cracking it up the fairway and playing it safe. In order to get to the green in one, a player's drive will be required to carry 330 yards of water before getting to any reasonable semblance of a safe landing spot.
Statistics from last year's Arnold Palmer Invitational show that during the final round, DeChambeau's tee shot down the fairway at No. 6 carried exactly 340 yards. That means it's a certainty he has that kind of required distance available, should he follow through and decide to unleash this gamble of a shot.
One aspect to consider, according to DeChambeau, is the wind when he gets to the No. 6 tee box. If the wind is swirling, or gusting toward him, there's no way he will try to carry the lake.

Others Can't Wait To See Him Try
Tyrrell Hatton won last year's Arnold Palmer Invitational and the first prize money of $1,674,00. He can't wait to defend his title - and to watch DeChambeau go for broke at No. 6.
"It would be some effort," Hatton told the Golf Channel. "I know that's not anywhere near my locker. If he can do it and he pulls it off in the tournament - fair play to him."
Hatton admitted that he'd find the lake that looms large as a hazard too daunting to even consider such drastic measures.
"There's not really a bailout," Hatton said. "It would take a very brave man to do it and it would be interesting to see if he can pull it off."

Daly Trouble
It's not like some golfer hasn't tried to cut this corner before - and seen the outcome result in epic disaster.
At the 1998 Arnold Palmer Invitational, John Daly - golf's longest hitter and biggest riverboat gambler, both literally and figuratively, of that era - opted to give this shot a shot.
It wouldn't prove to be a prudent decision.
Daly's tee shot landed in the water. After his drop, Daly was left with 275 yards to the green. Nonetheless, it still took him seven tries to clear the water hazard.
"After the fifth or sixth time, I just lost track," Paul Goydos, who played with Daly that day, told thegolfnewsnet.com. "He just kept going. It was fun. It wasn't as if he wasn't trying.
"The crowd started yelling, Tin Cup, Tin Cup."
The reference was to the 1986 fin Tin Cup, in which actor Kevin Costner's character loses the U.S. Open by taking a 12 on the 18th hole of the final round by stubbornly refusing to not try and clear a water hazard.
Including his penalty strokes, Daly was lying 13 when he finally got over the water. It took him five more shots to get the ball in the hole for an 18.
"It was a comedy and a tragedy all in one," remembered Tom Watson, who was also in Daly's group.