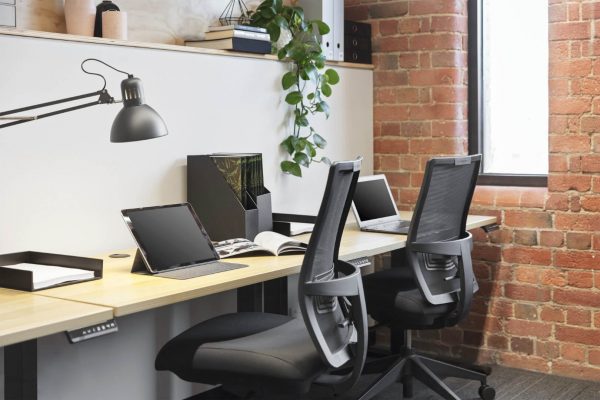 Humans thrive on connection. Whether it's through bouncing ideas off each other at the metaphorical watercooler or working up a sweat in a wellness class with colleagues. Forging meaningful bonds can help take any kind of organisation to the next level.

So it comes as no surprise that, according to the Harvard Business Review, professionals utilising coworking spaces benefit from the social environment these types of working communities foster. In fact, many of those frequenting these environments on a daily basis report a satisfaction level of more than 6 points out of a possible 7. Those are some impressive results.

So exactly how can a small or medium-sized business benefit from basing their operations in a coworking space, rather than in a traditional office lease?


1) Coworking Spaces Put the Kibosh on Office Politics

While most offices allow for a level of socialisation, collaborative environments like open plan spaces or shared offices carry the benefit of encouraging innovation between people from different companies and projects. Even though these businesses might be aligned in some way and share a common space, there is often little direct competition between professionals cohabiting the building. This can facilitate connections on a different, more fundamental level and provide an excellent platform for relaxed networking.

Meeting new people constantly can also help employees take pride in their own business and represent it in a strong way. Discussing what you do with new professionals in your own network, all on a regular basis, can help you define your role and intentions more clearly.

In addition, hearing ideas spawned by other businesses can inspire people to go one step further in their own work.


2) They Offer Greater Flexibility

Coworking spaces often enable greater freedom in working hours, with places like United Co. in Melbourne's thriving suburb of Fitzroy accessible to employees 24/7. This kind of flexibility allows workers the ability to set hours to suit their lifestyle.
Small businesses can afford to give their employees a greater level of autonomy, while still offering the basic structure and support of a professional community.

Humans thrive in a relaxed but structured environment, so a business hub that offers all of this is a highly advantageous one.


3) Coworking Spaces Optimise Overheads

Leasing a workspace in the CBD in Australia's capital cities can cost up to $25,000 per employee annually. A coworking space costs far less, with the benefit of all your overheads being paid as well. It's a win-win situation for small to medium businesses.

For a lower price, locations like United Co. can offer small businesses the benefit of lifestyle facilities – such as an onsite gym and social networking areas – giving employees the advantages of a bigger company, while retaining all the pros of working in a small business.


4) They Provide the Perfect Level of Privacy

Most businesses are looking for a happy compromise between privacy and collaboration. United Co.'s advanced coworking and serviced office space in Melbourne's cool neighbourhood of Fitzroy allows businesses the luxury of a separate area, while still giving them access to the benefits of working collaboratively with other people.

Working out of such a base allows your team to focus on quiet productivity when required, while also giving them the opportunity to exchange ideas with like-minded professionals or creatives in dedicated breakout areas


5) Balancing the Work/Life Conundrum

It's now widely recognised by behavioral scientists that creating a work/life balance for your employees is integral to both parties. In fact, according to a recent study, employees have come to expect flexibility in their work arrangements. The age of the "clock-watching" boss is officially over.

The success of your business is tied to the health and wellbeing of your team, so helping your employees become the best versions of themselves is a mutually beneficial arrangement.


6) Coworking Spaces Offer Easy Access to Wellness Programs

As with flexible work hours, providing easy access to wellness facilities can help your employees feel happier and increase their productivity. For example, United Co. offers a yoga room, gym and quiet room that members can use at their convenience.

The yoga room is a beautiful, zen space which can also be booked for other group activities. It's also user-friendly; members can lock in time through a special portal.

Empowering someone to easily take a yoga class on their lunch break or before work can be a serious boon, not only to their mental and physical health, but to the overarching health of your business.

Encouraging an excellent balance for businesses looking to lower their overheads and boost their employee's happiness and productivity levels, these benefits far outweigh the traditional office.
Is it time you leveraged the benefits of a coworking space to accelerate your business? Find out more about United Co. now and book your free tour.