Written by

NewsServices.com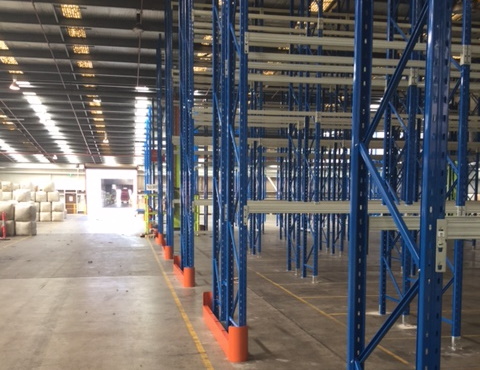 Pallet racking seems quite straightforward, yet there are complexities involved in doing the best job possible when it comes to a new installation. There are a number of things that you need to consider to ensure the best outcome. This article outlines four crucial mistakes to avoid in order to save time and money on your new pallet racking installation.
Mistakes in the Design
There are many pallet racking solutions available, and within these categories, different pallet racking is useful for various needs and purposes. If you have little floor space, it would be wise to opt for a raised storage platform, but this would not be the right choice if you want to maximise your pallet storage. If your materials come and go quickly from the warehouse, a dynamic system may be best. In contrast, if you work with heavy or oversized loads, then you will want to choose a cantilever system. You're sure to find the rightpallet racking, but you do need to spend time choosing the perfect solutions for your needs and purpose. Your supplier should be able to help you with pallet racking design to get things right straight away.
No Thought for Future Needs
It's not enough to just buy pallet racking based on your current needs; you need to give thought to how you will be able to future-proof your system. You don't want to be in the situation where, five years down the track, your pallet racking system no longer meets your requirements and you have to pay for a whole new arrangement once again. Take a moment to plan out a pallet racking system that anticipates growth in your business and allows for storage to facilitate that growth. This may mean that you're paying for more storage than you currently need, but you'll be able to grow into that space and thereby avoid having to use temporary storage that could affect your efficiency. Pallet racking is not just a storage solution; it's an investment in your business. Make sure you buy pallet racking from a well-established company that will still be there when you need repairs or further expansion options.
Not Working Out Your Exact Requirements
It's not enough to estimate your requirements when it comes to buying pallet racking – you need a more exact calculation than that. This is because if you overestimate how much your pallet racking system needs to hold, you risk paying more for a heavy load system that's not really required in the circumstances. Conversely, if you underestimate your pallet racking load requirements, you may need to buy more racking at some point, or worse, you might try to use your existing racking with heavy products and experience a collapse, potentially causing injury to workers. You will also need to take into account the height that your forklift can reach to ensure your pallet racking is compatible with your forklift.
Avoiding Maintenance of Pallet Racking
Damaged pallet racking is like the weakest link in a chain – it can cause the whole system to lose integrity. It is imperative that when pallet racking becomes damaged, the incident is reported and time for an inspection or repair is scheduled. The responsibility for reporting damaged pallet racking should be shared by all staff in the warehouse, and everyone should know the procedures for doing so. There should also be regular checks of your pallet racking to make sure no damage has gone unnoticed.