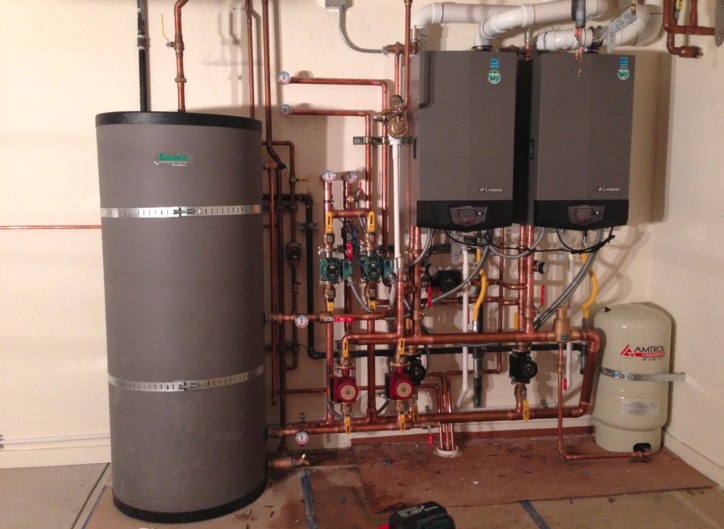 Hydronic heating is great and beautiful in its simplicity. A hydronic system usually heats water and transfers it through sealed pipes to a radiator. You can use a sealed system to heat swimming pools, towel rails, and floor slabs.
Today, modern hydronic technology allows you to deliver heat precisely where and when it is required. A properly installed and well-designed hydronic system offers unsurpassed fuel efficiency and comfort for the building's life. Zone hydronic systems also allow unoccupied spaces to be kept at a lower temperature that reduces fuel consumption and lowers heat loss.
Components of Hydronic Systems
The boiler

A programmable wall thermostat

The piping

Radiators

A pump
Key Features
Hydronic underfloor flooring is a sustainable heating and energy-efficient solution, which provides homes with a comfortable warmth in the winter months.
A hydronic system is also a great option for open and large entertaining areas. This system may as well be an often requested and attractive upgrade for many applications, particularly when paired with an effective condensing natural gas boiler. It also works effectively under several floor surfaces, such as polished concrete, marble, timber, slate, and carpet.
Running Costs and Heat Sources
Running costs are important considerations yet difficult to answer because of the variability in prices and fuels. The actual heating price may depend on your local climate, area heated, energy tariffs, running time, house insulation, and thermostat settings.
Here are some of the heat sources and their costs per unit:
Natural gas boiler, condensing 20kW amounts $0.04 per mJ/hr

Electric boiler, three-phase 18kW costing $0.21 per kW/hr during off-peak

LPG boiler, condensing 20kW costs $1.23 per liter
Preparation for Hydronic Heating
Because of the plumbing infrastructure needed, the hydronic system is convenient for bigger heated places of 100m squared and more. Alternative smaller spaces might be very cost-effective if you incorporate energy requirements into the whole project.
During the project, you will install a heating pipe in circuits of around 100m, then connect it to a manifold. This manifold is used to supply circuits and maintain constant water flow. Professional engineers design the whole system to make sure there are positive results.
Reasons to Consider Hydronic Underfloor Heating
Regardless of the floor covering you choose, hydronic underfloor heating works well under most floor surfaces, and you may install it either during the home renovation or building phase. Because of the sophisticated setup of the hydronic system, you have an option to heat specific areas or rooms individually, with the added advantage of changing heating systems for weekends and weekdays. Using a smart thermostat will enable you to change your heating remotely and regulate temperature to ensure your system's efficiency.
Correct installation and high-quality products can make your hydronic underfloor heating a cost-saving investment. When you incorporate your hydronic heating products with energy-saving heat sources, such as heat pumps and solar panels, you may rest assured that your cozy home will be environmentally friendly. Other reasons for considering the system include:
Safety 

Comfort 

Design freedom

Easy to run
The Takeaway!
The hydronic underfloor heating system is rapidly forming part of most properties in Australia. With the high level of cost savings, energy efficiency, and comfort, this system guarantees more than a price tag, offering you a home, which is worth living with your family all year round.
By choosing the best system and service provider, you will also be able to equip your home with an unrivaled heating system, which makes your house an oasis of pleasure and happiness.