Written by

Madelaine Brown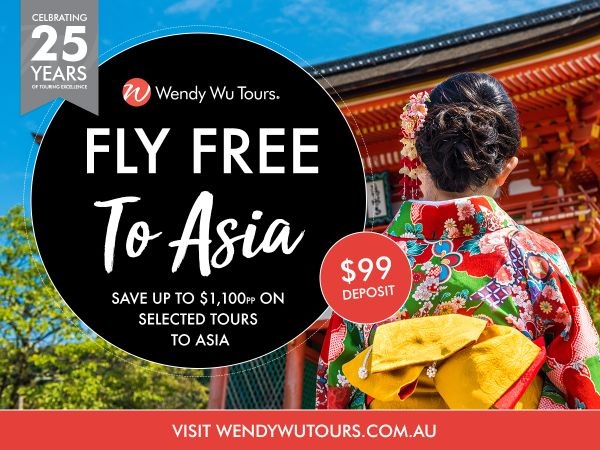 o celebrate the New Year, Wendy Wu Tours has launched our amazing new deal - FLY FREE TO ASIA. China, Japan, India and South East Asia have never been so affordable. Experience extraordinary moments, witness breathtaking landscapes, marvel at ancient architecture and lose yourself in sacred cultures.
With a great range of our bestselling all-inclusive tours available in this limited time offer - don't wait any longer and make this year extraordinary by uncovering Asia.
China's unique culture sets it apart from everywhere else. A land of true contrast, with flourishing metropolises like Beijing and Shanghai; quiet, rural traditional communities such as Yangshuo, Dali, and Lijiang; the Buddhist kingdom of Tibet; the unrivalled beauty of Nine Villages Valley and Zhangjiajie – China keeps you and your senses on your toes. Something for every traveller.
FLY FREE TO CHINA WITH MAJESTIC YANGTZE
14 DAY FULLY INCLUSIVE CLASSIC TOUR FROM $4,480PP TWIN SHARE
A unique blend of iconic scenery and unforgettable moments, this tour takes you on a journey along the Yangtze, between the cosmopolitan city of Shanghai, historic Xian and bustling Beijing.
TOUR HIGHLIGHTS
Witness the changing hues of the Yangtze River on a four-night cruise
Come face-to-face with the legendary Giant Panda's
Walk along the impressive Great Wall of China
Wander through the streets of vibrant Shanghai
Japan is a country steeped in history and tradition. Across all aspects of life, respect and efficiency are paramount. From speedy bullet trains to tranquil temples and shrines, delectable cuisine, and traditional customs, Japan will capture your heart and leave you wanting to return time and time again.
FLY FREE TO JAPAN WITH JEWELS OF JAPAN
12 DAY FULLY INCLUSIVE CLASSIC TOUR FROM $7,890PP TWIN SHARE
Bringing together eclectic culture and enchanting scenery, Japan is a kaleidoscope of colour, beauty, cuisine and metropolis. This tour brings together key highlights and unique experiences for a truly first-hand experience.
TOUR HIGHLIGHTS
Experience the buzz as you step into the future of uber-modern Tokyo
Unearth Japan's history with a traditional tea ceremony in Kyoto
Appreciate the serenity of Mt Fuji and the spectacular Fuji Five Lakes
Uncover quintessential Japan as you hot aboard the legendary bullet train
India sparkles with a rare and undeniable energy, enchanting first-time visitors and return travellers alike. A nation full of cultural experiences, diverse landscapes, enigmatic people and grandeur palaces and temples. Coupled with the cloud-piercing peaks of the Himalayas, the Indian Subcontinent is a must-visit destination, as they say you don't find yourself in India, India finds you!
FLY FREE TO INDIA WITH HIGHLIGHTS OF INDIA
18 DAY FULLY INCLUSIVE CLASSIC TOUR FROM $6,180 PP TWIN SHARE
With its diversity of colours, culture and heritage, India is one of the world's most stirring locations. Explore the charm of Delhi, see the Taj Mahal at sunrise, and search for tigers in Ranthambore on this extraordinary itinerary.
TOUR HIGHLIGHTS
Explore the home of the city's royal family as you visit Maharaja's City Palace in Jaipur
Tantalise your taste buds with a walking tour around Jodhpur's vegetable and spice market
Appreciate the sprawling Chittor Fort
Step back in time and immerse yourself in the local culture at Varanasi
South East Asia is made up of thriving Vietnam, Cambodia and Laos. Uncover this addictive and dreamy region, each country maintaining their own quirky personality, captivating scenery, contrasting cultures and delicious cuisine. Be wowed by the historic temples, special customs and spectacular landscapes. South East Asia will draw you in and keep you coming back for more.
FLY FREE TO VIETNAM WITH ANGKOR TO THE BAY
17 DAY FULLY INCLUSIVE CLASS TOUR FROM $4,990 PP TWIN SHARE
One of our bestsellers, this tour takes you on a journey of discovery, through the mesmerizing temples, across breathtaking natural landscapes and experiencing unique culture experiences.
TOUR HIGHLIGHTS
Visit the spectacular temples of Angkor
Stroll through UNESCO listed Hoi An
Experience un-spoilt Halong Bay as you wake to the sunrise on two-day cruise
Navigate through the exuberant city of Saigon