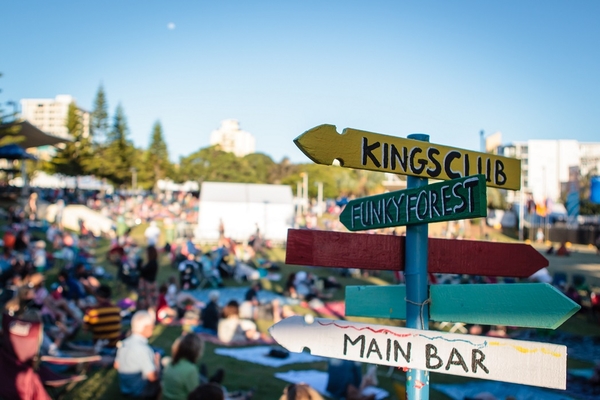 See the adventures of a 19th century Nanny come to life, toss in Australia's favourite historical re-enactment, and add the world's biggest science festival and you've got the start of a year-long line up of Queensland events set to captivate the young (and young at heart!).  Here, we've whipped up the ultimate ankle biter's bucket list for 2016. And if you have a family, then these are well worth ticking off! 
APT8 Kids on Tour January – March 2016
Packed with interactive artworks, hands-on multimedia activities and a tonne of insights into contemporary art created across Australia, Asia and the Pacific, little ones will love this exhibition open now through to April 2016 (and your purse strings will love it to - this one is a freebie!). Taking art into the future, APT8 also features a project that has kids around the world collaborate using a virtual car and a digital canvas to create a modern masterpiece.
Have a Go! Festival 20-21 February 2016
Pack a picnic and take a scenic drive up the range to Toowoomba where the whole family can take a step back in time to learn a range of heritage trades and crafts. Leather plaiting, pyrography, stick whittling, weaving and more make up this fun-filled weekend event. Make the most of your visit to the Garden City and see what other hidden gems are on offer.
Sand Safari 5-28 February 2016
No kid will look at the humble sand castle the same way after the annual Sand Safari at Surfers Paradise this February. This wonderland of expertly built sculptures crafted entirely from sand features all the usual suspects including Kung Fu Panda, Madagascar and many of the DreamWorks friends. Pro tip: lace up the sneakers and follow the Sand Trail to uncover all 15 mini sculptures scattered along the Coast.
World Science Festival Brisbane 9-13 March 2016
Held outside New York for the very first time, the World Science Festival this March is set to spark curious minds and introduce kids to the awe-inspiring realms of Pluto's moons, drone racing and weekend Atomic Kids! workshops where little minds can discover the tiny building blocks of everything around us.
Cullyfest 31 March – 3 April 2016
Cunnamulla's own celebration of Outback traditions, Indigenous Australia and community spirit, Cullyfest, is rife with inspiration for an Easter long weekend. Learn, listen, smell and taste all this town has to offer while you show the kids the true spirit of the Outback. There's a jam-packed program including fossil digging, fishing competitions in the Warrego River, sandboarding, dance workshops, and the chance to break out the red nose, oversized shoes and water-squirting flower with clown classes taught by multi-talented indigenous artist, Susie Klein.
Gold Coast Superkidz Triathlon 10 April 2016
Kids from 7-13 years from all ages and abilities can dip their toes into tri-life with the Superkidz Triathlon. The 100m swim, 2km cycle and 400m run will give aspiring tri-champs a feel for the competition and most of all have fun doing it!
Captain Cook 1770 Festival 20-22 May 2016
History class is in session! Get their noses out of the textbook and into a real-life re-enactment of Captain James Cook's landing at the Town of 1770, the very spot where Europe's greatest explorer first set foot on Australian soil some 500 km north of Brisbane. Wrap up the commemoration with a colourful float parade, live entertainment, and a fireworks display and pair all that with a trip out to the Southern Great Barrier Reef, and you have a recipe for the best family weekend, ever!
Mary Poppins Festival 3 July 2016
"Anything can happen if you let it!" said Mary Poppins.  And in the charming town of Maryborough, that's exactly what they do. Let it happen. Every year in June, the birthplace of PJ Travers – the author of Mary Poppins – celebrates the life of their "practically perfect" Nanny in full colour with a week-long festival of art, culture and fun. Watch the historical streets of this charming town come alive with scenes straight out of storyland including the Great Nanny Challenge and the Chimney Sweep Dash. It's Supercalifragilistic fun for everyone!
Big Red Bash 3-4 July 2016
This iconic festival in the dunes of Australia's best known desert is both a journey and a destination. Settle the family in for a three-day camping adventure that starts with dune surfing by day (tip: use an esky lid if you forget the boogie board) and ends with spectacular lighting and live music each night. Set in the middle of the Simpson Desert, the festival is the only way to say, "I've rocked the Red in the Simpson."
Jumpers and Jazz in July 21 – 31 July 2016  
Show the kids a real Queensland winter with the added bonus of yarn bombing at Jumpers & Jazz in Warwick. What's that you say? It's the wooly version of graffiti, using leftover yarn to add splashes of personality to just about any object in sight. If that's not enough, then roll out the crochet blanket and put on a spread at Picnic in the Park (July 27), decorate a mini tree with yarn at Warwick Art Gallery or check out the Grand Vintage Car Rally (July 20). Thinking of exploring further afield in Southern Queensland Country? Check out this top list.
Dalby's Delicious and DeLIGHTful 20-21 August 2016
Support an Aussie farming town and zip around the world at the same time. Dalby, ordinarily known for grain and cotton farming, is also a hot spot for multicultural activities for two days in August when the community comes together for a multi-cultural affair of fun, food and music from Persia, Bolivia and Afghanistan as well as nearby Cook Islands. There's also a massive lantern parade to light up the banks of the Myall River. Experience the taste of the world without the price tag of a Round-The-World airfare.
Whitsunday Reef Festival August 2016
Fireworks on the foreshore, starlight movies, a comedy gala and the Light up the Reef art installation are just a few reasons why the Whitsunday Reef Festival is an extravaganza for kids. With the picturesque Airlie Beach as the back drop and perfect August weather, why not toss in a few days of family island hopping for good measure!
Brisbane Festival September 2016
When a program bursts at the seams with world-class acts that also targets teens and tots, then it's time to introduce the kids to culture. Brisbane's annual festival of arts, entertainment and culture offers awesome displays of acrobatics, fun outings like Library on the Lawn, light shows transposed on iconic landscapes and theatre for young thespians. But it's the fifteen minute explosion of colour in the sky from the SunSuper Riverfire that no youngster will forget.
Hervey Bay Whale Festival Illumination Lantern Parade & Concert October 2016
Celebrate the home of the Humpback Whale with this annual celebration of the migration of these majestic creatures. Kids can marvel at the hundreds of lanterns that line the streets to represent this journey that returns the whales to Hervey Bay's pristine waters each year for rest and play.
Caloundra Music Festival 2016
As the grown-ups dance to the tunes of some of Australia's top names in soul music play the main stage, kids will find a magical land nestled under the shady trees of Kings Beach Caloundra Music Festival's Funky Forest is home to the Sun Stage and is full of exciting activities including yoga classes, African drumming workshops, circus classes and plenty more arts and craft adventures.
Discover these events and more on It's Live! in Queensland - www.queensland.com/events