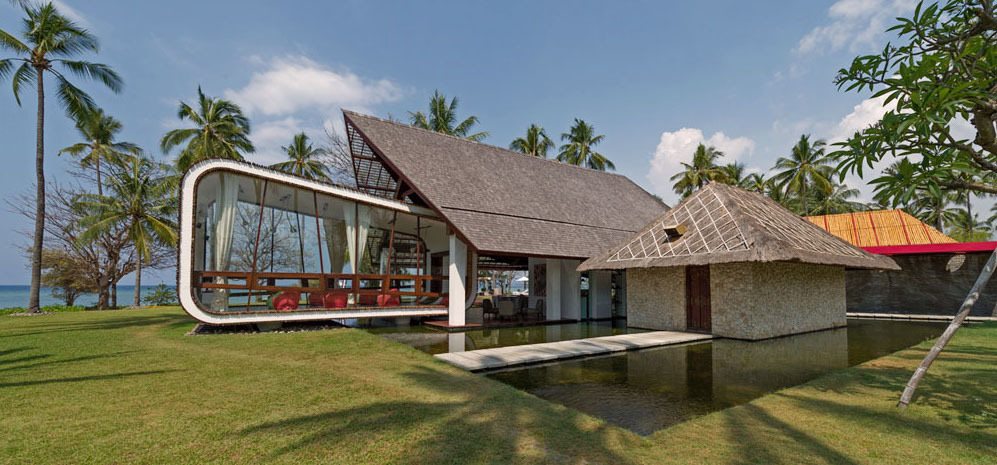 Many of you are probably sceptical about spending thousands of dollars per night for a luxury holiday villa. 
Let us convince you otherwise.
Villa Sapi is extraordinary – it is quite simply what dreams are made of.
This holiday abode is a lavish five-bedroom villa with private beach access, three swimming pools, a tennis court, mountain bikes, kayaks, table tennis, exemplary service, gourmet cuisine and much more.
This vacation oasis is bordered by the white sands of calm Sira Beach. The view over the 2,500sqm estate from the villa's open-sided living and dining rooms is unrivalled; stunning backdrop of soaring peaks, soothing seas and glorious sunsets - the scene becomes even more magical as the moon's reflection twinkles on the water at night. Canadian architect David Lombardi's concept of 'Function over Form' leaves guests with a sense of discovery and surprise at every corner. His creativity can be seen from the traditionally styled, grass-roofed building that houses the main kitchen to a futuristic home theatre.
A full team of professional and highly-trained staff is always ready to look after your holiday needs with gourmet cuisine and peerless service. The experienced villa manager will happily help with arranging activities such as day trips to nearby Gili Islands, waterfall hikes, snorkelling, diving or mountain trekking.
With prestigious neighbours such as Hotel Tugu, The Oberoi and Golf Kosaido Country Club, Villa Sapi is definitely a place where you can truly escape without feeling isolated. Worth every penny spent, we say. Tropical living and barefoot luxury at its very best, anyone?
Fun fact: There is a story behind the villa's name. The spacious coconut grove on which the property stands used to be grazing land for cows, the treasures of Lombok farmers, symbolising status, happiness and wealth. Villa Sapi owners decided that these elegant mammals should be rightfully honoured – Sapi means 'cow' in Indonesian. Holiday Centre offers incredible travel deals

About Elite Havens - Luxury Villa Rentals 
Elite Havens Luxury Villa Rentals is Asia's market leader in high-end holiday villa vacations handling over 60,000 guests a year. Established in 1998 the company has curated a spectacular collection of over 200 private luxury villas in Bali, Lombok, Phuket, Sri Lanka and the Maldives. Offering a diverse range of holiday experiences from absolute beachfront to rural escapes; from honeymoon hideaways to 9-bedroom party pads; and from contemporary funk to traditional chic, all Elite Havens properties are staffed to the highest level including villa managers, gourmet chefs and personal butlers.