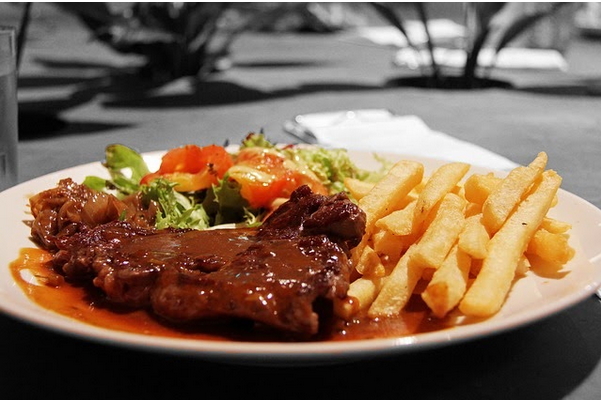 Demi-glace holds a very special place in the traditional cooking world. It's a rich brown sauce used traditionally in French cuisine, and can be used by itself or as a base for other delectable sauces. 
It's made by combining equal parts of veal stock and sauce espagnole, one of the five mother sauces of classical French cooking otherwise known as brown sauce. The mixture is then simmered and reduced by half. Making a demi-glace can be a long-winded process, but there's a plethora of opportunities to cut some corners without compromising flavour or depth. Here are three easy
demi-glace
recipes that are great for busy days. 

Semi-Demi-Glace
Ingredients:
Yield: 1 cup
1 packet of Foundation Foods beef stock
2 tablespoons red wine
Directions:
In a large saucepan, bring stock to a boil.
Turn heat down to the lowest heat setting and allow to simmer for several hours until stock has reduced to 1-2 cups (remove any scum that rises to the surface as it simmers).
It is reduced to demi-glace if it thoroughly coats the back of the spoon (nappe).

Cheaters Demi-glace

Ingredients
1 bay leaf

7-8 sprigs parsley

5-6 sprigs thyme

10 whole peppercorns

2 tablespoons clarified butter

1 small stalk celery diced

1 small carrot diced

1/2 medium onion diced

3 tablespoons flour

32 ounces beef bone broth best quality

1/4 teaspoon browning sauce optional

salt to taste, optional
Special Equipment
cheesecloth and kitchen string
Instructions
Place the bay leaf, parsley, thyme and peppercorns in the center of the cheesecloth, bring together the ends and tie into a sachet with the kitchen string. Set aside.

In a medium saucepan, heat the clarified butter over medium-medium high heat and add the diced onions, carrots and celery. Cook for 2-3 minutes until onions turn slightly translucent and vegetables soften a little.

Sprinkle in the flour and cook for three minutes, stirring constantly. You want the flour to brown, but not burn. Stir in two cups of broth and the sachet of herbs. Bring to a boil, reduce heat to a simmer and cook for about 20 minutes or until sauce is reduced by a third.

Transfer the sachet to a small plate and set aside. Set a

fine mesh sieve

over a bowl or glass measuring cup and pour the contents of the pot through the sieve, collecting the sauce in the bowl. Press on the solids in the sieve to extract as much sauce as possible, without shoving the soft vegetables through. Discard the vegetables.

Add the sauce and sachet back to the pot and add the remainder of the broth. Bring to a boil and reduce heat to simmer. Cook for an additional 50 minutes or until broth has reduced to about 1 cup. Remove the sachet (pressing out all the liquid) and discard.

For a darker demi glace, add 1/4 teaspoon browning sauce and season to taste with a little salt. If you're using the demi glace as the base for another sauce — you don't need to salt it.
Ultimate classic demi-glace
Ingredients
1 packet Foundation Food beef stock

1 liter Sauce Espagnole

100 ml fortified wine Sherry, Madeira or Port

Salt to taste
Bouquet garni:
1 leek leaf

5 sprigs of thyme

5 sprigs of parsley

1 bay leaf
Instructions
In a suitable pot, mix beef stock and Sauce Espagnole then add bouquet garni.

Bring mixture to a boil over high heat, then back the heat down to medium.

Reduce mixture skimming as needed until reduced to about 900 ml or just under half.

Add

fortified wine

, stir to combine and allow to come back to a simmer.

Taste for seasoning and add salt as needed.

Remove bouquet garni and strain sauce through a finely meshed sieve before serving.