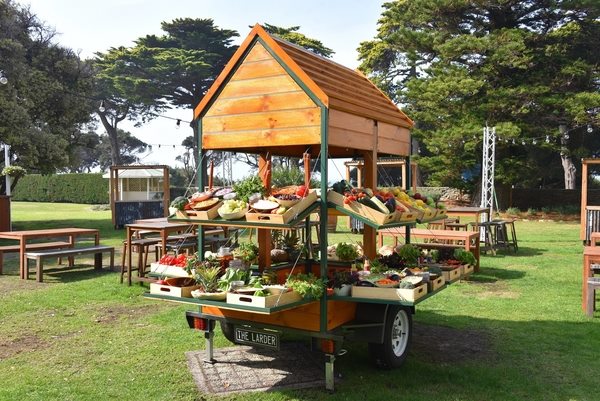 Conference delegates at Mantra Lorne can now savour a bohemian dining experience with the property's newest attraction, a rustic Bulgarian barbeque, creating the hottest paddock to plate outdoor dining experience. 
Guests can peek at what is on offer from as early as 10am as the barbeque fills the air with succulent smells of whole lamb, suckling pig, venison and herbed whole chicken as it roasts. This new out-of-the-box dining concept is available for lunch or dinner for conferences of 50 guests or more.
The resort has also introduced a new farm fresh lunch offering which allows delegates to build their lunch from a plentiful larder cart of the finest produce. Guests can grab a baguette and build their own rolls, create their own salads, or make their own tapas plates from a wide range of meats, vegetables, salads and condiments.
Located on Victoria's famous Great Ocean Road, Mantra Lorne is Lorne's only beachfront resort and regional Victoria's largest residential conference venue, catering for groups of up to 600 people and offering eleven venue choices including a pillar-less convention centre and multiple breakout rooms.
Onsite accommodation options range from heritage hotel rooms, resort rooms and fully equipped one and two bedroom apartments.
For more information and the latest conference and event packages call 03 5228 9777 or email lorne.conf@mantra.com.au.
About Mantra Group

Mantra Group is the leading Australian-based hotel and resort operator.  Mantra Group's portfolio consists of 127 properties with more than 21,000 rooms in properties under management, across Australia, New Zealand, Indonesia and Hawaii. Operating three well-known and trusted brands – Peppers, Mantra and BreakFree - Mantra Group operates the second largest network of accommodation properties in Australia (by room number). The Group is positioned to offer both leisure and business style accommodation ranging from full-service city hotels and self-contained apartments to luxury resorts and retreats. The Group successfully listed on the ASX in June 2014 and in its first year as a public company was elevated to the ASX 200: www.mantragroup.com.au; www.peppers.com.au; www.mantra.com.au ; www.breakfree.com.au