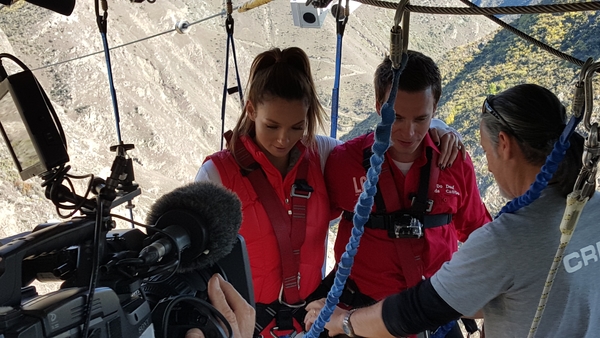 Life Changing Adventures with Ricki-Lee, a new TV show with a conscience, is currently accepting submissions from unique international destinations keen to feature in one of Australia's most hotly anticipated series for 2016.
One of Channel 7's most exciting and inspiring new shows for 2016, Life Changing Adventures (LCA), is currently considering destinations for two latter episodes in the series. Every episode of the show is set in a different international location, is designed to showcase the beauty and drama of the natural environment and highlights the unique experiences, adventures and cultural activities that take place there. ARIA-nominated singer/songwriter and TV personality Ricki-Lee is the show's host and accompanies a multi-generational team of 10 people from different walks of life as they take part in challenges with the potential to transform their lives and those of others.
Each Life Changing Adventure brings together an Australian charity and a state team. After months of raising funds and awareness for their charity, the team is challenged to take on a mystery adventure in an amazing location in order to secure a generous donation for their cause. New Zealand and South Africa are the first two featured destinations and will host challenges that are as inspiring as they are daunting, such as diving with sharks or extreme bungee jumping. Every team member must complete the challenge for the charity to receive the donation.
The series will be broadcast on Channel 7 next March and the producers of LCA are now accepting submissions from prospective destination partners, keen to feature in the show.
There are just two feature destination spots currently available. The selected destination partner will receive a range of benefits including promotion of their destination through engaging content via TV, print and digital/social media to a broad consumer demographic, many of whom will be actively looking for vacation inspiration and ideas.
LCA is also working with a tour provider to develop a Life Changing Adventures Tour for each destination selected, which will be promoted in the series and through digital/social media.
The featured destination must be able to offer practical and logistical support to LCA including securing visas, filming permission, security, ground transport, travel insurance plus hotel accommodation for 32 cast and crew, assistance with itinerary planning, risk assessment and OHS requirements.
Representatives who would like their destination to be considered should contact Lisa Browne, Executive Producer of Life Changing Adventures TV Series via email lisa@LifeChangingAdventures.TV. Submissions should include a description of the destination and typical weather for November/January, highlights of the region to be promoted plus a list of activities and cultural experiences available.
Lisa Browne, Executive Producer of Life Changing Adventures TV, says: 'Life Changing Adventures takes real people to some of the most amazing places on the planet for incredible adventures. Our feature destinations must be stunning and offer one-of-a-kind experiences that engage and excite our audience and leave them wanting more. Life Changing Adventures will be a must-watch show on Australia's most watched TV network – Channel 7 - and will bring our featured destinations right into the lounge rooms of millions of Australians who enjoy looking for new destinations for overseas holidays and experiences.'
Unique partnerships via 'challenge' and 'team' brand promotion opportunities are available as well.
www.LifeChangingAdventures.TV  
www.twitter.com/LCAdventureTV 
www.facebook.com/LifeChangingAdventures