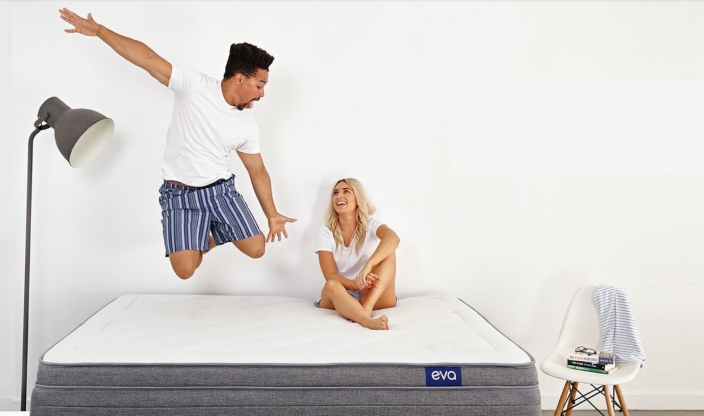 Pain interrupts the sleep of about 50% of adults and sometimes triggers the pain-insomnia cycle. This cycle is relentless, because pain causes insomnia and then exhaustion increases pain which again steals much needed sleep.
Healthcare professionals usually use a multidisciplinary approach to treat the pain-insomnia cycle, which includes medication, physical therapy and a high-quality mattress. The Eva Mattress is consistently gaining recognition for the exceptional support and comfort that it provides. In fact, it was voted the Best Mattress in a Box in both 2017 and 2018.
What causes pain while we sleep?
A wide variety of conditions cause pain that can interrupt sleep. Here are 4 of the most common conditions:
Osteoarthritis - Millions of people suffer from osteoarthritis or the degeneration of the cartilage in their joints. Osteoarthritis can affect any joint in the body, but it usually appears in the hands, shoulders, knees, hips and spine.



Rheumatoid arthritis - Rheumatoid arthritis affects approximately 1% of all adults and is caused by an autoimmune disorder. In this disorder, the immune system attacks the lining of the joints causing chronic swelling and pain, as well as bone and joint deformity.
Bursitis - Bursae are thin, fluid-filled cushions which separate our bones from the soft tissues near our joints. Bursitis occurs when these tiny sacks become inflamed usually as a result of repetitive movements or prolonged pressure.
Fibromyalgia - Genetics or a traumatic experience can trigger fibromyalgia syndrome. People with fibromyalgia experience chronic musculoskeletal pain and have especially sensitive pressure points, among other symptoms.
How can a quality mattress help relieve pain and improve sleep?
The Eva Mattress Company carefully designed their mattress to be able to distribute body weight evenly, provide adequate support and ample comfort. These three qualities which help relieve pain and stop the pain-insomnia cycle come from 4 important components:
Innersprings - Eva mattresses include 2 layers of springs. The first layer is composed of 5-zone pocket springs and the second of micro-springs. These springs rise and fall individually which allows the mattress to conform to your unique body shape and provide your musculoskeletal system with optimal support.

Quality Support Foam - Dense support foams cover the Eva mattress' springs. These foams work to distribute weight evenly and relieve pressure on any one point, which includes your shoulders, lower back, hips and knees. These foams also increase the durability of the mattress by preventing sagging and other deformations.
100% Dunlop Latex Foam - This eco-friendly latex foam performs two functions in Eva mattresses. First, it increases the circulation of air through the mattress. This increased airflow discourages the growth of dust mites and other microbes, as well as prevents any moisture from collecting. Secondly, the latex foam makes the mattress exceptionally soft and springy.

Gel-infused Memory Foam - The Eva mattress' topmost layer of gel-infused memory foam provides an irresistible light, fluffy top. This gives you immediate, as well as ongoing comfort because the gel distributes heat away from your body all through the night.


The Eva mattress has relieved the pain and improved the sleep of hundreds of people by providing outstanding support, weight distribution and comfort. This explains why the Eva mattress earned the title of the best Mattress in a Box in both 2017 and 2018.