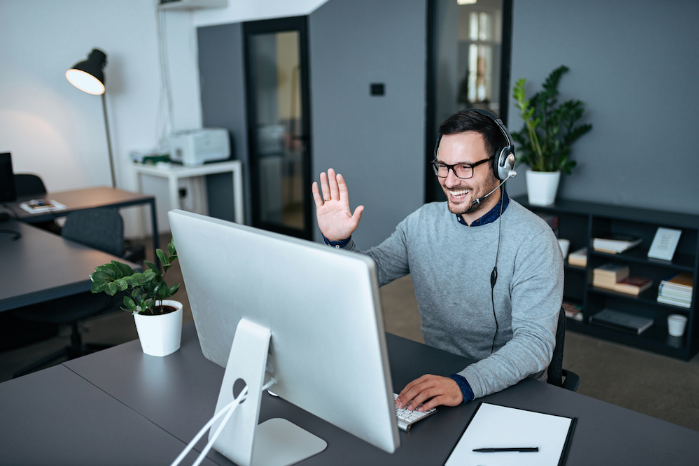 The COVID-19 crisis has caused a fundamental shift in Australia's healthcare system. Digital transformation that otherwise would have taken years to occur was condensed into a matter of weeks. When lockdown measures were announced in March 2020, many healthcare professionals, including GPs, were faced with an urgent challenge: adopt telehealth technology or miss out on being able to consult with and treat their patients.
General Practitioner and telehealth expert Dr Amandeep Hansra said that with Australia's healthcare system forever changed, more and more doctors were moving to embrace digital transformation. 
"One of the things that COVID-19 has taught us is that video telehealth sessions can, in some cases, be just as effective as face-to-face sessions. The opportunities that the technology is providing to our industry are incredible; flexible and remote working, the ability to transcend geographical borders, and potential improved models of healthcare. Now is the time for doctors to take control of their future and invest in the necessary digital healthcare tools to make healthcare better, fairer and more affordable."
In the absence of any real commitment from the Federal Government to make telehealth reimbursement items permanent for General Practitioners, a group of medical professionals are now taking the initiative by directly investing in the digital transformation of healthcare.
Dr. Michael Livingston, a rural generalist based in Ravensthorpe WA, and a member of medical investment group Medical Angels said that models of healthcare provision were drastically changing, and that medical professionals who didn't adapt would lose out financially. 
"As healthcare professionals, we're trained experts when it comes to caring for our patients. We've spent years studying and learning how to solve problems from a medical perspective. What is sometimes lacking however is the business element of running a practice - and fair enough, it's not easy. But that has to change. Telehealth is here to stay, and those of us who have been early adopters of this digital technology are reaping the benefits. Those who choose not to adopt a hybrid approach to healthcare risk falling behind."
"We can't rely solely on the government to solve our problems. That's why myself and a number of other doctors have chosen to invest in a company whose vision for the future of healthcare aligns with ours. Coviu is one of the few platforms that was built with the medical profession in mind, which is why many of us are happy to back it," concluded Dr Livingston. 
Dr. Mian Bi, Lead Investor at Australian Medical Angels, said doctors were taking matters into their own hands by investing in technology that they believe to be critical for their futures. 
"This is a pivotal moment for our industry. Telehealth is a vital part of how we as a profession will meet the challenges of an aging population and potential future pandemics. As doctors we have a simple choice: get involved with telehealth leaders like Coviu and help shape them to our needs, or put up with years of iteration as tech specialists try to guess what those needs will be. Coviu is one of the few available telehealth platforms that puts primary care and privacy front and centre. We're confident it will be the platform of choice for doctors as they begin to integrate digital healthcare tools into everything they do." 
Medical Angels has contributed $800K to Coviu's latest investment round of A$6 million as part of a group of 4 investor groups, further including impact investment group Giant Leap, and Venture Capital firms Equity Venture Partners and Main Sequence Ventures.