Written by

Jonathan Rowley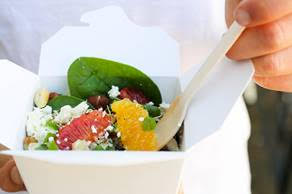 SPECIAL DIETARY REQUIREMENTS ARE BECOMING THE NORM BUT YOU'VE PROBABLY NEVER EVEN HEARD OF SOME OF THE MOST COMMON ONES
Catering leader and online food for the office specialist Order-In, has revealed that nearly half of their orders now include special diet needs. 
This comes as no surprise; given 1 in 5 Aussies currently live with an intolerance or allergy. Voluntary diets have seen a steep rise to popularity in recent years. Walk into any supermarket; you'll be faced with "free from" labels in every direction you look.
When ordering food for others at home or in the office, you also need to be sensitive of religious or lifestyle dietary preferences, as 7% of Australians do not consume certain foods for cultural, religious or ethical reasons.[1]
Managing Director of Order-In, Jonathan Rowley says, "We've seen some very unusual, sometimes even questionable, dietary requests over the years. You would be surprised by how many special diets exist, but we do try our best to have an option for everyone".
Whether you are dealing with a special diet or need to order for one, Jonathan has compiled a handy guide to help you.  Here is how to order like a champion!
Nightshades: Never heard of it? Order-In gets asked about this one more than you would think! Nightshades include white potatoes, eggplant, tomatoes and peppers. Some people have a sensitivity to edible nightshades and need to reduce the levels of problematic chemicals by properly preparing the ingredients. You can rest assured, most caterers follow strict preparation guidelines to achieve this, by peeling all potatoes, avoiding unripe tomatoes and sprouting potatoes as these are higher in alkaloids and cooking nightshade vegetables. If you are worried about it, opt for Charlie and Franks.
FODMAP: This is another surprisingly common diet. Foods that contain high levels of FODMAPS, like onion and garlic, can make it difficult for some people to digest food and can cause irritation. You're probably still wondering what foods you're allowed to have on a low FODMAP diet. Are you allowed chocolate? And what about pasta? Fear not, you can still have chocolate in small quantities, preferably dark, and you should opt for corn or rice pasta. Companies like, THR1VE, look for natural and tummy-sensitive meals as they only cook with healthy fats like coconut oil and grass fed butter, use gluten-free grains and they make their own almond and coconut milk fresh in store every morning.
Gluten-free: Who isn't allergic to gluten these days? Or should I say "allergic". The gluten-free diet has become a health fad for many as they think it's the answer to weight loss and a healthier lifestyle. Sorry to burst the bubble but unless you have been medically advised to follow a gluten-free diet, it might not help with dropping the kilos. Another fact surrounding celiac disease that many aren't aware of is that you are born with the celiac gene and there is no cure. These days you will find that most caterers provide gluten-free menu items for any meal of the day. Blond Catering has nine amazing gluten-free options with a Danish twist, including their scrumptious risotto cakes. FoodByUs even does mouth-watering gluten-free donuts, such as their rose petal and pistachio donut so you don't have to miss out on the doughy goodness!
Diary or lactose free: Although the idea of not having cheese platters, chocolate milk and yoghurt may sound quite grim, there are lots of great substitutes, I promise! If you're lactose intolerant, things are looking up as you're still allowed luxuries such as butter, aged cheese and goat's milk.  Bruce Leaves offers a delicious range of gluten and diary-free salads that aren't reduced to a boring bowl of lettuce leaves. And the 'crouching chicken hidden chipotle salad' tastes just as good as it sounds. Fancy a dairy-free coconut and date roll for dessert? O catering, a certified organic catering company can help you out.
Vegan: Finding a delicious vegan-friendly meal can certainly have its challenges, but it's definitely rewarding. One popular myth is that vegans are only allowed to eat soybeans and salad (and thus are treated with prejudice because of their boring diets). But there are actually a ton of grocery favourites and meals that you can make vegan friendly, like sushi, Pad Thai, pizza and cookies. Chao catering, for example, has created the dream lunch package, 'Feel like vegan'. You'll be spoilt with choice with everything from tofu spring rolls, rice paper rolls to green papaya salad. For dessert, you must try Earl's vegan chai pudding with seasonal fruit.
Nut allergies: Australia actually has a relatively high prevalence of nut allergies, with 1 in 50 children allergic to peanuts[2]. Although the foods you need to avoid might seem straightforward, nuts often find their ways into foods you wouldn't imagine. Even chilli can be thickened with ground peanuts. Watch out for sauces, soups and salad dressings for traces of nuts.
Jonathan adds, "Ordering food online for the office and at home has become so popular and easy over the last few years, and the variety of cuisines and dietary options is rapidly expanding with it. Food truly unites people, and enjoying a meal that's freshly prepared and specifically catered to your dietary needs will do exactly that. Leaving your guests hungry with no options will not!"
[1] http://www.abs.gov.au/AUSSTATS/abs@.nsf/Lookup/4364.0.55.007Main+Features12011-12?OpenDocument
2 http://health.gov.au/internet/publications/publishing.nsf/Content/canteen-mgr-tr2~special-dietary
Order-In is Australia's #1 Corporate Catering service, taking the fuss out of ordering food for the office and giving businesses easy, online access to a variety of the best local and quality caterers. It is the leading hub for both office catering and kitchen supplies, taking out all the risk associated with catering, making you look good every time.
To find out how to order convenient catering for your office with Order-In, visit https://www.orderin.com.au
Important note: The information is for informational and educational purposes only. It is not intended to be a substitute for professional medical advice, diagnosis or treatment in any manner. If you think you are suffering from any medical condition or have any specific questions about any medical matter, you should consult your doctor or other professional healthcare provider. Before starting and/or make any diet changes, you should speak to a doctor or other qualified health provider.