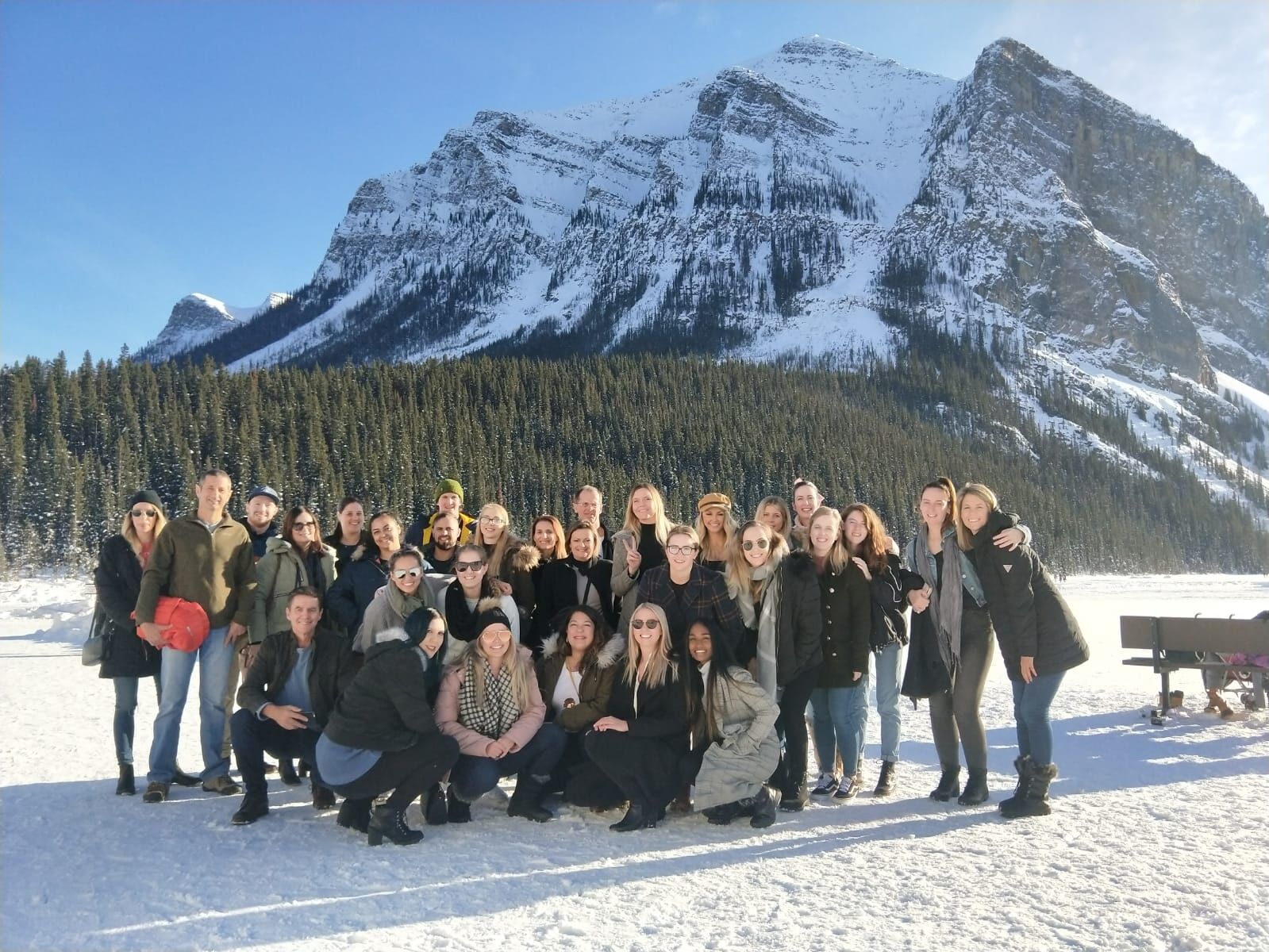 30 Australian travel agents have now reached the mid-way point of their Sno'n'Ski Mega Famil through some of Canada's finest ski resorts.
The group started their sojourn in Jasper, where they stayed the iconic Fairmont Jasper Park Lodge, with its cedar chalets, luxury cabins, grand Great Hall and breathtakingly beautiful Lac Beauvert views, and played on the peaks of nearby Marmot Basin.
The powder-perfect peaks of Marmot Basin, Jasper National Park's only ski area, boasts a wide variety of runs. While there's plenty here for beginners, the group found there's even more to light the eyes of the experienced skier or snowboarder.
Pierce Dolahenty Travel Partners Ocean Shores Travel Consultant, Russell Pierce, said the scene at Jasper couldn't be more perfect.
"We are surrounded by breathtaking snow-capped mountains for as far as the eye can see," said Mr Pierce.
"At Marmot Basin, you can feel the fresh snow crunch under foot as you cruise along expanses of perfect terrain and alpine parks.
"All of the runs from the peak lead to the mid-mountain chalet and everything from mid-mountain funnels to the bottom."
Unbeknown to most of the group, Jasper is in the middle of an 1,100 square kilometre dark sky preserve — the second largest in the world — that's committed to reducing light pollution and, on one chilly, clear evening, the agents were treated to a guided tour of the heavens above with The Jasper Planetarium.
From Jasper, the group headed south to Lake Louise along the stunning Icefields Parkway touring route… but not without experiencing Maligne Canyon first. Serving up frozen waterfalls, ice caves and incredible ice formations, it's easy to see why this steep narrow gorge is one of Jasper's most impressive winter experiences.
Perfectly placed in Banff National Park, Lake Louise could very well take the top prize in a park full of stunning places and, while there are countless places to rest weary legs at day's end, there's none more beautiful and opulent than Fairmont Chateau Lake Louise.
While here, the agents skied and snowboarded at Lake Louise Ski Resort, which is consistently voted one of Canada's best ski resorts, honing in on its spectacular scenery and versatile terrain.
Flight Centre Robina Travel Consultant, Shelley Unthank, said Lake Louise Ski Resort was the most European-style ski slopes she had experienced in all of North America.
"While I took full advantage of the variety of terrain here, I also found myself standing still at many points throughout the day, in total awe of the sheer beauty of this place," said Ms Unthank.
"Our horse drawn sleigh ride from Fairmont Chateau Lake Louise was equally as astonishing.
"The sound of the sleigh bells and the sights of the snowy landscape make you feel like you're in a fairy-tale."
Next up, the group will cross the border and make tracks for Panorama Mountain Resort in British Columbia, which boasts ski-in / ski-out accommodation and is home to the renowned Panorama Springs Pools.
After two experience-packed days here, the agents will cross back into Alberta to the small, but lively, alpine village of Banff for more skiing and boarding at the stunning landscapes of Banff Sunshine and Mt Norquay.
To see all the fun, follow the Instagram hashtag #snonskimega2019.
Sno'n'Ski is currently promoting several unbeatable Early Bird Canada ski packages, including a seven-night stay and ski Banff deal from just $899 per person, based on twin share. Call 1300 766 754 or email info@snonski.com.au to find out more. 
About Sno'n'Ski:
Sno'n'Ski is a family owned and operated business based in Brisbane, Australia. As Australia's leading ski wholesaler, Sno'n'Ski offers comprehensive ski packages to a wide range of domestic and international destinations. 
The Sno'n'Ski team comprises skiers and snowboarders who boast a wealth of first-hand knowledge. External agents know they can call and speak to a consultant who has "been there". Sno'n'Ski agents know where to find the best skiing in the world and go above and beyond to deliver it in a way that suits the customer's needs.
The Sno'n'Ski target market seeks value without compromising quality, and the company's strong partnerships with premium ski resorts and suppliers ensure they offer relevant, exclusive and dynamic information. Families, couples and groups searching for 3 to 5-star ski holidays will be spoiled for choice by the options available from Sno'n'Ski. Visit www.snonski.com.au for more information.