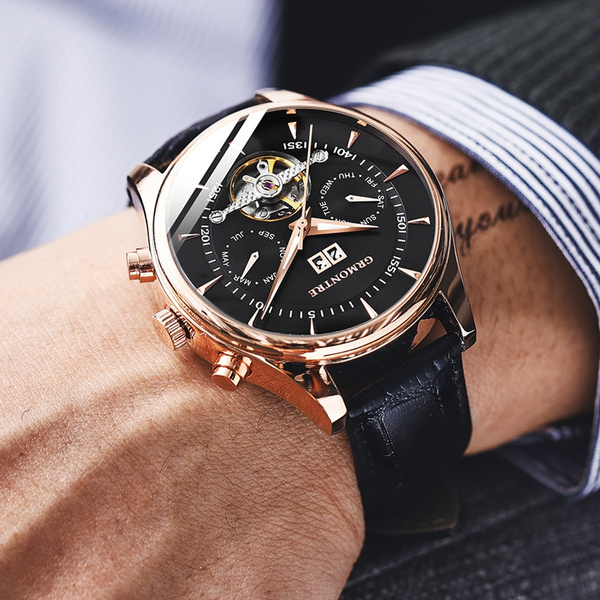 Most of us believe that brand new watches or cars depreciate the moment they leave the showroom. It's certainly the case in most scenarios; however, some premium watches increase in value over time.
Although no one can guess what will happen in the future, we believe investing in a few watches can still give you great value based on past trends.
While most of these watches hold great value as time passes, some even appreciate with time. For example, Rolex's Deepsea Sea-Dweller cost is much higher than the original price it was launched at.
Having one in your collection can be like having a safe bet. Let's look at some of the well-known brands that have existed for years and have exclusive offerings.

Rolex
Making watches since 1905, Rolex is synonymous with premium watches today. Over the entire century, the company has produced some of the best time investment watches.
Submariner and Deepsea are two of the most popular products that the company has manufactured to date. Even today, they have a high resale value. Some investors have made huge profits by selling their Rolex collection.
Having the best resale value amongst all luxury watches, Rolex is the most recognized brand today. Their collection includes 'bling' models with diamond bezels, precious metals, pave dials, and more.
The company has also patented its innovations such as the Osterflex bracelets, Everose alloy, Oysterlock, and Triplock locking crown.
Rolex also features mechanical watches that are superlative chronometers integrated with very accurate and precise mechanical movements. Their minimum precision is -2/+2 seconds per day.

Tag Heuer
Launching iconic watches for more than 150 years, Tag Heuer is a Swiss company. Their products, such as the Carrera and Monaco series, have always been on the list for investors looking for premium watches. Having any of them in your collection ensures you a great price even after years of owning them.
Featuring among the top 15 Swiss watch brands globally, the company has been producing the most accurate and finest chronographs and watches. The company has always been associated with top-level sports and continues to be the official timekeeper for the Premier League.
The Monaco V4 concept that featured the belt-driven creation, inspired by the car engines, was launched in 2004. It is amongst the most iconic releases that still holds value today.
Mikrogirder, integrated with dual architecture, is another remarkable watch by the company that has pushed boundaries of split-second time. It is capable of recording 1/2000th of a second accurately.

Breitling
Breitling watches are an excellent addition to your collection. Having a direct correlation between value and recognition, the company's watches hold exceptional resale value.
Some of the company's popular launches have been in demand due to the watch's rarity and iconic status.Breitling Navitmer 01, and others by the company, are professional watches launched for military personnel, pilots, astronauts, and elite professionals.
The Exospace B55 is a smartwatch launched by the company that comes with special smart features for aerospace professionals and pilots.

IWC
IWC watches are exceptional additions as their value keeps on increasing each year. Ever since the first watch launched by the company in 1868, IWC has combined cutting edge American engineering with Swiss craftsmanship.
With each new release, their timepieces have pushed boundaries in the world of luxury watches.
The technical team of professionals are innovative and launched new pieces conducive to changing lifestyles.

Tudor
Tudor focuses on tool watches and ismostly inspired by vintage designs from the pioneering days. Their watches not only look good but are crafted to perfection.
The company has been manufacturing watches since 1946, and it's the unique positioning that has made them climb to the list of best brands today. Another element that has added to their popularity is the excellent credibility among enthusiasts and collectors.
A recent addition is the Heritage Black Bay series, fitted with an MT5602 self-winding mechanical movement. It comes with a bidirectional rotor system having power reserves of 70 hours.
Made from stainless steel, its design is inspired by the characteristic elements used throughout Tudor history.

Omega
Omega watches are among the oldest Swiss brands, having a long history. The company has manufactured timepieces that have been to the moon, out in space, used at Olympic Games, and featured in various James Bond movies.
The exclusive appearances have been a reason for their popularity in the watch industry. Besides being technically advanced, these quality timepieces have lasted through generations.
The demand for Omega pieces, along with their retail prices, has been a significant reason that makes them a great addition to your collection.
For instance, the Omega Seamaster 300 features a sand-blasted black dial integrated with rhodium-plated hands and coated with Vintage Super-LumiNova.
It features a polished ceramic bezel ring having a Liquid metal diving scale. It even comes with a transparent case-back that allows you to see the anti-magnetic Omega Master Co-Axial caliber 8400 inside.

Hublot
Utilizing cost-effective battery-powered quartz movements, Hublot prides itself on being the only mechanical watch manufacturer that is considered more prestigious by watch collectors and lovers globally.
It's the design that makes them so unique and prevalent, even after years of its release. Their watches come with rubber bands complimenting and contrasting the dials.
Starting at a lower price than a Rolex, Hublot offers you affordable watches like 33mm or 36mm Classic Fusion Lady. The Men's 43mm Hublot Classic Fusion is another popular model offered by the company.

Tips for Investing in Watches
It would help if you always remembered that investing in watches comes with its risks and rewards. Although they hold value, there is no surety that you would be making huge gains by selling them after owning them for some years.

The market for second-hand watches is more significant than ever. They offer the best resale values in the market, and enthusiasts are always looking to add something iconic or unique to their collection.

Hence, when choosing a watch, make sure you choose the one that appeals to your sense of style. It will make sure you are buying something well-made, beautiful, and, most importantly, useful.

Although buying a watch isn't as risky as buying a luxury car, you won't either be rewarded with jaw-dropping gains.

But strategizing your buy and carefully choosing the best watch as per the changing trends can help you buy a product that would eventually appreciate over the years to come.
Source: Betway