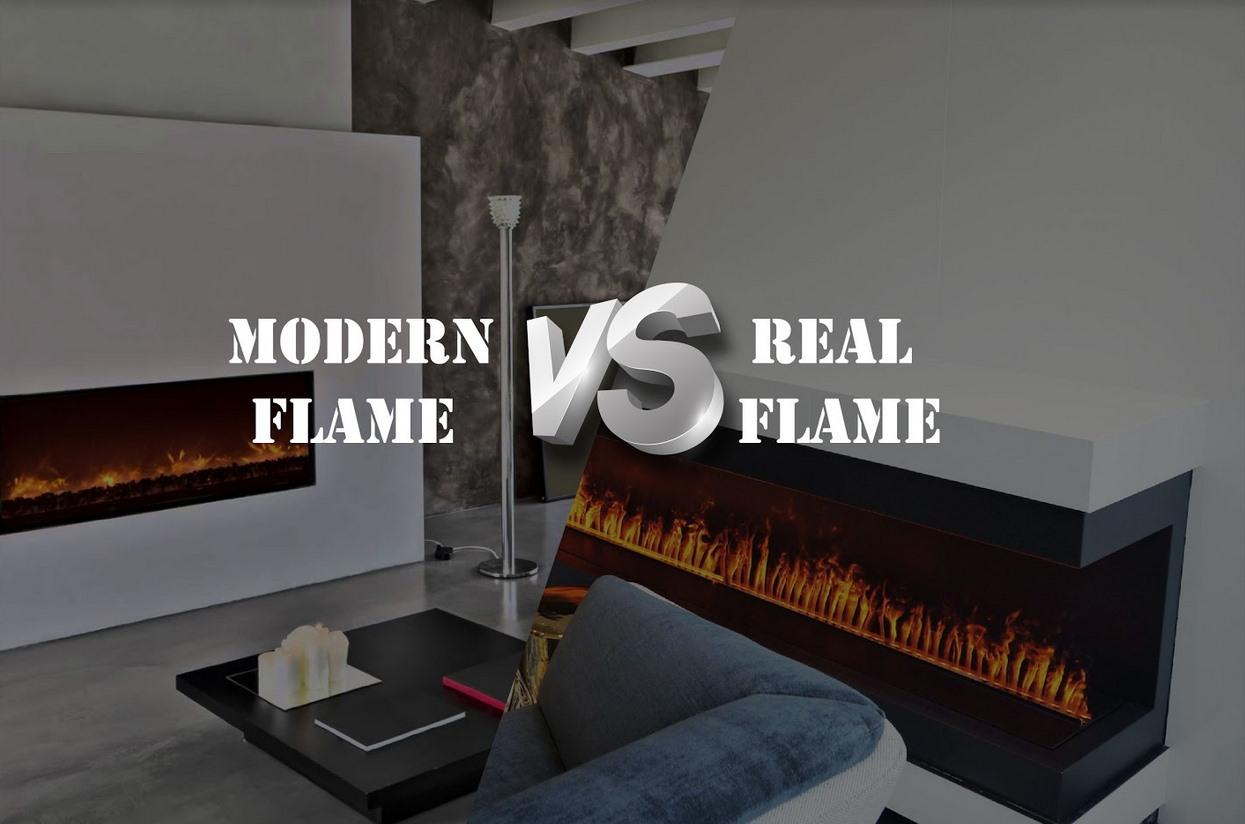 When it comes to heating, we are spoilt for choice. There are so many options to choose from, traditional wood, gas fireplaces, and electric heaters. Each of these are available in several styles and designs. A well-chosen heater can change your outlook on cold winter nights. With each contemporary design, the control on settings becomes easier.
Unlike some other sources of heating, electric heaters are more convenient, as you don't worry about continuously having to keep the fire lit or cleaning up after it. Most electric heaters can provide the flame with or without heating—so you can have the aesthetic look with the heat.
This blog post is a guide to help you learn the difference between modern flame vs. real flame electric heaters.
Modern Flame Electric Heaters
Within Modern Flame electric heaters, you have a wide range of products choose from; each unique in its design; a masterpiece on its own. You can choose a stylish modern flame electric heater which goes well the interior of the house.
Modern Flame electric heater range comprises of over ten uniquely designed heaters that are the best fit for your modern-day needs. 
Most of the modern flame heaters come with various media options such as varying the light intensity and heating levels using remote control.
They are equipped with various media options such as varying the light intensity and heating levels using remote control.
Some heaters have glowing coal ember bed. Some come with extra light features such as colored lights. Luxury heaters even offer the ability to control the shine-factor and blazing intensity of these lights with a remote control.
Real Flame Electric Heaters
Real Flame product range is limited to two at the moment but they are not only popular amongst the traditional mindset, but also allows one to enjoy the sight and warmth of dancing flames; with no need to install a chimney whatsoever.
Real Flame Electric heaters, look almost like the real thing. The flames are so similar, your guests won't be able to spot the difference.
You will have the look and feel without the mess of a traditional or smell of some gas heaters.
Real Flame electric heater uses the latest technology to provide non-combustion heating and real flame effect.
The heaters can be easily either mounted on to the wall or recessed into a wall; based on your requirement.
They have a realistic flame pattern and can also be used outdoors.
Most of these heaters are ideal for homes with young children as there is no danger of getting burnt; the surface is cool to touch even when it is functioning.
You can look around for numerous options on the internet. All top-notch brands are offering modern flame and real flame electric heaters. Both heaters have an easy installation process and give the convenience of a modern device.
Each heater has its own user manual. This manual should be read extensively to learn everything there is to know about the device. An electric heater can be mounted on the wall (read recommended mounting place as suggested in the user manual).
The next time you decide to buy a new heater, you should look out for the latest designs offered in the range of modern and real flame electric heaters.