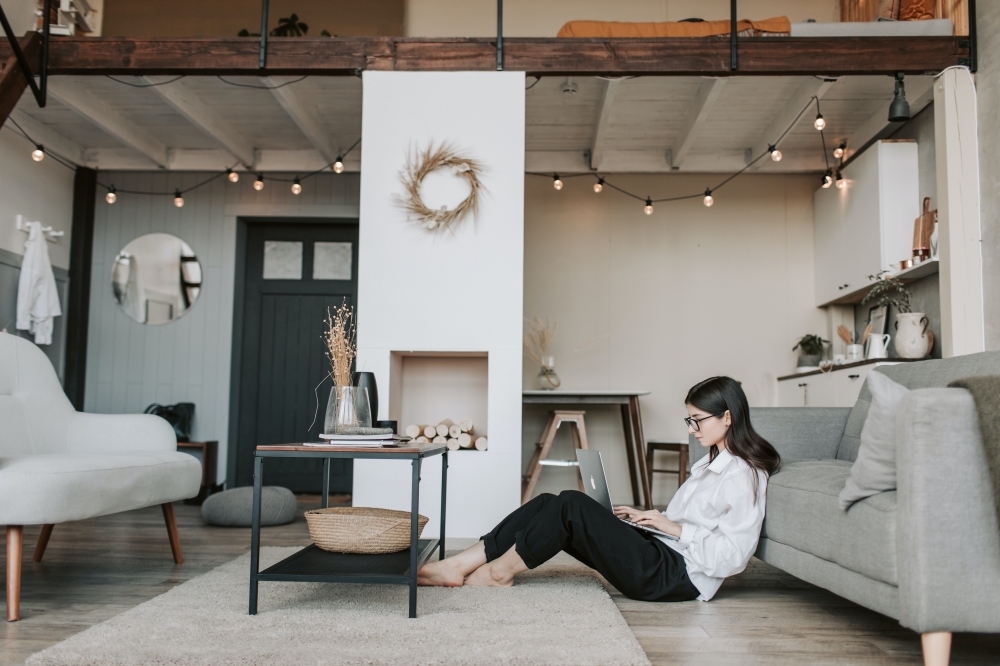 A well-chosen rug can truly transform the space and add something unique that's been missing. However, choosing the rug is a different story altogether: if you make a mistake and pick one that doesn't fit your room, you might end up with a different result. Therefore, it's important to make a smart choice, so rather than choosing the first item that looks good, make sure to take your time until you find the right one for your interior. For that reason, we've prepared a few useful tips that will help you choose the perfect rug for your home.
Size matters a lot
Some rugs might look great, but if their size is wrong, then that's not going to do your space any favors. This is especially important if you're choosing a rug for your living room since this is the room you'd probably use the most. So, using a rug that's too small is not the best idea, mainly if your living room space is large, as then the rug might end up looking like a tiny island lost among the sea of furniture and other decor details. If you're adamant about choosing the smaller rug, then make it proportionate to your couch. Also, remember that, when it comes to your living room, you have two options: use a rug that is large enough to cover all your seating space or have a smaller rug that will keep the front legs of your furniture on it, which will still give your space a unified and cohesive look.
Don't neglect the importance of texture
If you're picking a rug for your dining room, the texture can make all the difference. If you have small kids, then texture is even more important, so make sure that it's spilling and stain friendly because the last thing you want is to deal with cleaning the stains after every meal. When it comes to size, there are no definite rules, except one: make your rug big enough to cover the entire dining area, including the chairs. That way your guests will be able to move their chairs without any contact with the carpet's edge. When choosing a texture, it's essential to pay attention to its quality and maintenance, but also don't forget to factor in your personal habits that can seriously impact the way you live and take care of your space.
If you're decorating a bedroom, feel free to combine
Your bedroom is your sanctuary, meaning you should aim to make it as cozy and comfortable as much as possible. Your bed is probably the biggest furniture item in your bedroom, therefore, it's important to find a rug that's big enough to go underneath. If you dislike the idea of a big rug in your bedroom, you can always opt for one of the smaller rugs, as that will provide your room with a dash of warmth and elegance, which is the ultimate look for any bedroom. Whatever you choose, just keep in mind to make it fit inside the room and find a smart way to combine it cleverly with other pieces of furniture.
Home office deserves a proper rug, too
A home office is a brilliant way to stay productive even if you're not at work. Having a well-decorated home office can be a great boost for your motivation and productiveness, as long as you keep things simple and balanced. Hence, if you've decided to get a rug for your home office, remember to get the one that will give your chair enough room to scoot around the office. If you're torn between various shapes, just keep things simple and stick with rectangular or square-shaped rugs as they're easiest to place and can fit well with other furniture.
If necessary, consider having more than one rug
Sometimes, an open space area is a great way to make your home look bigger and more spacious. However, incorporating different furniture in such areas can be a challenge, which is why using more than one rug can be useful. For example, feel free to consider some rug layering ideas that will visually divide the space and create more comfort. The great news is, you can actually play with different rug sizes, textures, and colors and then match them with various furniture and decor pieces that you already have.
Conclusion
Picking the right rug size is not always an easy task, mainly if you don't have any previous experience with doing such things. But, once you pull this off, you'll realize how important rugs are to one's home. Therefore, be sure to take your time and find a rug that will fit in with your room so you will be able to enjoy your space to the fullest.