Written by

Kaylah Farrugia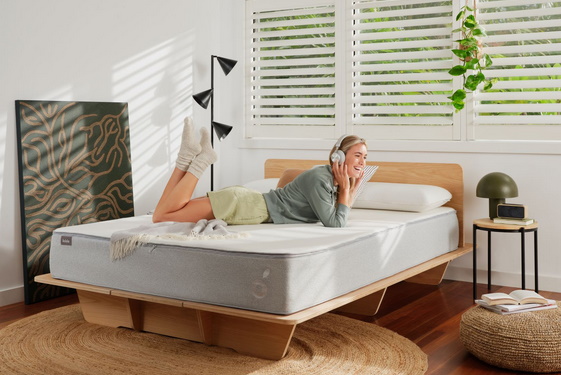 From the makers of Australia's most-loved mattress comes the brand spanking new mattress range: the new Koala Mattress, the new Koala Calm As and the new Koala Soul Mate. Yep, news hot off the press is that homegrown furniture brand, Koala, is disrupting the mattress industry - again.

Years of research, listening, and development have gone into making the dreamiest mattresses for every sleeper (and every budget). With over 25,000 5-star reviews Koala knows what it takes to give Aussies a good night's sleep.
Koala wants to Keep Sleep Simple and has thought of everything, so you don't have to. It goes without saying that the new mattresses are jam packed with tonnes of tech but as interesting as all that is (*yawns*), all Aussies need to do is give them a whirl and let the best ever zzz's be the judge.
These absolute beauties combine best-in-class comfort, cooling and support to help Aussies nod off at speed. They fuse zonal support with zero disturbance tech to keep dream reels rolling all night long. Each matty comes with a flippable medium-firm Kloudcell™ comfort layer so snoozers can nail their sleepy sweet spot.
A first for Australia, Koala's new mattresses are fully GECA certified, which is kind of a big deal. You can sleep soundly knowing your matty meets all health, sustainability and social impact criteria set by the country's only independent, not-for-profit, multi-sector environmental certification program.
The new Koala Mattress
Once upon a time, two childhood mates from laid-back Byron Bay dreamed up a humble mattress-in-a-box brand to challenge the sleazy sales pitches from traditional mattress corporations. They came up with a simple yet crazy comfy mattress in a box (again, Australia's first), and delivered it fast and free with a 120-night-trial. It was a CertiPUR-US® certified mattress with low emissions and without nasty chemicals, but all the goodness of foam technology. Aussies could jump on this groundbreaking matty with a full glass of wine and not spill a drop. No wonder it was a hit!
Fast forward almost six years, Koala's doing it all again with three new freakin' awesome mattresses to help you fall asleep faster, and stay asleep longer.
And it couldn't come at a better time with Koala's latest 'Comfy As' sleep research finding that, as a nation, we have a sleep deficit of 5.7 billion hours!
"We wanted to create a new customisable mattress range for everyone. And I think we outdid ourselves with three mattresses that highlights our dedication to creating products that have a minimal impact on the environment," said Mitch Taylor, Koala CEO and Co-Founder.
He continues, "Improving Australia's most loved mattress, originally released in 2015, was no mean feat. We listened to customer feedback, and applied it directly to our new designs - and clearly we need to get more Aussies sleeping better, our national sleep deficit is pretty bloody scary".
Koala is confident that the New OG Koala Mattress is just right. In Koala's neck of the woods, the feeling of lying down on a matty that's not-too-soft and not-too-firm is called the Goldilocks Zone.
Zero Disturbance tech means no matter who you sleep next to (your beloved tosser of a partner, fur-baby or kiddos) you'll get a good night's sleep.
To help create an ideal foundation for sleeping 3 targeted high-density precision cut support zones are designed to take the pressure off. No matter what position you prefer, overall it helps make a better sleeping experience. The sleep surface made from soft TENCEL™ Lyocell fibre will keep you cool and comfy, period. With a new flippable 7cm comfort layer, you can customise the comfort level to your own individual needs, within seconds!
The new Koala Calm As
Striking the perfect balance between sink and bounce is no simple task, but Koala's new Calm As mattress makes it look (and feel) easy. The Calm As features a clever open cell structure, a 7cm flippable comfort layer and 1cm quilted plush cover so you can wake up feeling fresh.
Multi layer zoning and extra edge support means no more wasted space or saggy bits, so you can use every corner of your mattress.
Sweaty beds aren't cute, so the new Calm As is topped with a sleep surface made with COOLMAX® Technology to help keep you feeling cool and dry (the secret to staying asleep longer).
The new Koala Soul Mate
Koala's new Soul Mate is the crème de la crème mattress in a box. Designed to work with your body, not against it, the 5 Zoned Adaptive Foam Springs are crafted to react to your body's slightest movements. Each spring offers tailored support without compromising Koala's famous zero disturbance® tech.
A sleep surface made with Sensapole® Technology absorbs, stores and releases heat to ensure a comfy temperature while you sleep. A ventilated bamboo charcoal memory foam transition layer eliminates odours, absorbs excess moisture and also keeps your temperature in check.
This mattress has just about everything going for it… it's basically the Chris Hemsworth of the mattress world.
Enough of the techy bits.
At Koala, we believe that business can only thrive if society and nature also thrive. With every purchase we lend a helping hand to a furry friend in need - Australia's iconic but endangered koala. As a B-Corp and certified 1% for the Planet, Koala believes that business can be a force for good through smart design, care for nature and community-focussed systems.
We like to keep things super simple. Koala's new mattresses go from box to bedroom quicker than you can sink a cold one. Just unpack and unroll and you're good to go. Each new mattress comes with a simple, no worries 120-night trial so you can test the benefits before making a final decision. Don't think, feel.
Free and fast delivery makes it easy to buy, easy to try, and easy to return. In metro areas Koala delivers for free to your door in four hours.
Product Details
The new Koala Mattress
Features:
7cm Flippable Kloudcell™ Comfort + TENCEL™ Lyocell Sleep Surface

3 Zone Support

Koala's famous Zero Disturbance technology

First GECA certified mattress

CertiPUR-US® certified foam

Anti-Slip Bottom

Anti-Bacterial Treatment
RRP:
Single - $780
King Single - $950
Double - $1,000
Queen - $1,050
King - $1,250
The new Koala Calm As mattress
Features:
7cm Flippable Kloudcell™ Comfort With COOLMAX® Technology

1cm quilted plush cover

3 Zone Support

Multi-Layered Zoning

StayPut Edge Support

Koala's famous Zero Disturbance technology

First GECA certified mattress

CertiPUR-US® certified foam

Anti-Slip Bottom

Anti-Bacterial Treatment
RRP:
Single - $980
King Single - $1,080
Double - $1,350
Queen - $1,650
King - $1,950
The new Soul Mate mattress
Features:
9cm Flippable Kloudcell™ Comfort With Sensapole® Technology
2cm quilted plush cover

5 Zoned Adaptive Foam Springs

Ventilated Bamboo Charcoal Memory Foam

StayPut Edge Support

Koala's famous Zero Disturbance technology

First GECA certified mattress

CertiPUR-US® certified foam

Anti-Slip Bottom

Anti-Bacterial Treatment
RRP:
Double - $2,350
Queen - $2,700
King - $2,950
About Koala
Inspired by the modern Australian lifestyle, in all its sun-drenched, laid-back glory, Koala is here to shake up the furniture industry with their 'no worries' approach. We have created an entire, award-winning furniture range that has everything you need to refresh your home. The Koala Bedroom Range has your sleep space sorted - from Australia's highest-rated mattress, the Good Design Award-winning Timber Bed Base, our Cool-Gel memory foam pillows and sheets made from TENCEL™ Lyocell fibres. The Koala Living Room Range takes Koala's comfort and quality into the lounge - with our new range of ultra-comfy Sofas and Sofa Bed and our zero-tool, fast assembly Bookshelves and TV Units with sustainable timber. That simple phrase 'no worries' drives everything we do; from things like free and fast delivery and our 120-night risk-free trial on all products; to Aussie designed furniture, built to last. We believe in reversing environmental trends and leaving our Earth in better nick than we found it, that's why we constantly improve the environmental footprint of our materials and business practices. As a B-Corp Koala believes in improving habitats inside and outside the home. We're also a 1% for the Planet member which means we give away one percent of gross sales annually for the good of the planet, people and animals. Koala is extremely passionate about giving back having donated over $2 million to charities in Australia since day dot in 2015 - this includes our ongoing partnership with WWF-Australia, donating over $1.9 million since 2017 to help koalas, green sea turtles and glossy black-cockatoos.