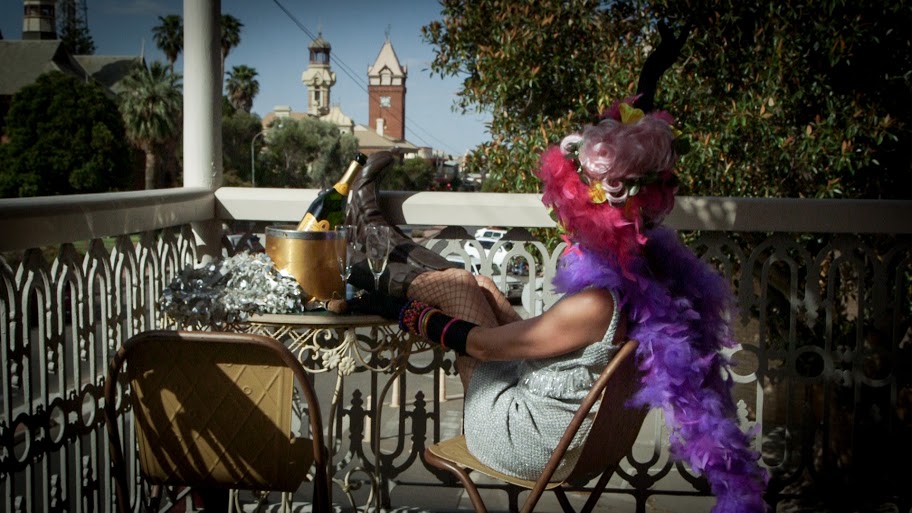 Broken Heel Festival, the party that celebrates Priscilla Queen of The Desert's 21st birthday, has just announced some of its shimmering guest list! The Festival is on from Friday 11 – Sunday 13 September and tickets are on sale now, so snatch up some tickets now lovvies!
There must be something in the Silver City's water with several ex-locals headlining the party: Amelia Airhead will be performing with her all-girl drag-band The Sydney Glitter Girls, along with Ex-Broken Hillian moody crooner Zackari Watt and Burlesque and Sideshow Performer, Bam Bam, returning from Melbourne to wow crowds with a Drag King performance on the Friday night of the Festival. Melbournian house-music mega DJ, DJ Magnus, will be spinning decks for one night only, making sure the ceiling of The Palace is shaking on the Festival's biggest night, Saturday 12 September.
Just like the Priscilla's pilgrimage with Bernadette and the gang, The Sydney Glitter Girls will be making their trip out west to perform their fabulous show. Audiences will be dazzled over two shows on Saturday night only of the Festival. The trio is made up of three of Sydney's leading drag queens – blonde ambition knock-out and ex-Broken Hill love child Amelia Airhead, sexy siren Minnie Cooper and the fiercely fabulous Charisma Belle and the ladies have promised to do lots of crowd mixing, photo ops and engage in the occasional bitch-banter with guests.
Drag star Amelia Airhead is looking forward to a return to her hometown "We can't wait to get to Broken Hill to celebrate the 21st birthday of Priscilla. The movie was a homage to our Sydney drag scene in the early 90's and in turn, it repaid us by completely reinvigorating how drag is perceived worldwide by the mainstream– and it's stronger than ever today. Stephen Elliot, the film's writer and director, has done the drag world a wonderful service"
Amelia said their Palace Hotel show will be a megamix of Priscilla hits and fabulous performances from Sydney's most-loved venues, including the world-renowned Albury and Imperial Hotels. "So grab that feather boa from the back of your closet people and come along!" said Airhead
His singlets are so tight they're rumoured to be body paint, and his soulful sound is as unique as his haircut: it's Zackari Watt. The East Coast gypsy crooner has a vocal range to rival Mariah's and he'll be enchanting audiences with shows on Friday, Saturday and Sunday right in the very epicentre of Festival; The Palace Hotel. 
It wouldn't be a fabulous celebration without some dance music! DJ Magnus is one of Australia's biggest dance music DJ's, having supported international acts like Heather Smalls (M People), Kelly Rowland, Wynter Gordon, & DJ Wayne G. DJ Magnus will be performing on the Festival's Saturday night only –the biggest party night over the weekend – so pack your party shoes for this one.
Legendary Drag Divas Philma Box and Art Simone will be the hosts throughout the entire Festival, and will be joined by queen of the come-back, Polly Filla, for the Priscilla Tribute Show as part of opening night festivities. In the tradition of Priscilla, the show will not only wow, but will be a celebration of laughter, dance… and eyeliner.
With a whole host of staggering acts yet to be announced, Broken Heel promises to be one of the funnest, outrageous and most dazzling 21st's ever!
Book now for Festival tickets and accommodation and come see why the outback is never a drag.
Broken Heel is organised by the Palace Hotel, in Priscilla's spiritual home of Broken Hill. The Festival invites road-trippers, seekers of fun, and the outrageously spectacular to visit the quirky mining town on the western edge of NSW, just a mere 1,100kms from Sydney. What better time to visit than when Broken Hill will be at its most glamourous. The weekend will be jam-packed full of all laughs, lycra and levity. The Outback has never looked so fabulous!  
WHAT:                          Broken Heel Festival
WHEN:                         Friday 11 – Sunday 13 September, 2015
WHERE:                        Broken Hill, NSW
Follow Broken Heel's social media channels for all the latest updates:
Website:                www.bhfestival.com.au
Facebook:             facebook.com/brokenheelfestival
Instagram:             Instagram.com/brokenheelfestival